College Commitment
Blue Chip Burdette Decides
by
Ali Jones
, 9 January 2009
Blue Chip Mallory Burdette hadn't lost a set coming into the finals of the Inka Bowl in Lima, Peru. She won the first set against tenacious Russian Valeria Solovieva fairly routinely 6-2. As if on cruise control, Mallory went up 5-2 in the second.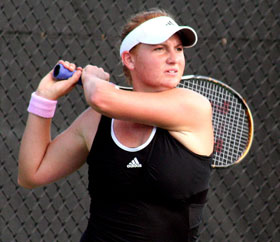 Mallory's earlier matches had been straight-set wins and it seemed like the finals would play out the same way. But Valeria was a tough and dogged competitor, a trait that endeared her to the Peruvian fans. Mallory got a little bit nervous and was unable to convert the handful of match points she had in the second set. To the delight of the partisan crowd, the match went three sets. And, as if on cue, Mallory went up 5-2 and again, Valeria would fight tooth and nail. At 5-all, Mallory finally stopped Valeria's run and went up 6-5.
"I let go and started to hit my shots and play my game the way I am supposed to," Mallory recalled. An intimidating presence at 5'10" and 155 pounds, Mallory attacked second serves and played her aggressive style of game, finishing off points at the net. And it payed off. Mallory, exhausted but elated, finally put away the match and walked away with the Level-2 ITF title, a tall glass trophy and a teddy bear.
"That one [match] is so memorable because I was not only fighting my opponent but myself and the crowd," Mallory said.
From the Lima tournament in January, Mallory racked up thousands of frequent-flier miles, logging trips back and forth from her training base in Florida to Brazil (where she made the semis of the Banana Bowl), Belgium, France, England and Mexico. In September at the U.S. Open, she and her partner, Sloane Stephens, made the finals of the junior girls doubles.
"I knew we were capable of playing great doubles and it felt great to finally break through and play really well," Mallory reflected. "We were being really solid from the ground and moving the right amount up at net. I was so happy to have won [the semis] not only for myself but also for Sloane. She is like a little sister to me and I enjoyed seeing her so happy as well."
Enjoying travel, competition and camaraderie among the players, Mallory seriously thought about going on the professional circuit.
Despite her success and the lure of the pro circuit, she finally decided, before Christmas of 2008, that college was the best way to go and temporarily shelved her passport.