College Feature
Tennessee Beats Alabama to Win Blue Gray Tennis Classic
by
Colette Lewis
, 26 March 2009
It has a tradition spanning 60 years, but Blue Gray Tennis Classic chairman Paul Winn had no hesitation in putting this year's tournament at the pinnacle.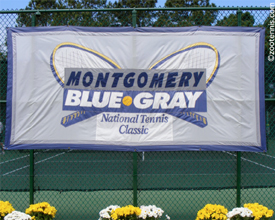 "It's probably the best weather we've ever had, the best crowd we've ever had and the best support," an enthusiastic Winn said of the annual invitational event that brings 16 top Division I men's teams to Montgomery, Ala. for four days in March.
Attendance this year got a boost from the appearance of Auburn and Alabama in Saturday's semifinals at the Lagoon Park Tennis Center, a city facility.
"You could not find a place to sit or stand - it was packed," Winn said. "And to have one of them in the finals is huge for us."
That one was Alabama, who faced top seed and fourth-ranked Tennessee in the final. Tennessee had recorded wins over Penn State, Texas Tech and Auburn, while Alabama, ranked 24th, had taken out Middle Tennessee, Wisconsin and Boise State.
Under sunny skies and a barely discernable breeze, the Crimson Tide faithful gave noisy support to their doubles teams Sunday afternoon, hoping that point could propel them to an upset. Alabama got the win at No. 3 doubles, but Tennessee took matches at No. 2 and No. 1, with Vols Boris Conkic and Matteo Fago, playing in the top position for the first time, clinching it with an 8-6 victory over Dan Buikema and Mathieu Thibaudeau.
Alabama head coach Billy Pate didn't feel the doubles point was a "must-have," although he acknowledged that taking four of six singles from a good team isn't easy.
"We did a good job of battling back," said Pate, speaking of the quick first sets posted by Buikema over Tennessee's Matt Brewer at No. 4 and Michael Jung over Christopher Williams at No. 6.