Tennis On Campus Announcement
Duke University Captures Title At 2009 USTA National Campus Championship
Beats University of Wisconsin-Madison in Saturday's final for program's first national title
Press Release - 22 April 2009
Duke University beat the University of Wisconsin - Madison 26-21 in Saturday's championship match at the 2009 USTA National Campus Championship at the Surprise Tennis and Racquet Complex. This was the first championship match for either squad and Duke University's first national title.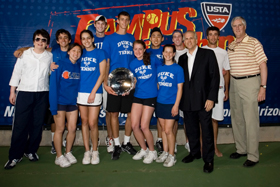 Duke jumped out to an early lead, winning men's doubles 6-1, and women's singles 6-1. However, the Badgers from Wisconsin clawed their way back into the match when the women's singles team of Lindsey Hughes and Amanda Von Horn, won 6-2.
Duke quickly swung the momentum back in their favor when southpaw Thibault Ducarme captured the men's singles 6-4. It was a back-and-forth set, but Ducarme's strong serve and powerful ground strokes were too much to overcome.
Wisconsin hoped for another morning miracle when its' mixed doubles team captured the set 6-5 forcing an overtime. However, the lead amassed by the Blue Devils earlier in the match was too great of a mountain for the Badgers to climb. Duke ultimately captured the title in overtime.
Duke standout Greg Van Winkle had this to say about being crowned USTA National Campus Champion, "It was a little nerve-wracking, but one of the best events I've ever been to. Oh man, this is fun, this is a blast."
Duke reached the Championship match today by ousting Texas A&M in the semifinals 25-19. It was a great run for the Blue Devils who displayed not only excellent tennis, but also great sportsmanship.
Tennis legend Billie Jean King was on hand today and presented the Wisconsin Badgers with its Finalist Trophy. Special guest Jon Vegosen First Vice President, USTA had the honor of presenting Duke with its Championship Trophy.
Championship Match
Duke University d. University of Wisconsin-Madison, 26-21 OT (2-1)
Women's Doubles - Wisconsin d. Duke, 6-2
Women's Singles - Duke d. Wisconsin, 6-2
Men's Doubles - Duke d. Wisconsin, 6-1
Men's Singles - Duke d. Wisconsin, 6-4
Mixed Doubles - Wisconsin d. Duke, 6-5
*Overtime: Mixed Doubles - Duke d. Wisconsin 2-1
Note: A match using the World TeamTennis format includes sets of men's and women's singles, men's and women's doubles and mixed doubles, each game during the match counts as a point towards the overall team score.
Past USTA National Campus Champions (Runner-Up) - Site
2000 - North Carolina (Texas) - Austin, Texas
2001 - North Carolina (Texas) - Austin, Texas
2002 - Texas A&M (Texas) - Austin, Texas
2003 - Florida (Texas A&M) - Daytona Beach, Fla.
2004 - Texas A&M (Virginia) - Daytona Beach, Fla.
2005 - Texas A&M (Texas) - San Diego, Calif.
2006 - Texas A&M (Virginia) - Austin, Texas
2007 - Texas A&M (Virginia) - Cary, N.C.
2008 - Texas (California) - Cary, N.C.
2009 - Duke (Wisconsin - Madison) - Surprise, AZ
The championship opened on Thursday with 16 four-team pools, with schools advancing to bracket play on Friday and Saturday. The first-place teams from each of the 16 pools advance to one bracket (that determines the overall champion), the second-place teams from the pools advance to another bracket, the third place teams advance to a third bracket and the fourth place-teams to a fourth bracket.
About the USTA
The USTA is the national governing body for the sport of tennis in the U.S. and the leader in promoting and developing the growth of tennis at every level -- from local communities to the highest level of the professional game. A not-for-profit organization with 725,000 members, it invests 100% of its proceeds in growing the game. It owns and operates the US Open, the highest attended annual sporting event in the world, and launched the Olympus US Open Series linking 10 summer tournaments to the US Open. In addition, it owns the 94 Pro Circuit events throughout the U.S., and selects the teams for the Davis Cup, Fed Cup, Olympic and Paralympic Games. The USTA philanthropic entity, USTA Serves, provides grants and scholarships and through tennis, helps underserved youth and people with disabilities to improve academics, build character and strive for excellence. For more information on the USTA, log on to usta.com.
Check out the Tennis On Campus website at www.tennisoncampus.com for complete results, stories and photos. The Tennis On Campus website also offers all college clubs fundraising resources, coaching tips, and marketing materials.
Leave a Comment
More Special Features
15-Nov-2017
It's Not All Relative For Cacciatores, But It's Really Confusing
They have the same last name, play the same sport and live in the same state. But they are not all related. Meet Henry Patrick, Harry and Grey Cacciatore - the players who have caused confusion for tournament directors, hotel guest bookers and equipment reps.
30-Oct-2017
Countdown: McInerney's Unlikely Recruiting Tale
Recruiting has changed since Arizona State women's coach Sheila McInerney was pursued by USC in 1976. The coach had never seen her play before she arrived, and she never saw the campus until her first day of school.
8-Oct-2017
ImRecruitable College Tennis Showcase
ImRecruitable will host its 6th Annual College Tennis Showcase November 29 and 30. This unique event combines instruction from college coaches as well as showcase match play. Our showcase will help you gain maximum exposure to college coaches. In addition, get education from coaches and experts.