Website News
New at TennisRecruiting.net: College Webpages
by Dallas Oliver, 21 November 2005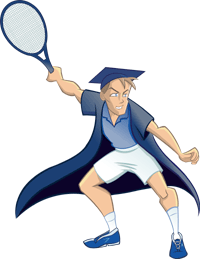 Now that the smoke has cleared on Signing Week, it is time to present Class of 2006 college commitments. Over the past week, we have introduced some exciting new features at TennisRecruiting.net for college commitments and leanings. This article gives you a brief tour of these features.
Commitment Lists
No surprises here. Last Thursday we updated our commitment lists to show the Class of 2006. The commitment lists are updated continuously:
Note that the commitments are available in the left navigation bar using the Boys' Commitments and Girls' Commitments links.
Recruiting Pages for Colleges
The real buzz - and the reason for the recent explosion of traffic at TennisRecruiting.net - is around the recruiting webpages for individual college teams. Every men's and women's program at NCAA Division I, II, III and NAIA schools now has its own web page at TennisRecruiting.net.
Consider for example the page for the William & Mary women's program - which is available here. For this school - and all other schools - we include:
Separate pages for the men's and women's teams
Basic school information and a photo
A Commitment List broken down by year
All Prospects who have indicated interest in the school
Recruiting articles of relevance
The school webpages are completely integrated throughout TennisRecruiting.net. You will find links to school webpages from commitment lists, player overview pages, and articles.
An index for all NCAA and NAIA men's and women's teams is available in the left navigation bar in the College Pages section. The current index is organized by gender, division, and conference.
Stay Tuned...
This is only the first step of many related to college pages. We have plans to roll out more features over the coming weeks and months.
To keep on top of everything, sign up now for a free account - and you can choose to receive our monthly newsletter.
Also consider upgrading to a Recruiting Advantage membership to get full access to the website - including access to the prospect lists on the new college pages. You can browse the full list of Advantage benefits in our comparison matrix.
Leave a Comment
More Website News
11-Nov-2019
Fall Signing Week 2019
At long last, welcome to Signing Week! Signing Day is this Wednesday, November 13, and we are ready to rock. TRN and CrampsAway kick things off with a look at the schedule and an update on the Blue Chip boys and girls.
14-Oct-2019
Countdown to Signing Day 2019
College Signing Day is just a little under a month away. November 13 is the first day of the college signing period, the first opportunity for this year's seniors to sign National Letters of Intent with Division I or Division II schools. As always, The Tennis Recruiting Network and CrampsAway are here to keep you up to date on all the happenings.
1-Oct-2019
ITA/TRN Showcase Tournament Returns to Coaches Convention
TennisRecruiting.net will again conduct the ITA/TRN Showcase Tournament in conjunction with the ITA Coaches Convention on Sunday, December 8th at the Naples Grande Beach Resort in Naples, Florida.