Tournament Feature
McPhillips dominates at the Girls 16 Clays
by Sonny Dearth, 29 July 2009
Special from the
Newport News (Va.) Daily Press
VIRGINIA BEACH, Va. -- Of the six players remaining on the steamy final Sunday of the USTA Girls 16 National Clay Court Championships, only one wore sunglasses.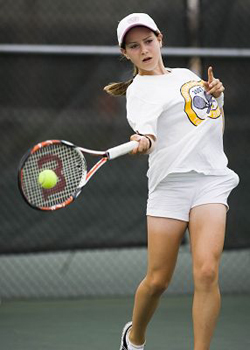 She wasn't at a poker table, but it seemed like whatever
Kyle McPhillips
hit was "all in."
The second-seeded McPhillips won all seven of her matches in straight sets, capping a week of dominance with a 6-2, 6-2 triumph over No. 3 Ashley Dai of Temple City, Calif., for the crown July 26 at Virginia Beach Tennis and Country Club.
Early in the second set, a local fan gazed in wonder at the versatility of McPhillips, whom tennisrecruiting.net ranks third among the high school Class of 2012.
"She's like a machine, she's so focused. She knows when to slice, she knows when to hit it."
Few would argue.
While losing just 29 games in 14 sets along the Atlantic coastline, McPhillips showed how her match toughness is paying off. The poised 15-year-old from Willoughby, Ohio - near Cleveland - was competing in her 15th tournament since the start of February. Six of those were Futures pro events, including one in Atlanta the previous week.
"Yeah, I like to play tournaments," she said after shedding her sunglasses and revealing braces that accent her youth. "Playing against the bigger girls helps you against pace. They hit harder. It's a good warmup, even though I might not advance as far."
For much of the title match, Dai used power and angled strokes to move her opponent around the clay, but the Ohioan employed chips, lobs and occasional big shots to get out of trouble. Her high topspin forehand was effective, including a winner down the line to complete the first set.