Where Are They Now?
WTA Tour Player Julie Ditty Looks Back on Vanderbilt With Fond Memories
by McCarton Ackerman, 9 October 2009
If you are going to miss your induction into your alma mater's Hall of Fame, competing in the US Open certainly qualifies as a valid excuse.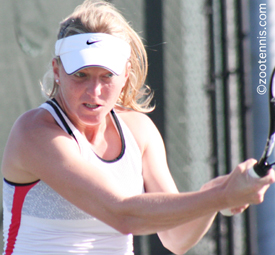 Former
Vanderbilt
star and current WTA Tour player Julie Ditty was one of nine athletes recently inducted into the Vanderbilt Athletics Hall of Fame, and the first tennis player to receive that honor in over a decade. Because she was competing in the main draw of the women's doubles event at the US Open during the induction ceremony, Ditty's family accepted the award on her behalf.
"I was so surprised when they told me I had made the Hall of Fame," says Ditty, 30. "I really wasn't expecting to be inducted, and certainly not so soon after graduating."
Born and raised in Ashland, Ky., Ditty took up tennis at age 5 and immediately displayed a natural aptitude for the game. Within a year, the left-hander was able to engage in baseline rallies consisting of up to 50 shots. By the time Ditty was in the second grade, she was already a letter player on the varsity high school tennis team, beating girls a decade older.
"The first time I ever took Julie out to serve, all I did was hit a bucket of balls with a friend and have her watch," says her father, Dr. Jack Ditty, a practicing dermatologist. "I told her to come out and try to copy my service motion, and she hit the ball over the net with the exact same swing on the first try."
Ditty not only excelled on the tennis court as one of the top junior players in the country, but also as one of the top students in her graduating class. At an age when highly-ranked junior players mull over the decision to attend college or turn pro, Ditty knew she was ready to continue her studies.
"From a very early age, my parents have always stressed the importance of education and setting goals each year," says Ditty. "The goal with tennis growing up was to get a college scholarship. It wasn't even an option with my parents to turn pro before finishing school."