Special Feature
Observations from the 2009 US Open
by
Nick Bollettieri
, 4 November 2009
This year's US Open was an exciting one! For the first time in six years, a new men's champion was crowned... congratulations Juan Martin Del Potro. Kudos also go out to Kim Clijsters who proved all the naysayers wrong... in fact, I believe they have rewritten a famous quote to read... "hell hath no fury like a new mother on the comeback trail!". Both players brought excitement and a renewed and much-needed spark of interest to the game.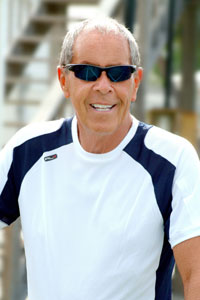 My staff and I roamed the courts for the entire tournament from sun-up to well past sun-down, observing as many matches and as many players as possible to learn as much as we could. We watched the pros as well as the juniors, and I would like to share some of my findings that I think might be of some help to both coaches and players.
1. What happened to the serve-and-volley and finesse game?
Years ago, most of the players could play an all-around game with no problem. They could hit from the baseline, serve-and-volley, and they could counterpunch. In traveling the courts I noticed that just about every singles player now is an aggressive baseliner. From the youngest junior to Del Potro to Serena Williams, the players are more comfortable than ever on the baseline. It's amazing to see many of the world's best athletes come to the net and fail to put away even the simplest volley or half-volley.
To me the serve-and-volley game has disappeared for four reasons:
The evolution of the racket
New strings that allow for more power, spin, and control
Advanced physical fitness training
Bigger, faster and stronger athletes
Also, playing a serve-and-volley game takes a lot of time to develop. Unfortunately, the long range success of this style of play does not meet the goals of parents and coaches demanding immediate success from their young players. Gone are the days when we coaches worked years on developing players whose talents, mentality, and physical make-up were best suited for a serve-and-volley game.
One of the most exciting matches of the tournament happened in the second round and featured American, and one of my past students, Taylor Dent taking on Spaniard Ivan Navarro. This match didn't have any major effect on the outcome of the tournament, but it was two serve-and-volleyers going at it for five tough sets. The crowd loved it. This is what tennis is missing on a weekly basis.
One of the things we do at the IMG Bollettieri Tennis Academy is play the "feeling game" or some may call it mini-tennis. Our students play singles and/or doubles inside the service boxes. They can play a variety of games applying drop shots, angles, slices, and volleys. The result is that they will learn the difference between banging balls from the baseline vs. applying feel to the ball.
2. Rain, rain go away!
We had almost two weeks of beautiful weather, but the final weekend was just about a wash out. For a coach, it is extremely important that you understand the idiosyncrasies of your player so that you know what to do during a rain delay. Without knowing about each individual player, I wouldn't have known how to tailor their down time to minimize any negative effects that perpetual waiting can have on a players. A rain delay can be very difficult to manage, as it prevents the players from staying in their groove and can also affect their fitness if they have to play two or three days in a row.