Tournament Summary
Pac-10 Sweeps Titles at ITA Intercollegiate Indoor Championships
by
Colette Lewis
, 16 November 2009
With their regional competitions held outdoors, the Pac-10 players who won entry into the ITA Indoor had to adapt quickly once they arrived at Yale University. They did just that, with teams from Stanford earning an unprecedented sweep of the doubles title, and Steve Johnson of the University of Southern California and Jana Juricova of California-Berkeley capturing the singles titles at the Cullman-Heyman Tennis Center in West Haven, Conn.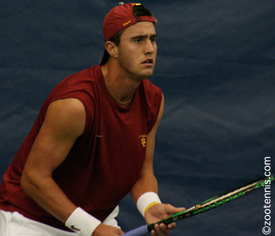 Two of the championships were decided in third set tiebreakers, so spectators were treated to plenty of drama, but the fifth-seeded Johnson, who defeated Guillermo Gomez of
Georgia Tech
6-4, 6-7(2), 7-6(3) in the final, was accustomed to playing on the edge.
The sophomore from California was down a set in three of his first four matches, and in the semifinals against top seed and All-American champion JP Smith of Tennessee, Johnson was down 4-2 in the third set before winning the last four games of the match.
Against Gomez, Johnson failed to convert on ten break points in the second set when the junior from Spain came back from 0-40 on his serve three consecutive times. In the third set, there was only one break point, against Gomez, and when Johnson failed to convert that one, the match quickly moved toward a tiebreaker.
After his error-filled second set tiebreaker, Johnson was ready to prove that he could win one.
"I think I just got sick of losing tiebreakers, I had to get one," said Johnson, who had lost two in previous matches, and two to drop his semifinal match at the All-American. "I kept my composure out there and played a really good tiebreaker in the third set."
His only error was a double fault at 3-1, and he redeemed that mistake with two excellent serves up 4-3: the first Gomez barely got a racquet on and the second had a kick that produced a floating returning Johnson easily put away.
The unseeded Gomez, who had won two earlier matches from a set down, was disappointed, but recognized just how important a point or two can be in such a close contest.
"The difference was maybe one good serving point in the tiebreaker, one better serve," Gomez said. "I did my best, and I just have to congratulate him."