News & Features
Recruiting Feature
Countdown: Boys' War Room
by Julie Wrege, 26 March 2010
Many of the top boys committed during the fall signing period last November, but a number of top targets are still available. Some of these boys will make commitments during the next signing period that begins on April 14 - otherwise known as Spring Signing Day.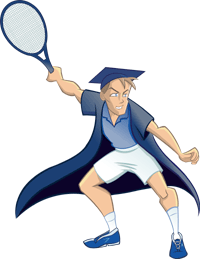 Signing Day is just a couple of weeks away, and seniors and coaches alike are scrambling to fit in last-minute visits and finalize decisions.
Over the past few weeks, TennisRecruiting.net has talked to the Top 100 senior boys and girls on the Class Rankings. You can take a look at the boys' list here. Today, we take a look at where the top boys are in their decision-making process.
Top 100 Status (as of March 22)
The table below shows the Top 100 athletes and their recruiting status. The Commitment column shows whether the recruit has made a commitment or is undecided, while the Interests column indicates schools of interest.