Recruiting Feature
2012 Top NCAA Division III Men's Classes
by TennisRecruiting.net, 11 June 2012
We wrap up our final week of recruiting class rankings with a look at the top classes from NCAA Division III. Today we put out our third annual rankings of the men's programs. On Friday, we will wrap things up with a look at the top women's classes.
Top 25 NCAA D-III Men's Recruiting Classes (through May 21)
TennisRecruiting.net is excited to present the Top 25 NCAA Division III Men's Recruiting Classes for 2012. This list is based on commitments reported on or before May 21, 2012.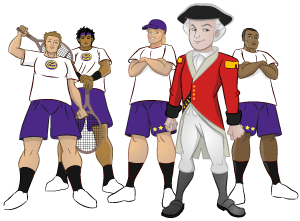 We enlisted the help of a number of NCAA Division III enthusiasts and insiders to aid in the rankings. While we do not publish a list of our helpers, we appreciate their assistance.
And now, without further ado, the Top 25...
Also Receiving Consideration
A team of D-III insiders - including the folks at Division 3 Tennis - reviewed the resumes of 50 top D-III recruiting classes to come up with these rankings. Other recruiting classes put forward by the insiders that almost made our list are (alphabetically) as follows: Earlham, Pomona-Pitzer, Rochester, Skidmore, Trinity (TX), and Virginia Wesleyan.
Return of the Jeffs
After three straight appearances in the NCAA finals from 2009-2011 - including a national title in 2011 - top-seeded Amherst College lost a 5-3 decision last month to Washington University in the quarterfinals of the 2012 NCAA D-III Championships. But don't feel too bad for the Lord Jeffs - they have a strong crop of talent coming to Western Massachusetts next year.
Head Coach Chris Garner and his assistant, Matt Leitl, are bringing in a six-man class that our experts unanimously selected as the No. 1 class in the nation. Four of the six recruits rank among the Top 5 in their state, including 5-Star senior Andrew Yaraghi and No. 1 in-state recruit Aaron Revzin.
Give Me Five
Things get more complicated as you move through the rankings, but the schools in the 2-5 positions received a lot of support from our experts.
The national champion Emory Eagles, are bringing in a stellar four-man class that includes three 4-Star recruits. The Eagles graduate their top two singles players - including NCAA singles champion Dillon Pottish - but the rest of their singles lineup consists of rising sophomores. Emory should certainly be in the mix again next season.
Williams, Middlebury, and Carnegie Mellon round out the Top 5.
Conference Call
When looking over these rankings, you cannot help but notice the presence of the New England Small College Athletic Conference and University Athletic Association. Those two conferences - with a total of 19 programs - have fielded 12 of the Top 25 recruiting classes, including eight of the Top 10 and all of the Top 5.
The NESCAC, headlined by the No. 1 class from Amherst, is also represented by Williams (No. 3), Middlebury (4), Tufts (8), Bowdoin (13), Wesleyan (20), and Trinity (22).
The smaller UAA counters with Emory (No. 2), Carnegie Mellon (5), Washington (7), Chicago (9), and Case Western (17).
The only other conference with more than two classes in the rankings is the Centennial Conference with three ranked programs.
New Arrivals
Four programs are making their first-ever appearance in the D-III recruiting class rankings, starting with the Stevens Institute of Technology from Hoboken, N.J.
Head coach Steve Gachko led the Ducks to a great year in 2012, posting a perfect record in Empire 8 conference and tournament play, and advancing to the second round of the NCAA tournament for only the third time in school history. Next year, Stevens welcomes a five-man class that includes 4-Star senior
Matthew Heinrich
.
Other programs making their debut in the rankings are Whittier (No. 16), Coast Guard (18), and Wesleyan (20).
On the flip side, there are ten programs that have appeared in all three of our D-III recruiting class rankings.
Coming Friday... the Women
On Friday, we conclude our look at 2012 recruiting classes with our Division III women's lists.
Leave a Comment
More Recruiting Class Rankings
22-May-2017
Top Men's Classes - 2017 Spring Rankings
Today we release our spring rankings of the Top 25 Men's Recruiting Classes. A rash of recent commitments have moved a number of programs up the list - including two previously unranked classes who are now in the Top 10. One thing that hasn't changed on our list is that the top class overall is heading to Berkeley this fall ...
6-Feb-2017
Top Women's Classes - 2017 Winter Rankings
Spring Signing Day is just over two months away, and coaches are busy finalizing their recruiting classes. A number of highly-ranked seniors have already made their college choices - they have made verbal commitments or signing NLIs during the Fall Signing Period. Find out which women's teams are looking good at this stage - as The Tennis Recruiting Network and ArrowBar proudly present the Top 25 Women's College Tennis Recruiting Classes of 2017.
30-Jan-2017
Top Men's Classes - 2017 Winter Rankings
Late January is a great time to take a look at college recruiting. More than 850 seniors have made their college choices, and recruiting classes are really shaping up. How is your favorite team doing? Let's find out ... as Tennis Recruiting and ArrowBar bring you the Top 25 Men's College Tennis Recruiting Classes for 2017.