Player Advice
Winning, Losing, and Learning
by Paul Thomson, Drake Women's Tennis, 12 September 2011
Life is going to kick us in the pants. It is. There is no avoiding it. It kicks you, me, our players, our own children, everyone. More than once, we are going to feel the wrath of defeat and hardship. It's coming. But that wrath and defeat and hardship does not have to translate into failure and loss. It can - and I always hope it does - perpetuate learning.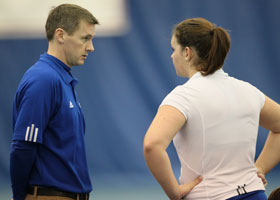 Coach Thomson with his
Drake
Team
courtesy, Drake Athletics
When we work and train hard, victories taste sweeter - and defeat is more painful. Achieving victory is great. Victory is what we strive for as individuals and for our teams. Most of what we can gain from victory is confidence. Too much confidence becomes a quandary and can set us up for failure if we can't manage the success.
I am one of the most competitive people I know. I always teach my players and teams to play to win. Mediocrity is easy and anyone can be average. But as strange as it may sound, our players need the pain of defeat as well; perhaps more so than the victories. Defeat is what motivates us to get back up and fight again. Defeat is what builds our character and what teaches us the lessons we need to mature and grow. Defeat is the edification process of sports, competition and life.
There are different kinds of defeat. Some times another team or person outperforms us and beats us. But other times, we underperform and then take nothing from the experience. Suffering only becomes failure if we do not learn from our mistakes. Losing breeds only losers when the defeated give in, quit, make excuses and begin to feel sorry for themselves.
It is my job as a coach to help our kids learn from every experience, including defeat. As much as they hurt - and within themselves, stink - defeat and losses are necessary events for personal growth and development as athletes and as individuals. Whether you are an athlete, business man or woman, parent or teacher, if we learn from defeat and gain confidence from our victories, "There is no failure!"
There are in fact tribulations on and off of the courts that test us in our lives every day. They test our willpower, our discipline, our resolve. We are tested athletically, physically, emotionally and psychologically. None of these tests or tribulations are meant to be punishment. They present opportunities for us to grow and strengthen ourselves as human beings and as athletes.
One of the most difficult losses I have even been a part of happened in my fourth year as a head coach. Our program had just moved up to NCAA Division II, and our men's team was playing in the conference tournament quarterfinal against the defending tournament and regular season champions. We had narrowly beaten them 5-4 earlier in the year. The guys felt very confident going in thinking they had a slight edge in the tournament.
We took a commanding 3-0 after doubles. I knew better than to think the match was ours but I felt pretty good about our chances. I told the guys at the break, "You have the momentum! You need two points. Who's going to step up and make it happen?" They were all fired up and ready to go. Our No. 3 singles player rolled to a 6-0, 6-1 victory, putting us up 4-0 and one point from victory. Our team was on the brink of becoming the first program in school history to post a win in conference postseason play as a D-II program. The men and the women had already finished with winning records, and we earned the No. 3 and 4 seeds in the tournament, also firsts.
Winning this match would be the icing on the cake. Unfortunately, the candles on the cake not only melted - the whole cake exploded.
While our No. 3 player won his match, three other players won their first sets. My No. 3 player came off the courts pumping his fist to the rest of our team. I looked around and saw everyone take a deep breath. I thought, "Uh Oh." Before I knew it, we lost the match 5-4. We had match point opportunities on three of those contests, and we lost the final match in a third set tiebreaker.
At the time, it was the hardest thing I had ever seen a group of guys go though. It was almost unheard of for something like that to happen, at any level. They were stunned. I had at least four coaches call or email me before the next morning after the scores were posted that all said the same thing. I could coach another 20 or 30 years and never have that experience again.
Amazingly, my guys felt bad for about a day. I met with them the next afternoon before the women's quarterfinal match. They had talked the night before and had all decided the same thing: that loss was going to be motivation for the soul! They were not going to dwell or harp on it. They would rather use it as motivation to ensure that it would never happen again. They even showed up for the women's first-round match and cheered them on to a win.
At that point I decided that I wasn't ever going to feel bad for my players again after a defeat. I would pick them up if they did not play well or to their potential, but I would not feel bad for them. I decided that, as competitive as I am, those defeats would go a long way in my life as well. I was so proud of those guys for the decision and attitude that they took. Some of those players even traveled to the women's conferences finals to watch our team play. It sunk in even more there and became even more of a boost of motivation for the next year. It may have been a defeat on the courts, but it was a win for their inner strength.
The defeats, roadblocks, obstacles or whatever it is in our lives we see as setbacks are not truly losses unless we allow them to be. They are necessary events in the building of balanced character and maturity. We shouldn't dwell in the defeat but look for the opportunities the losses bring. Furthermore, regardless of the number of setbacks or defeats we encounter, we are only losers if we do not make the effort to learn, grow from the defeats. "For a righteous man falls seven times, and rises again." [Proverbs 24:16]
Winning is a great thing, but only when it is respected and appreciated. Getting beaten is a part of life and should be the motivating and balancing force towards improving our lives and winning our next battle. Always, always dare to dream bigger, aspire to do more and never settle for mediocrity. As a coach, I play to win but teach life experiences from setbacks. Those setbacks are needed to appreciate the highs even more. Life is going to kick our players in the pants. It's up to us as coaches and mentors to teach them how to land when they get knocked down - and to make sure they always get back up. Then when those victories come, they mean even more.
By the way, we played that same team the next year in the semifinals of the conference tournament. We again went up 3-0 in doubles, and the same guy won his singles match to put us up 4-0. This time, we won 5-1.
Paul Thomson is head coach of women's tennis at Drake University.
Leave a Comment
More Player Advice
9-Nov-2015
Fall Signing Week '15: Playing Your Best Tennis for Coaches
The more something means to players, the more pressure they put on themselves to succeed. One of the most uncomfortable moments for aspiring college tennis players is competing in front of college coaches. To avoid underperforming, athletes need to focus on enjoying their time on the court the most. Here are a few tips to help players start the process ...
10-Sep-2015
The Marathon Mentality: Developing a Mentally Tough Tennis Player
To achieve real results, junior tennis players need to change and enhance their overall mentality. I often tell my tennis players that success is not a sprint - but rather a marathon.
6-Aug-2015
Why Junior Tennis Players Keep Failing
One of the biggest questions junior tennis players and parents who have not had mental training is, "Why is their training and hard work not transferring into more wins?" Patrick Albam of SPMI takes on this question...
About Paul Thomson
Paul Thomson has spent over 20 years in tennis, with ten years experience in college tennis coaching - the past eight of which have been spent as head coach. He was the 2008-09 SAC Women's College Coach of the year. Thomson, certified through the PTR, has experience as a tour and high school coach and club/academy instructor. He has also worked in grass roots tennis community tennis development. Thomson is currently doing freelance writing and working on his first book.