College Feature
Talking with USC's Steve Johnson
by
Harry Cicma
, 3 June 2012
Follow Harry on
Twitter
Steve Johnson just wrapped up his college career at USC as a four-time NCAA team champion and two-time NCAA singles champion. That's pretty heady stuff, and it puts him in the conversation for greatest college tennis player of all time - or at least the most accomplished.
Harry Cicma, who served as color analyst at the NCAA Championships in Athens, caught up with Johnson after his singles victory.
Questions and Answers
Harry Cicma (HC): How does it feel to be a National Champion in Athens?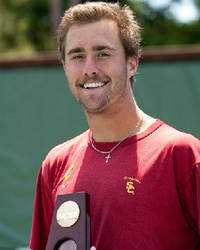 NCAA Champion Steve Johnson
courtesy, USC Athletics
Steve Johnson (SJ):
It's special. Athens has such a long history of tennis, with the Dan McGill Tennis Complex, and all that history. It's a real special way to go out - with a team victory and now in singles.
HC: You had to put a lot of miles on your shoes in this event - going the distance in the team and singles events and reaching the quarters of the doubles competition before retiring. How were you able to pull through and get it done?
SJ: I played the big points smart. I was down break points a few times, and I hit a few aces to get out of the jams. I was very opportunistic on a few big points, and I was able to play them well. I was tired - and very glad to have gotten the final done in two sets. (Laughs)
HC: You mentioned that you will have a few pro events coming up - in Newport at the Hall of Fame, and others. What are your goals after college tennis?
SJ: I'm going to rest and relax and enjoy this for a few weeks and let the body heal up. The I'll get ready for life on the tour. I'm really looking forward to it.
HC: How much do you appreciate playing for this USC team -and for head coach Peter Smith?
SJ: I owe the world to them, for the opportunity to play for this team and to play No. 1. When you win at No. 1, it's worth just as much as the person who is playing No. 6. To have the chance to win four in a row - with this team, the coaches, the training staff - is truly a testament to the university. I can't thank them enough for this great opportunity.
Leave a Comment
More College Coverage
10-Feb-2016
Cal Women Win First ITA National Indoors
When Amanda Augustus us took the helm of the California Bears women's team in 2007, her impact was immediate. She led her team to two NCAA final appearances and two semifinal berths at the ITA Indoors, reaching the top 12 of the rankings every year. The one thing she hadn't brought to Berkeley was a national title - until now.
28-Jan-2016
ITA Division I Kick-off Weekend Wrapup
A tremendous weekend of college tennis action concluded on Monday afternoon with Columbia winning a thriller over Stanford, so we now know the 32 teams that will be participating in February at the 2016 ITA National Team Indoor Championships. The women's event will be held at the Nielsen Tennis Center in Madison, Wisc., starting February 5, while the men's event starts February 12 at the Boar's Head Sports Club in Charlottesville, Va.
20-Nov-2015
Matching Up: A New Way to Think About College Tennis Lineups
I have been a sports fan ever since I can remember, and a tennis fan since my teens, but my interest in college tennis is much more recent. With that in mind, I have never shared the outrage directed at coaches who "stack" their lineups. Since time devoted to lineup challenges and protest hearings is better spent elsewhere, here is my proposal for a radical change in how lineups are set in college tennis ...
About Harry Cicma
When it comes to college tennis, Harry Cicma is your man. Cicma covers tennis and other athletic stories for
NBC Sports
, writing articles and producing video segments.
He is co-founder and host of World Tennis a weekly tennis show on NESN, and host of of Tennis Live Radio's College Corner.
Cicma competed as a junior in USTA/New England and went on to play college tennis at Rutgers University. As a professional, Cicma competed at the ATP Newport tournament and the San Jose Siebel Open. He reached a career-high #75 in the ATP doubles team rankings and #1262 in the ATP Entry System.
In media, Cicma has run the gamut. He has worked for NBC, CBS, ABC, ESPN, FOX Sports Net, the Tennis Channel, and World Team Tennis. Cicma has announced NCAA sports as well as the US Open Tennis Championships on both TV and radio.