Player Advice
Body Language - The Talk of Tennis
by Paul Thomson, Drake Women's Tennis, 20 August 2012
The fist-pump, the racquet toss, the stare. The slow trudge off of the court, and the power-energized spring onto the court. The racquet bag bludgeoning after the racquet toss, the chest bump, and the head hang. All of these are familiar sites on the tennis court. But what are these actions - and other body languages on the court - really telling us about the momentum, flow, and even movement within a match or, more minutely, within a single point?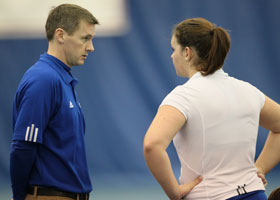 Coach Thomson with his
Drake
Team
courtesy, Drake Athletics
Body language can obviously show us that a player is confident and in control - or that a player is down and out. But it can be much more subtle. One of the biggest aspects of tennis that players often forget is the mental and tactical edge that is given up by body language, posture and even body movement. This goes even past the mental/emotional obvious breakdowns such as tossing a racquet, beating a defenseless tennis bag, or simply hanging your head. Both you and your opponents' body language movement and position gives keys on how to respond to a shot, recover, retreat or move forward during a point.
If you've ever seen the movie Sandlot (and if you haven't you should), you know it's "eye on the ball - whereever the ball goes, just move your glove there." Eye on the ball is just as true in tennis as it is in baseball or any another other sport. But eye on your opponent can do as much - and at times even more - for your game. Much of what a player does on the court is not in reaction to the ball but is in response to her opponent. I work on this concept with my players daily in both singles and doubles. It all comes down to recovery, court position, and movement.
The first part of this is in fact ball to your strings, opponent to the ball. Then we apply what I call the "push-pull-stretch" rule. The idea is simple. Forget where you hit the ball. But instead watch your opponent move to the ball. But more importantly watch how and what it takes for them to get to the ball. Are they stepping in behind the ball in position to drive it? Are they charging forward as if to hit an overhead? Are they flatfooted on their heels? Or are they scampering like a rat on a sinking ship (pushed-pulled-stretched) in distress, trying to get to the ball? Now what does that body language, movement or lack thereof tell you that you should do?
Our team trains to look for distress on the other side of the court versus just our well-struck or placed shots. After our shot we work to see how the opponent is reacting or responding. This gives our players an early cue on their next move or response.
In junior tennis and women's tennis especially, I noticed early on that players don't always recognize a short ball opportunity or aren't able to get to the ball in time (or just do want to move in - but that's another story). Covering deep balls and lobs seemed more instinctive. They instantly back up. These body language cues that I teach our players are designed to help them see those opportunities and capitalize on them. To have your best chance against a good opponent, you have to get ahead in a point early. Body language cues can help you do that.
Many times a player has the right plan or strategy. But that plan or strategy isn't going to be effective if your execution is poor or if your opponent is ready for it. You hit a kick serve out wide to get them stretched so you can move in. But what if he reads your serve or even your mind? His body language and position will be different. We didn't see it and we get passed on the return. You slice a ball cross court and deep to force an up-angle return off of their racquet so your partner can poach. But your partner at the net is turned around watching you strike the ball instead of watching (a) the other net player and then (b) the other baseline player react to your shot. Your partner's body language - watching you - gives the other net player fair game to attack the slice and poach or for the baseline player to move forward. You hit a roll and run up the middle but the lob is short and the opposite team is moving forward into the ball instead of backing up. Doh! Heads up Homer! Are you watching your opponents at the net? Are you ready?
These are just a couple of examples of how watching body language and cues can keep you out of trouble and even give you an edge. Many would say, "Sure - but it happens way too fast to react most of the time." To that I say, "That is why our team works at this to be a trained instinct and response rather than a reaction." I have discussed the knee jerk reaction vs. the trained response and the benefit of the latter. We spend as much time in practice on action response as we do actually striking balls.
We train ourselves (or should) to read people's body language and posture in everyday life . If they say, "come a little closer," but the body language says, "you better run," we know to walk the other way. The same applies in tennis. You are stretched-pushed-pulled, this is a cue for a weak ball. I see you stretched and off balance to the backhand. My cue to cheat forward into the court. Ahah! Short ball easy put away or at worst approach shot. I see you pushed back into the fence or curtain. My cue to again cheat forward into the court even before you strike the ball. YEAH! Short lob, easy overhead or swinging volley to put away and hit through you before you recover. Oh wait! It's a deep lob. But, I have plenty of time to retreat a couple of steps and get in a good position for my shot. Back on the attack you! I see you pulled in desperately reaching for the ball, racquet head down and below the net. Another cue, I cheat forward. HA! High sitter and easy put-away. Or, woops, it's a little dinker just over the net. But YES! I am there to hit neutral and just get it back, because I saw what your body was telling me; distress. Plus I am in good recovery position forward. On the other side of the net, that rat is still scampering to stay afloat.
None of this is ground-breaking science and research. But it is stunning to me that so few players recognize these situations on the court. Even at the club level the game of tennis has sped up. The racquets are more advanced. Players are bigger and stronger. The balls are traveling faster. Reaction time is not always there anymore. It comes down to training ourselves to see or identify the stimuli (body language) early to apply the given response. We can't become great players just by being great ball-strikers or athletes. We also have to be great observers and witnesses to the game. This is true at the junior, club, college and pro levels.
When you are practicing hitting balls, also spend some time on the body language concept. Look-listen-feel the game. Watch for the change in body posture and emotion to know where your opponent is in the match both mentally and emotionally. But also work on identifying the push-pulled-stretch concept to give yourself a better chance to be aggressive when you can - or to be defensive when you have to. Use these cues to help improve your efforts and hard work.
Paul Thomson is head coach of women's tennis at Drake University.
Leave a Comment
More Player Advice
27-Nov-2016
Building A Game: The Tennis Imagination
Junior tennis abounds with players adept at contemporary tennis: an attrition-based, narrowly-focused baseline game. This mode certainly generates outcomes in the form of match wins, rankings and scholarships. But what about a long-term, sustainable process for staying engaged with the tennis? Talk of strokes - that is, groundstrokes - is plentiful. But talk of a playing style - the rich literature - is minimal.
21-Nov-2016
Go With the Flow
You will often hear at a junior tennis match, "I was so in the zone today," or "How is this guy zoning so hard out there?" If you are talking about yourself, it's a compliment. If you were referring to your opponent, you were basically saying they were playing above their level. Let's take a look at what these phrases really mean - and why they allow players to perform at their best.
16-Nov-2016
Shutting Off The Thinking Mind in Tennis
Meet the Thinking Mind. Many junior recognize its presence more and more as the college playing years are right around the corner. Players often become tight in the presence of college coaches at tournaments, in showcases, and on college visits. Here are four tips to overcoming the thinking mind - and taking control of your thoughts at this critical time.
About Paul Thomson
Paul Thomson has spent over 20 years in tennis, with ten years experience in college tennis coaching - the past eight of which have been spent as head coach. He was the 2008-09 SAC Women's College Coach of the year. Thomson, certified through the PTR, has experience as a tour and high school coach and club/academy instructor. He has also worked in grass roots tennis community tennis development. Thomson is currently doing freelance writing and working on his first book.