Coverage Announcement
Hard Court Championship Week
by Dallas Oliver, 13 August 2012
In the world of U.S. junior tennis, last week was the highlight.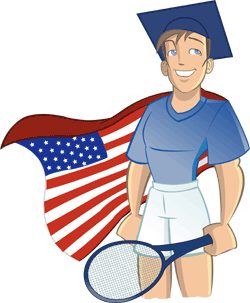 All across the country, the top American juniors were competing for gold balls at the USTA National Championships. National titles were awarded for both boys and girls in all four age divisions.
This week, the Tennis Recruiting Network highlights those great tournaments with our annual Championship Week coverage. Every day, TennisRecruiting.net will feature photo galleries and articles that celebrate the cream of the crop in American junior tennis.
Here is our planned coverage schedule:
Championship Week Series
Things get started this afternoon at 5pm Eastern / 2pm Pacific - with images from the Girls 14s and 12s Nationals.
We hope you enjoy our complete coverage schedule of Championship Week. Make sure to check in each day for coverage of the top boys and girls from across the country.
Leave a Comment
More Website News
21-Jul-2014
Clay Court Championship Week
The USTA Clay Court Championships have concluded around the country. This week, TennisRecruiting.net has roundups of all the action from the Boys' 12s to the Girls' 18s - from Virginia Beach to Fort Lauderdale. Check out coverage of all the tournaments - and meet the latest gold ball winners of all ages. Get ready... for Clay Court Championship Week.
7-Jul-2014
Fall Top Prospects Ratings
Twice a year, TennisRecruiting.net updates its Top Prospect ratings - sometimes known as "The Stars". Our next update to the Top Prospects comes in late September - and those ratings will be based on players' rankings during the eight-week period from the week of July 21 to the week of September 8, 2014. Learn what you can do to ensure your rating is accurate - and learn about important changes coming this fall.
23-Jun-2014
Tennis Recruiting Welcomes Tennis Express
If you've been on the TennisRecruiting.net website the last few days, you may have noticed that we have a brand new online store. Tennis Express, a leading full-service tennis retailer, is our new platinum sponsor, and we are very excited about it. Tennis Express provides a fantastic online experience - great tennis products at competitive prices with fantastic customer service. Check it out...