Coverage Announcement
Hard Court Championship Week
by Dallas Oliver, 13 August 2012
In the world of U.S. junior tennis, last week was the highlight.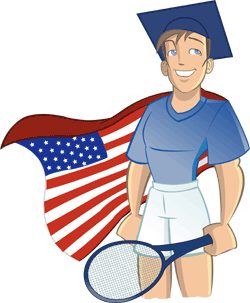 All across the country, the top American juniors were competing for gold balls at the USTA National Championships. National titles were awarded for both boys and girls in all four age divisions.
This week, the Tennis Recruiting Network highlights those great tournaments with our annual Championship Week coverage. Every day, TennisRecruiting.net will feature photo galleries and articles that celebrate the cream of the crop in American junior tennis.
Here is our planned coverage schedule:
Championship Week Series
Things get started this afternoon at 5pm Eastern / 2pm Pacific - with images from the Girls 14s and 12s Nationals.
We hope you enjoy our complete coverage schedule of Championship Week. Make sure to check in each day for coverage of the top boys and girls from across the country.
Leave a Comment
More Website News
14-Aug-2017
Championship Week
The USTA National Championships have now concluded - and gold balls have been awarded to your latest national champions. All week long, TennisRecruiting.net and Van Der Meer Academy celebrate these winners - from the East Coast to the West Coast - with coverage of the Nationals. Enjoy the 2017 edition of Championship Week.
24-Jul-2017
Clay Court Championship Week
Last week, the USTA Clay Court Championships took place throughout the Southeast - primarily in Florida, but also in Tennessee and Virginia. This week at the website is all about the Clay Courts. TennisRecruiting.net and Van Der Meer Academy have roundups of all eight age divisions - from the Boys' 12s to the Girls' 18s. Meet the latest gold ball winners ... in Clay Court Championship Week.
19-Jul-2017
Fall Star Ratings Period Starts Next Week
Twice a year, TennisRecruiting.net updates its Star Ratings - sometimes known as "The Stars". Our next update to the Star Ratings comes in late September - and those ratings will be based on players' highest rankings during the next eight weeks - from the week of July 24 to the week of September 11, 2017. We invite players to review their player records to ensure accurate ratings.