Coverage Announcement
Hard Court Championship Week
by Dallas Oliver, 13 August 2012
In the world of U.S. junior tennis, last week was the highlight.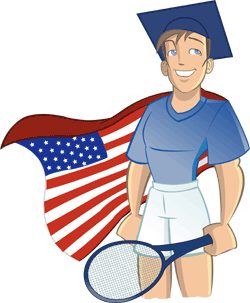 All across the country, the top American juniors were competing for gold balls at the USTA National Championships. National titles were awarded for both boys and girls in all four age divisions.
This week, the Tennis Recruiting Network highlights those great tournaments with our annual Championship Week coverage. Every day, TennisRecruiting.net will feature photo galleries and articles that celebrate the cream of the crop in American junior tennis.
Here is our planned coverage schedule:
Championship Week Series
Things get started this afternoon at 5pm Eastern / 2pm Pacific - with images from the Girls 14s and 12s Nationals.
We hope you enjoy our complete coverage schedule of Championship Week. Make sure to check in each day for coverage of the top boys and girls from across the country.
Leave a Comment
More Website News
20-Jun-2017
TRN Hires Rhiannon Potkey as Content Strategist
The Tennis Recruiting Network (TRN), a premier source of information for junior and college tennis, is excited to announce that veteran journalist Rhiannon Potkey has joined TRN in the role of Content Strategist. Potkey will be responsible for creating, writing and editing content at TRN.
2-May-2017
Now Open ... May Madness Bracket Challenge
Nothing beats the excitement of the NCAA tournament! For college tennis fans, May is the time for Madness, and this is your chance to demonstrate knowledge of the game. With the right combination of skill and luck, you can earn bragging rights - and great prizes - by making your picks for the Big Dance!
13-Mar-2017
Countdown to Signing Day
It's that time of year... Signing Day is approaching. April 12 is the first day of the Spring Signing Period - when seniors from around the nation can sign on to play college tennis at Division I or Division II schools. And once again, The Tennis Recruiting Network and GAMMA are ready with the Countdown to Signing Day.