Coverage Announcement
Hard Court Championship Week
by Dallas Oliver, 13 August 2012
In the world of U.S. junior tennis, last week was the highlight.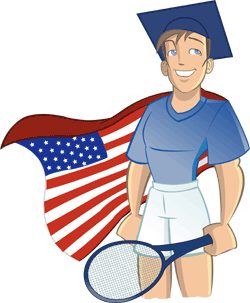 All across the country, the top American juniors were competing for gold balls at the USTA National Championships. National titles were awarded for both boys and girls in all four age divisions.
This week, the Tennis Recruiting Network highlights those great tournaments with our annual Championship Week coverage. Every day, TennisRecruiting.net will feature photo galleries and articles that celebrate the cream of the crop in American junior tennis.
Here is our planned coverage schedule:
Championship Week Series
Things get started this afternoon at 5pm Eastern / 2pm Pacific - with images from the Girls 14s and 12s Nationals.
We hope you enjoy our complete coverage schedule of Championship Week. Make sure to check in each day for coverage of the top boys and girls from across the country.
Leave a Comment
More Website News
27-Sep-2016
TRN College Showcase at the ITA Convention
Tennis Recruiting is excited to announce that it will be running a College Showcase for high school age players at the ITA Coaches' Convention in Naples, Fla. This one-day event for 32 boys and 32 girls will take place on Saturday, December 10th, where players will have the chance to compete in front of hundreds of college coaches. All play will be on the Har-Tru courts at the Naples Grand Beach Resort.
19-Sep-2016
Top Prospects '16-'17 - Fall Edition
After months of waiting, here they are... the Top Prospects. Find out right now how many stars you have - as The Tennis Recruiting Network proudly presents the Fall Top Prospects for 2016-17.
1-Sep-2016
Best Wishes, Class of 2016
The high school Class of 2016 had their ceremonies back in June - and many of those young men and women are now heading off to college. Today is the day that the Tennis Recruiting Network bids them farewell. This week's rankings are our final edition for the 2015-16 year - and the final rankings for the outgoing Class of 2016.