by TennisRecruiting.net, 27 March 2013
Twenty-four of the nation's top boys high school tennis teams traveled to Louisville, Kentucky this weekend to compete in the prestigious Boys DecoTurf High School Tennis Team Championships. The seventh annual national invitational tournament took place on March 22nd and 23rd and featured nine defending state champions and three state finalists. The tournament hosted teams from California, Florida, Georgia, Illinois, Kentucky, Louisiana, Maryland, Mississippi, Oklahoma, Tennessee and West Virginia.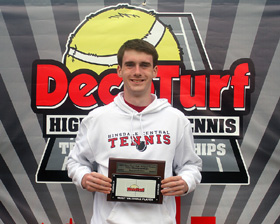 Hinsdale Central senior and MVP
Alex Hagermoser
courtesy, DecoTurf HS Tennis Team Championships
There was beautiful weather on Saturday afternoon for the finals, but the excitement was short lived as
Hinsdale Central
(Hinsdale, IL) put on a dominating performance opening the championship match with a 3-0 lead after outscoring opponent
Barron Collier
(Naples, FL) 24-5 in the doubles matches. The Red Devils then outscored the Cougars 70-35 in singles dropping just one set in the championship match. Hinsdale Central senior
Alex Hagermoser
's pair of wins in the championship match moved his overall record in tournament play to 7-0 earning him Most Valuable Player honors. Hagermoser was joined by teammates
Peter Heneghan
,
Martin Joyce
and
Michael Lorenzini
on the doubles All-Tournament Team and Lorenzini was named a singles All-Tournament Team selection. Barron Collier, who finished as runner-up for the second straight year, was led by singles All-Tournament Team selection
Jorge Vargas
.
Memphis University School (Memphis, TN) finished tournament play with a 3-1 record claiming third place over in-state rival Montgomery Bell Academy (Nashville, TN) in a rematch of the 2012 Tennessee Division II Class AA State Championship. The Owls, who defeated their rival 5-4, played without Penn commit Marshall Sharp on Saturday but were led by Walker Sims who was named to the singles All-Tournament team. Montgomery Bell Academy was led by singles and doubles All-Tournament Team member and Middle Tennessee State signee Aaron Jumonville.
The fifth place matchup Gulliver Prep (Pinecrest, FL) swept the top four singles positions in their fifth place match over host school Saint Xavier (Louisville, KY). The Raiders clinched the 5-4 victory with an 8-6 win at No.1 doubles by All-Tournament Team members Chase Perez-Blanco and Baker Newman. Saint Xavier was led by Alabama signee Sean Donohue, a singles All-Tournament Team selection.
Winter Park (Winter Park, FL) claimed 9th place and finished the tournament 3-1, winning the consolation finals with a 7-2 victory over Baylor (Chattanooga, TN). The Wildcats, who dropped four three-set matches in a tough first round loss against Mount Saint Joseph, outscored their next three opponents 20-7.
In the Boys B Division, Latin School of Chicago (Chicago, IL) pulled out three straight wins to claim their first tournament championship. The Romans, who were making their third tournament appearance, claimed a 5-3 win over DuPont Manual (Louisville, KY) in the championship match. Most Valuable Player honors went to Latin School's Brian Dhingra who finished the tournament 3-0 at No. 2 singles. DuPont Manual was led by senior David Hess who earned singles All-Tournament Team honors.
For complete tournament results - including match-by-match results, all-tournament team selections, and final standings - visit the tournament website at www.hstennischampionships.com.
The DecoTurf High School Tennis Team Championships is an national high school invitational held annually in Louisville, KY. The tournament in its 7th year has hosted more than 250 high school teams and more than 2,500 student-athletes. The tournament has hosted 38 team State Champions, 34 individual State Champions,14 National High School All Americans and 68 NCAA Division I signees. For more information on the tournament visit www.hstennischampionships.com.
Chiusing a School
Tomorrow's article takes a look at 5-Star senior William Chiu of San Diego, Calif., and his cross-country trek to the Ivy League and Columbia University.
Check out all our content - past and present - as the Countdown to Signing Day continues...
Leave a Comment
More Tournament Features
18-Aug-2017
Kratzer Exceeds Expectations To Win Girls 18s
Hoping to just reach the semifinals, Ashley Kratzer did much better. She captured the singles title at the USTA Girls 18 National Hardcourt Championships in San Diego. The 18-year-old professional earned a wild card into the women's main draw of the U.S. Open.
18-Aug-2017
Kypson Digs Deep For Second Kalamazoo Title
Patrick Kypson added a second Kalamazoo singles title to his name, capturing the USTA Boys 18 National Hardcourt Championships in five sets over JJ Wolf. The 17-year-old Kypson earned a wild card into the main draw of the U.S. Open.
17-Aug-2017
Blake Channels Focus Into Girls 16s Titles
Angelica Blake overcame some early jitters with the television cameras rolling to spark a big day at the USTA Girls 16 National Hardcourt Championships in San Diego. After beating her doubles partner, Nikki Redelijk, in the singles final, Blake teamed with her to add a doubles title a few hours later.