College Feature
Talking with UVa's Mitchell Frank
by
Harry Cicma
, 29 May 2013
Follow Harry on
Twitter
It didn't take long for Virginia sophomore Mitchell Frank to drop his first set at No. 3 singles in the NCAA Team Championship match by a 6-0 score.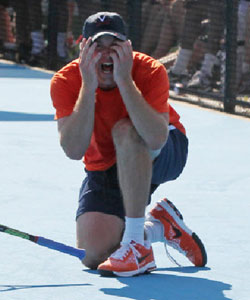 But Frank regrouped to win the second set 6-4. Then, after UCLA's Adrien Puget accidentally stepped on the net on championship point to keep UVa's hopes alive, Frank came back from 3-5 to clinch the title for the Cavaliers with a 0-6, 6-4, 7-5 victory.
NBC's Harry Cicma, who was the primary commentator for last week's NCAA Championships broadcast, caught up with Frank after the match.
Questions and Answers
Harry Cicma (HC): That was a very dramatic outcome for the NCAA Men's National title. Mitchell, you're only a sophomore, how does it feel?
Mitchell Frank (MF): I don't think words can describe it, all the hard work our team has put in - I knew that I was doing it for more than myself, and that is something very special. I was just telling myself during the match - just to leave it all out there, and luckily I was able to get the win. That's all you can do.
Adrien Puget played an unbelievable match out there, and he played great. It's unfortunate that someone had to win or lose, but obviously I'm happier to be in the winner's circle instead of the loser's circle.
HC: What does this win mean for UVa to win it's first ever men's team title?
MF: It mean's everything - to be part of it, and to be able to clinch that. It's funny, because I had this feeling that it was going to come down to me, and I was mentally preparing for a moment like this. I was just out there doing everything I could.
I was a little lucky that he touched the net on his match point, but at the end of the day, I knew I just had to stay resilient. I did, and it came out well.
HC: To be an American and win a National title, how special is that?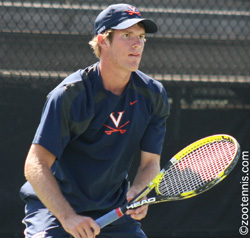 MF:
It means everything. Before I came to college, I played matches for myself. But to share it with a team and other people is incredible - words can't describe it.
I trained extremely hard all year. The first couple rounds in the NCAA I wasn't able to finish matches, and I was definitely feeling nerves. But to be able to come through in the end feels incredible.
HC: What does the future hold for you now?
MF: I'll play a full schedule of pro tournaments this summer, and we'll see how those go. I'll probably be back at school in the fall and chase after another national championship.
Leave a Comment
More College Coverage
21-Aug-2015
Bobby Reynolds Starts New Chapter at Oklahoma
A stellar playing career at Vanderbilt prepared Bobby Reynolds for a successful decade on the ATP tour. Now he is returning to college tennis - this time as a coach. Reynolds is joining men's head coach John Roddick as his assistant at the University of Oklahoma.
5-Aug-2015
Dynasty Building - NAIA Style - at Georgia Gwinnett College
The word "dynasty" isn't thrown around loosely in sports. One would hesitate in using the word dynasty to describe an upstart tennis program at an NAIA school in the suburbs of Atlanta. But the Georgia Gwinnett College tennis teams delivered the school its first-ever national titles in any sport with both the Men's and Women's NAIA National Championship titles in 2014, and the men repeated in dominating fashion in May, 2015.
17-Jun-2015
Talking with ITA Rookie of the Year Noah Rubin
Wake Forest freshman Noah Rubin was determined to experience college tennis, even after capturing the Wimbledon boys title and 18s National title in Kalamazoo prior to starting classes last fall. After a stellar season that saw him named ITA Rookie of the Year, Rubin has announced that he will be leaving Wake to focus on a professional career. Colette Lewis got the chance to talk with Rubin at the NCAA Tournament and then again briefly after his announcement.
About Harry Cicma
When it comes to college tennis, Harry Cicma is your man. Cicma covers tennis and other athletic stories for
NBC Sports
, writing articles and producing video segments.
He is co-founder and host of World Tennis a weekly tennis show on NESN, and host of of Tennis Live Radio's College Corner.
Cicma competed as a junior in USTA/New England and went on to play college tennis at Rutgers University. As a professional, Cicma competed at the ATP Newport tournament and the San Jose Siebel Open. He reached a career-high #75 in the ATP doubles team rankings and #1262 in the ATP Entry System.
In media, Cicma has run the gamut. He has worked for NBC, CBS, ABC, ESPN, FOX Sports Net, the Tennis Channel, and World Team Tennis. Cicma has announced NCAA sports as well as the US Open Tennis Championships on both TV and radio.