Recruiting 101
Countdown: Thomson on Player Expectations
by Paul Thomson, 7 November 2013
In our last discussion, I talked about questions involving coaches awarding scholarships and if and how scholarships could change during the course of a player's career. We also discussed out-of-pocket expenses that players and families should expect.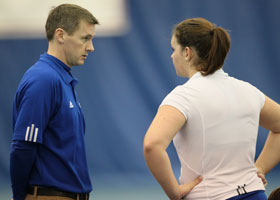 Coach Paul Thomson discusses expectations in college
In this second discussion I will address more questions asked by players and parents:
How many hours per week are expected from the players? How many players will be used for varsity matches in the course of a given year? How many non-varsity, walk-on players do teams carry, and what is expected of them?
How many hours per week are expected from the players?
I will start this discussion the same as I did the first: "It all just depends." Like the first set of questions, however, every college tennis program will have one thing in common as far as time expectations. Per NCAA guidelines, player/team activity during the season is limited to a total of twenty hours per week with one mandatory off day. Player/team activity out of season is limited to eight hours per week with only two of those hours being on-court instructional time with the coaching staff. During out-of-season training, two off days per week are required. The off days usually vary week to week based upon a team's in-season playing schedule.
Although the NCAA limitations on time commitment seem straightforward, calculating the true time spent is more difficult. The first area where things get complicated is match days. All competition counts as three hours, regardless of the number of hours a player competes. A match might last for one hour or five hours. Some teams also play double headers, and those may result in a nine- or ten-hour day. But all of these scenarious only count towards three hours of the twenty on the NCAA limitation.
Another factor that often goes unmentioned around competition is travel. Travel does not count against a team's twenty hours, but travel hours are obviously real when you are on the road. Those two-hour - or even ten-hour - van or bus rides can really add up, and when a team flies cross-country that is often an all-day endeavor. A player/team travel day may in fact end up being counted as an off day. It happens. A team may go to class Thursday morning and then fly out that afternoon. After getting to their destination it's straight to dinner and the hotel. They will get up on Friday morning, and get a hit in wherever they are playing. Then they go to lunch, back to hotel to change, and then on to their match. Saturday, they are up again for either a morning match or another hit and an afternoon match. Perhaps they will fly out Saturday evening and actually get Sunday off, or that Sunday may also end up being a day off even as a full day of travel.
In the course of a week, players will have team practice, individual hits with the head or assistant coach, and fitness and endurance sessions with the strength and conditioning coach. There are team and player meetings. Some coaches also analyze film with their players from match to match. These activities all have to fall within the twenty hour per week guideline, but the actual player hours could be 25 to 30 - or more - depending on how many matches are played that week and how long the matches last. Coaches can require and schedule a full week up to twenty hours. Past that, any other on-court time or workouts are up to the players themselves. Coaches can only get so much done with teams and players in the time they have. It is often up to a player and teammates to put in extra work and time to push themselves to a higher level. The ones that do this are often the ones who are traveling and competing. Coaches love the "court rats" who are putting in the time/effort on their own. They cannot require it or make it mandatory, but a coach is going to go after and recruit players that are going to put in the extra time on their own.
I challenge any recruit to go and look at any of the top teams in the country and find one where the players themselves - whether a men's or women's team - are not putting in extra time in by themselves on and off of the court.
It just doesn't happen.
The best teams in the country may have the best talent, but the ones who win the NCAA Tournament - or even their conference championship - are the ones who are putting in the extra work on their own. I have a saying, "Talent doesn't sweeten the tea" - meaning simply because it is there it doesn't make you good. The life of a student-athlete is very demanding. But is also very rewarding.
The other time requirement for student-athletes that is often left out is academics. I do not mean going to class which is obviously "required" for kids to do well. I mean the academic time like study halls or tutoring sessions. There is a rule of thumb that says a college student should put in two or three hours studying for every hour that they are in class. Many coaches, such as myself require study hall hours for players. This may not count as athletics time, but it is often expected by coaches as part of the process.
With my teams I require all freshmen to do five to six study hall hours per week. Further, players with a cumulative GPA under 2.75 are also required to participate in study hall hours. Some of this time is spent with a tutor, but the majority of this time is generally in the library or computer lab. While we are on the road, my players will study together in the hotel lobbies and even on the van. It is a necessary routine not just to graduate but also to remain eligible for participation in your sport. Some of my players have to study and put in a lot more hours to be successful. That is something to keep in mind as you prepare for a college career. It's not all about time. It's about time management.
How many players will be used for varsity matches in the course of a given year? How many non-varsity, walk-on players do teams carry, and what is expected of them?
I have seen tennis rosters with as few as five players and as many as fifteen or more. Roster sizes end up short for different reasons. Coaches get caught by players transferring last minute or not being eligible. There are also times when players just don't show up on campus in the fall or even in January after the winter break. This is one of those situations I mentioned before where 'things change' at a moment's notice. If this happens in the fall, it may still leave some time for a coach to get another player in for the spring semester.
The reasons for larger roster sizes vary as well. It is tougher on a coach without assistants to carry high numbers of players. His time becomes spread too thin to spend enough one-on-one time with each player to fully encourage their development. Teams with a full staff may be more equipped to carry, monitor and develop more players. I mentioned before some coaches are also required to carry a minimum number of players. These minimums are often required to support enrollment at smaller institutions.
The biggest issue I have with roster size as a coach is being able give all players equal time. If coaches are going to take on 12, 14 or more players, it should be their responsibility to ensure that all of those players are at least getting some one-on-one time with someone on the staff. It is not enough for me to ensure a quality experience for a player to just let them on the team. If a kid is willing and wants to get better and I take them on, that player deserves time with me or my staff.
I think it is fair to say that coaches have the same expectations of their walk-ons as they do their top players. It is important that everyone carry their weight on and off of the courts. Everyone is to work for the betterment of their teammates - in return improving themselves and the team. If I am going to take on a walk-on, I expect him/her to practice and train like he/she is fighting for the No. 1 position. On the other side I also expect my top players to mentor down, giving the developmental players respect for their hard work while also working to get them better, because that's what the top guys expect from the walk-ons. I wrote an article a while back call The "I" In Team. Each player - whether the No. 1 or the No. 8 - has a role and responsibility. All players must ask themselves and even their coach, "What can 'I' do to make this team better?" I truly believe that - and I think coaches expect that attitude from all of their players.
In the course of a match a coach may only use six players for singles and doubles. However, coaches may have a player that excels in doubles but is still working on developing as a singles player. That individual may be the best doubles player on the team and play in the No. 1 doubles position. He'll come out of the line for another player to come in and play singles even if it's only at the No. 6 position. Teams often play double-headers as well. A coach will schedule a lighter opponent before a tougher one as a warm up for his normal line-up, but that extra match also provides great experience for other players that will contribute in the future.
Throughout the duration of an entire season I personally have used as many as eleven different players, and there can be many reasons for this variety. Coaches often will schedule lighter opponents in order to give their developmental players a chance to compete. Some - including myself - simply just like to reward the hard work of the walk-ons. It has always been my belief that a kid busting it for the team and pulling his/her weight should have the opportunity to get on the court at least once or twice as a reward for their efforts.
Injuries and players that may become ineligible also account for the number of other players that get on the courts during the season. A coach may also have to go to the bench sometimes to rest a player or even to help them get out of a slump. In general I think it is safe to say that on a team with a roster of eight to ten that all of those guys will get a chance to be on the court at some point.
In closing, my advice to you is to ask specific questions to coaches of programs you are considering. Compare answers and find the best fit for you and your family. It's not always about playing number 1, the amount of the scholarship, or how highly a team is ranked. It's about the experience and fulfillment thereof. Being a student-athlete should be a rewarding experience yielding good that last a life time. If the academic experience is bad, it can affect the athletic performance and experience. If a player is unhappy with the team, coach or playing experience it can adversely affect the other parts of their college lives. Do the work and investigate what is right for you, and you will find the right program to join.
Last But Not Least...
Tomorrow brings the final article in our Countdown series. Harry Cicma of NBC News catches up former Boston College captain Justin Slattery to talk about his college experiences and their value.
In the meantime, take a look at our coverage schedule and take a look at what you might have missed - in the Countdown to Signing Day.
About Wilson
Wilson Tennis is proud to sponsor the Recruiting 101 series of articles at TennisRecruiting.net.
Connect with Wilson on Facebook, Twitter, Instagram, and YouTube - or on their website.
Leave a Comment
More Recruiting 101 Articles
8-Nov-2016
Fall Signing Week '16 : I Didn't Sign an NLI - Now What?
So you did not get the spot or the scholarship you had been hoping for; maybe you turned down offers to wait for something else or you may have found yourself not receiving any scholarship offers this time around. I know this can feel quite disconcerting, and you may feel like all is lost. I am here to tell you all is not lost, and that it is all going to work out just fine for you.
7-Nov-2016
Fall Signing Week '16: What the FAFSA Changes Mean for Recruiting
In a rare move, deadlines changes been made to the Free Application for Federal Student Aid, better known as FAFSA. These modifications have an impact on money available for financial scholarships, which can also change timing in the recruiting process. Recruiting expert Marcia Frost breaks down the changes ...
3-Nov-2016
Countdown: Drawing Attention from College Coaches
Dear Coach - My name is David Mullins and I started playing tennis at the age of 10. It all started when my father took me to a local park and threw some tennis balls to me. Since then ... blah, blah, blah, blah ... I cannot tell you how many times I received letters like this from players - telling me their entire tennis and life histories. I am here to tell you that college coaches do not care about any of this, well, at least not initially.
About Paul Thomson
Paul Thomson has spent over 20 years in tennis, with ten years experience in college tennis coaching - the past eight of which have been spent as head coach. He was the 2008-09 SAC Women's College Coach of the year. Thomson, certified through the PTR, has experience as a tour and high school coach and club/academy instructor. He has also worked in grass roots tennis community tennis development. Thomson is currently doing freelance writing and working on his first book.