Showcase Announcement
Eastern College Showcase Day to be held November 10
Press Release, 27 October 2013
Register for the Eastern College Showcase Day
The USTA Eastern Section is excited to announce its annual College Showcase Day which will be held at the Holiday Inn in Mt. Kisco, N.Y. on Sunday, November 10.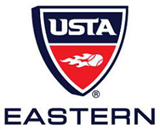 If you are a player, you can learn more about the college tennis process and connect better with college coaches including the USTA Eastern Tournament for High School Seniors and the Eastern College Tennis Showcase for High School Juniors.
College coaches get the opportunity to recruit and get exposure for their tennis programs.
All high school students will also walk away with a handy resource guide that includes what you need to know about the tennis recruitment process.
Click here to register, find out what schools are attending, and check out the schedule for the College Showcase.
To register for the camp, please visit www.eastern.usta.com.
The USTA Eastern Section, based in White Plains, New York, is a not-for-profit community service organization whose mission is to promote and develop the growth of tennis. The section encompasses all of New York State, Northern New Jersey and Greenwich, Connecticut. It is one of 17 geographic sections of the United States Tennis Association, the governing body of tennis in the United States, and supports more than 49,000 members. The section also establishes and maintains rules of fair play, high standards of sportsmanship and represents, in its jurisdiction, the programs and policies of the USTA. More information about the USTA Eastern section is available by visiting: www.eastern.usta.com.
Leave a Comment
More Special Features
15-Jun-2016
Joyce, Daavettila Repeat as Champions at US Open Midwest Playoffs
The location had changed, but the results were the same as teenagers Martin Joyce and Sara Daavettila defended their titles at the US Open Midwest Playoffs at the University of Notre Dame Monday.
7-Jun-2016
USTA Midwest Section to Hold College Showcase in Indianapolis
On Friday, June 24, the USTA Midwest Section will host its 2016 College Showcase, giving students from the region a chance to learn about the wide range of opportunities in college tennis. The showcase will be held at the Barbara S. Wynne Tennis Center, North Central High School in Indianapolis, Indiana, and will include both information and on-court sessions for high school players.
11-May-2016
Asics Easter Bowl ITF Tournament Pioneers Travel Grants
In its nearly fifty years on the United States junior tennis scene, the Easter Bowl has developed a reputation for innovation. This year saw a new initiative emerge for those participating in the International Tennis Federation's Grade B1 event at the Indian Wells Tennis Garden: travel vouchers for boys and girls who reached the round of 16 in their respective 64-player draws.