Showcase Announcement
Eastern College Showcase Day to be held November 10
Press Release, 27 October 2013
Register for the Eastern College Showcase Day
The USTA Eastern Section is excited to announce its annual College Showcase Day which will be held at the Holiday Inn in Mt. Kisco, N.Y. on Sunday, November 10.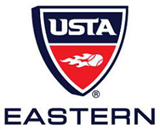 If you are a player, you can learn more about the college tennis process and connect better with college coaches including the USTA Eastern Tournament for High School Seniors and the Eastern College Tennis Showcase for High School Juniors.
College coaches get the opportunity to recruit and get exposure for their tennis programs.
All high school students will also walk away with a handy resource guide that includes what you need to know about the tennis recruitment process.
Click here to register, find out what schools are attending, and check out the schedule for the College Showcase.
To register for the camp, please visit www.eastern.usta.com.
The USTA Eastern Section, based in White Plains, New York, is a not-for-profit community service organization whose mission is to promote and develop the growth of tennis. The section encompasses all of New York State, Northern New Jersey and Greenwich, Connecticut. It is one of 17 geographic sections of the United States Tennis Association, the governing body of tennis in the United States, and supports more than 49,000 members. The section also establishes and maintains rules of fair play, high standards of sportsmanship and represents, in its jurisdiction, the programs and policies of the USTA. More information about the USTA Eastern section is available by visiting: www.eastern.usta.com.
Leave a Comment
More Special Features
7-Oct-2016
ImRecruitable College Showcase Events Nov 30 to Dec 1
ImRecruitable will host its 5th Annual College Tennis Showcase November 30th and December 1st 2016 at Patch Reef Park Tennis Center in Boca Raton, FL. This unique, one-of-a-kind event combines both on-court training with college coaches as well as showcase match play in front of observing coaches. This event allows players the opportunity to gain maximum exposure and networking with college coaches.
30-Sep-2016
What an Agent Does: Interview with Topnotch Management's Sam Duvall
Sam Duvall played high-level tennis as a junior outside of Louisville, Ky., and he played college tennis at Bates College. As a senior, Duvall had an internship at Octagon, a sports management firm. After several years at SFX, Duvall started his own firm, Topnotch Management. Colette Lewis of ZooTennis.com spoke with Duvall about many issues around sports management - and what advice he would give top juniors and their families.
28-Sep-2016
Rome Tennis Center Blends Economics and Education with Tennis
In Field of Dreams, a voice told Kevin Costner's character, "If you build it, he will come." Cities and municipalities have been doing this for sports like baseball, softball, soccer and lacrosse. Add tennis into the conversation, as word has reached the "powers that be" that a large, modern and sprawling tennis center can drive money into the local economy, bring awareness to all that a city offers, and offer unprecedented educational and recreational opportunities for residents.