Showcase Announcement
Eastern College Showcase Day to be held November 10
Press Release, 27 October 2013
Register for the Eastern College Showcase Day
The USTA Eastern Section is excited to announce its annual College Showcase Day which will be held at the Holiday Inn in Mt. Kisco, N.Y. on Sunday, November 10.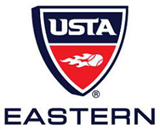 If you are a player, you can learn more about the college tennis process and connect better with college coaches including the USTA Eastern Tournament for High School Seniors and the Eastern College Tennis Showcase for High School Juniors.
College coaches get the opportunity to recruit and get exposure for their tennis programs.
All high school students will also walk away with a handy resource guide that includes what you need to know about the tennis recruitment process.
Click here to register, find out what schools are attending, and check out the schedule for the College Showcase.
To register for the camp, please visit www.eastern.usta.com.
The USTA Eastern Section, based in White Plains, New York, is a not-for-profit community service organization whose mission is to promote and develop the growth of tennis. The section encompasses all of New York State, Northern New Jersey and Greenwich, Connecticut. It is one of 17 geographic sections of the United States Tennis Association, the governing body of tennis in the United States, and supports more than 49,000 members. The section also establishes and maintains rules of fair play, high standards of sportsmanship and represents, in its jurisdiction, the programs and policies of the USTA. More information about the USTA Eastern section is available by visiting: www.eastern.usta.com.
Leave a Comment
More Special Features
15-Dec-2013
DTS College Exposure Series
The 2014 DTS College Exposure Series kicks off with the 9th Annual DTS Southern California Showcase January 4th & 5th at the Claremont Colleges in Claremont, Calif. Events in the series are the longest running of their kind - boasting an impressive list of college coaches. These college exposure events prove to be an invaluable resource for both student-athletes and college coaches.
8-Dec-2013
The Invaluable Experience - New Kindle Book by Lao and Limpert
Reflecting on her successful college tennis career, Danielle Lao, a two-time All-American at USC thought she might have some valuable information to share with others either enrolled at colleges and universities around the country, thinking about playing college sports, or even sports fans wondering what the college experience is like for a elite athlete. With the help of Rick Limpert, Lao has
24-Nov-2013
WAM Sports College Showcase to be held December 5-6
The WAM Sports College Tennis Camp and Showcase is a great way to get exposed to and recruited by 40+ U.S. college tennis coaches. College coaches from all divisions across country will be in attendance to educate you about the college tennis recruiting process and spend time with you on court.