Showcase Announcement
Eastern College Showcase Day to be held November 10
Press Release, 27 October 2013
Register for the Eastern College Showcase Day
The USTA Eastern Section is excited to announce its annual College Showcase Day which will be held at the Holiday Inn in Mt. Kisco, N.Y. on Sunday, November 10.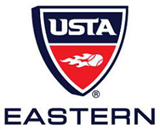 If you are a player, you can learn more about the college tennis process and connect better with college coaches including the USTA Eastern Tournament for High School Seniors and the Eastern College Tennis Showcase for High School Juniors.
College coaches get the opportunity to recruit and get exposure for their tennis programs.
All high school students will also walk away with a handy resource guide that includes what you need to know about the tennis recruitment process.
Click here to register, find out what schools are attending, and check out the schedule for the College Showcase.
To register for the camp, please visit www.eastern.usta.com.
The USTA Eastern Section, based in White Plains, New York, is a not-for-profit community service organization whose mission is to promote and develop the growth of tennis. The section encompasses all of New York State, Northern New Jersey and Greenwich, Connecticut. It is one of 17 geographic sections of the United States Tennis Association, the governing body of tennis in the United States, and supports more than 49,000 members. The section also establishes and maintains rules of fair play, high standards of sportsmanship and represents, in its jurisdiction, the programs and policies of the USTA. More information about the USTA Eastern section is available by visiting: www.eastern.usta.com.
Leave a Comment
More Special Features
28-Jun-2015
Mid-Atlantic College Showcase in Boyds, Maryland
On Saturday, July 11, the Montgomery TennisPlex will host its 2015 College Tennis Showcase, giving USTA Mid-Atlantic high school players a chance to learn about college tennis and interact with coaches. The showcase will be held at the Montgomery TennisPlex in Boyds, Maryland, and will include both information and on-court sessions.
26-Jun-2015
An Interview with Martin Blackman, General Manager USTA Player Development
If there are hats Martin Blackman hasn't worn in his decades associated with the sport of tennis, they'd be difficult to spot. Named General Manager of USTA Player Development in April, Blackman has a resume that includes experience as player, coach and administrator. Colette Lewis of ZooTennis.com talks with Blackman about a host of topics related to junior and college tennis.
9-Jun-2015
USTA Gives Position on Use of Periscope and Meerkat Live Streaming Apps
Less than three months after the release of live streaming video apps in Periscope and Meerkat, sports organizations and networks around the world are giving their positions and setting policy on how these convenient but controversial apps can be used by fans and others in attendance at their events. Rick Limpert discusses their use in the tennis world.