Showcase Announcement
Eastern College Showcase Day to be held November 10
Press Release, 27 October 2013
Register for the Eastern College Showcase Day
The USTA Eastern Section is excited to announce its annual College Showcase Day which will be held at the Holiday Inn in Mt. Kisco, N.Y. on Sunday, November 10.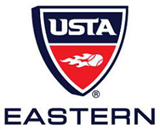 If you are a player, you can learn more about the college tennis process and connect better with college coaches including the USTA Eastern Tournament for High School Seniors and the Eastern College Tennis Showcase for High School Juniors.
College coaches get the opportunity to recruit and get exposure for their tennis programs.
All high school students will also walk away with a handy resource guide that includes what you need to know about the tennis recruitment process.
Click here to register, find out what schools are attending, and check out the schedule for the College Showcase.
To register for the camp, please visit www.eastern.usta.com.
The USTA Eastern Section, based in White Plains, New York, is a not-for-profit community service organization whose mission is to promote and develop the growth of tennis. The section encompasses all of New York State, Northern New Jersey and Greenwich, Connecticut. It is one of 17 geographic sections of the United States Tennis Association, the governing body of tennis in the United States, and supports more than 49,000 members. The section also establishes and maintains rules of fair play, high standards of sportsmanship and represents, in its jurisdiction, the programs and policies of the USTA. More information about the USTA Eastern section is available by visiting: www.eastern.usta.com.
Leave a Comment
More Special Features
27-Jun-2014
The Value of Front Court Skills in College Tennis
I've had several recruits ask for training suggestions as they make the transition to college. A common theme between the three programs I've been part of the past few years has been the amount of work put into developing doubles skills, especially with freshmen. Recruiting players who can make immediate contributions to the doubles lineup has become harder to do, so my suggestion to young players in general is to develop the ability to play the net.
18-Jun-2014
ITA Summer Circuit Schedule
The ITA Summer Circuit provides college, junior, and alumni tennis players the opportunity to compete in organized events virtually year round. Although the primary focus of the circuit is to provide incoming freshmen and collegiate players the chance to play in the summer months, these events are "open", so anyone is eligible to compete.
7-May-2014
A Conversation with Steve Johnson
For college tennis fans, Steve Johnson needs no introduction. At USC, Johnson won an unprecedented four NCAA team titles and two NCAA singles titles, ending his collegiate career on a 72-match winning streak. With just one full year behind him on the ATP tour, he now stands as the third-ranked American at No. 69. Colette Lewis caught up with Johnson to talk about all things tennis...