Showcase Announcement
Eastern College Showcase Day to be held November 10
Press Release, 27 October 2013
Register for the Eastern College Showcase Day
The USTA Eastern Section is excited to announce its annual College Showcase Day which will be held at the Holiday Inn in Mt. Kisco, N.Y. on Sunday, November 10.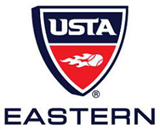 If you are a player, you can learn more about the college tennis process and connect better with college coaches including the USTA Eastern Tournament for High School Seniors and the Eastern College Tennis Showcase for High School Juniors.
College coaches get the opportunity to recruit and get exposure for their tennis programs.
All high school students will also walk away with a handy resource guide that includes what you need to know about the tennis recruitment process.
Click here to register, find out what schools are attending, and check out the schedule for the College Showcase.
To register for the camp, please visit www.eastern.usta.com.
The USTA Eastern Section, based in White Plains, New York, is a not-for-profit community service organization whose mission is to promote and develop the growth of tennis. The section encompasses all of New York State, Northern New Jersey and Greenwich, Connecticut. It is one of 17 geographic sections of the United States Tennis Association, the governing body of tennis in the United States, and supports more than 49,000 members. The section also establishes and maintains rules of fair play, high standards of sportsmanship and represents, in its jurisdiction, the programs and policies of the USTA. More information about the USTA Eastern section is available by visiting: www.eastern.usta.com.
Leave a Comment
More Special Features
26-Nov-2014
Breakdowns Before Breakthroughs
Andre Agassi survived. So did Novak and Serena. And it brought Andy Murray to tears on center court at Wimbledon It is considered one of tennis' greatest challenges. The phenomenon called breakdowns before breakthroughs.
8-Oct-2014
Interview with USTA National Collegiate Coach Stephen Amritraj
Stephen Amritraj joined the USTA as a National Coach in January of this year and was recently named its National Collegiate coach. Amritraj played at Duke from 2002-2006, and after a brief stint on the tour, began coaching ATP professionals in Southern California, where he grew up. Colette Lewis of ZooTennis.com talked with Amritraj about the USTA Collegiate Team program which assists American college players as they transition to professional careers.
23-Aug-2014
Premiere of Inside College Tennis with Tony Minnis at Wichita State
The Bill Rodman Production Shoppe has completed production of the 4th episode of Inside College Tennis and premieres on Tennis Channel featuring Wichita State University. The show premieres tonight, Saturday, August 23rd at 10pm ET, on The Tennis Channel. Meet Colin Foster, Head Women's Coach and Brad Louderback, Head Men's Coach is this episode and come to understand why each coach says: "Our team is a like family."