Showcase Announcement
Eastern College Showcase Day to be held November 10
Press Release, 27 October 2013
Register for the Eastern College Showcase Day
The USTA Eastern Section is excited to announce its annual College Showcase Day which will be held at the Holiday Inn in Mt. Kisco, N.Y. on Sunday, November 10.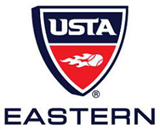 If you are a player, you can learn more about the college tennis process and connect better with college coaches including the USTA Eastern Tournament for High School Seniors and the Eastern College Tennis Showcase for High School Juniors.
College coaches get the opportunity to recruit and get exposure for their tennis programs.
All high school students will also walk away with a handy resource guide that includes what you need to know about the tennis recruitment process.
Click here to register, find out what schools are attending, and check out the schedule for the College Showcase.
To register for the camp, please visit www.eastern.usta.com.
The USTA Eastern Section, based in White Plains, New York, is a not-for-profit community service organization whose mission is to promote and develop the growth of tennis. The section encompasses all of New York State, Northern New Jersey and Greenwich, Connecticut. It is one of 17 geographic sections of the United States Tennis Association, the governing body of tennis in the United States, and supports more than 49,000 members. The section also establishes and maintains rules of fair play, high standards of sportsmanship and represents, in its jurisdiction, the programs and policies of the USTA. More information about the USTA Eastern section is available by visiting: www.eastern.usta.com.
Leave a Comment
More Special Features
15-Aug-2015
Revisiting the USTA Nationals Forecast
For the second time in as many national championship events, Tennis Recruiting put out heat maps forecasting last week's USTA National Championships. We put our rankings on the line - making predictions about how the tournaments would play out. It's time to take another look at those predictions to see how we did...
1-Aug-2015
Forecasting the USTA National Championships
We had so much fun with the Clay Courts that we decided to do it all again. The USTA National Championships start today all around the country, and Tennis Recruiting once again forecasts the tournament with its Heat Maps - showing predictings for every player in the draws. Let's take a look at the best players in American junior tennis...
25-Jul-2015
Analysis of Junior Ratings and Rankings
The Tennis Recruiting ranking system provides a predictive measure of junior tennis players. For the recent Clay Court Championships, our rankings correctly predicted 77.2% of the match results. So - is that a good number? This article compares the Tennis Recruiting ranking system with other junior tennis ranking and rating systems.