Showcase Announcement
Newks College Showcase to be held November 23-24
Press Release, 3 November 2013
Players and Coaches - Attend the John Newcombe College Showcase Weekend November 23-24!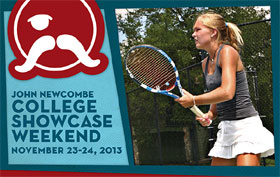 Newks College Showcase gives coaches the perfect opportunity to meet and watch potential recruits compete. Exposure between college coaches and players can be challenging, and this is the time of year most high school juniors begin looking into colleges tennis programs.
Over the weekend, you will have many opportunities to interact with our players:
Point, Set and Match play
Team tennis format in both singles and doubles
Fitness Sessions
Live ball drills
Q&A Sessions
Three meals on-site
Open to all players as well as Division II, III and Junior College Coaches
Don't miss this chance to get a head start recruiting your team! For more details, and to find out who will be attending, please email Phil Hendrie at [email protected].
Click here to learn more and to register online.
Please feel free to pass this information to current recruits whom you may want to watch in action.
Leave a Comment
More Special Features
25-Nov-2015
Laaksonen the Winner at 20th Champaign Challenger
Singles winner Henri Laaksonen and doubles champions David O'Hare and Joe Salisbury had plenty to celebrate on Saturday as they took the top prizes at the USTA JSM Champaign pro circuit event, but they weren't the only ones cheering. The Challenger celebrated its 20th year, making it one of the longest running tournaments of its kind in the country.
31-Oct-2015
ImRecruitable College Training Day and Showcase
ImRecruitable will once again host its largest recruiting event of the year. The College Training Day and Showcase will be held at Sunrise Tennis Club in Sunrise, Fla., on Dec 2 and 3, 2015. These events allow players the opportunity to gain maximum exposure and networking with college coaches that can lead directly to scholarship opportunities.
7-Oct-2015
USTA Adds Brad Stine to National Collegiate Coaching Staff
Brad Stine has coached tennis for 30 years, and he was recently appointed as the newest member of the USTA Player Development's collegiate division. Colette Lewis of ZooTennis.com recently talked with Stine about many topics - including the reasons he decided to pursue coaching, the five requirements for success as a pro, the value of the college pathway and the ITF's push for more prize money at the lower levels.