Showcase Announcement
Newks College Showcase to be held November 23-24
Press Release, 3 November 2013
Players and Coaches - Attend the John Newcombe College Showcase Weekend November 23-24!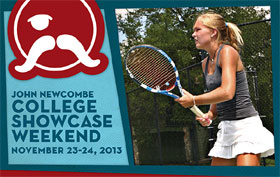 Newks College Showcase gives coaches the perfect opportunity to meet and watch potential recruits compete. Exposure between college coaches and players can be challenging, and this is the time of year most high school juniors begin looking into colleges tennis programs.
Over the weekend, you will have many opportunities to interact with our players:
Point, Set and Match play
Team tennis format in both singles and doubles
Fitness Sessions
Live ball drills
Q&A Sessions
Three meals on-site
Open to all players as well as Division II, III and Junior College Coaches
Don't miss this chance to get a head start recruiting your team! For more details, and to find out who will be attending, please email Phil Hendrie at [email protected].
Click here to learn more and to register online.
Please feel free to pass this information to current recruits whom you may want to watch in action.
Leave a Comment
More Special Features
11-May-2016
Asics Easter Bowl ITF Tournament Pioneers Travel Grants
In its nearly fifty years on the United States junior tennis scene, the Easter Bowl has developed a reputation for innovation. This year saw a new initiative emerge for those participating in the International Tennis Federation's Grade B1 event at the Indian Wells Tennis Garden: travel vouchers for boys and girls who reached the round of 16 in their respective 64-player draws.
4-May-2016
ASU Reinstates Men's Tennis
After an eight-year hiatus, Sun Devil Athletics announced the reinstatement of the men's tennis program at Arizona State. Through a lead gift of $1M by Buffie and Ray Anderson, Vice President for University Athletics, ASU will now field a total of 26 NCAA varsity sports.
22-Apr-2016
ITA Summer Circuit Schedule
The ITA Summer Circuit provides college, junior, and alumni tennis players the opportunity to compete in organized events virtually year round. Although the primary focus of the circuit is to provide incoming freshmen and collegiate players the chance to play in the summer months, these events are "open", so anyone is eligible to compete.