Showcase Announcement
Newks College Showcase to be held November 23-24
Press Release, 3 November 2013
Players and Coaches - Attend the John Newcombe College Showcase Weekend November 23-24!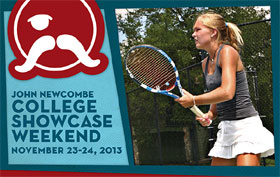 Newks College Showcase gives coaches the perfect opportunity to meet and watch potential recruits compete. Exposure between college coaches and players can be challenging, and this is the time of year most high school juniors begin looking into colleges tennis programs.
Over the weekend, you will have many opportunities to interact with our players:
Point, Set and Match play
Team tennis format in both singles and doubles
Fitness Sessions
Live ball drills
Q&A Sessions
Three meals on-site
Open to all players as well as Division II, III and Junior College Coaches
Don't miss this chance to get a head start recruiting your team! For more details, and to find out who will be attending, please email Phil Hendrie at [email protected].
Click here to learn more and to register online.
Please feel free to pass this information to current recruits whom you may want to watch in action.
Leave a Comment
More Special Features
25-Jul-2015
Analysis of Junior Ratings and Rankings
The Tennis Recruiting ranking system provides a predictive measure of junior tennis players. For the recent Clay Court Championships, our rankings correctly predicted 77.2% of the match results. So - is that a good number? This article compares the Tennis Recruiting ranking system with other junior tennis ranking and rating systems.
25-Jul-2015
Revisiting the Clay Court Forecast
Before the USTA Clay Court Championships began, Tennis Recruiting put out heat maps forecasting the chances players had to make runs through the tournament. So, how did we do? Let's take a look now that the tournaments are complete...
14-Jul-2015
Introduction to Junior Tennis Rankings
There are many ranking and rating systems in junior tennis - systems that assign values to players for purposes of comparing them. Each system has different properties and goals. Each system also has its followers, and there are arguments about which systems are "best". But what does "best" mean? This article opens a discussion about the various ranking systems in American junior tennis today.