Showcase Announcement
Newks College Showcase to be held November 23-24
Press Release, 3 November 2013
Players and Coaches - Attend the John Newcombe College Showcase Weekend November 23-24!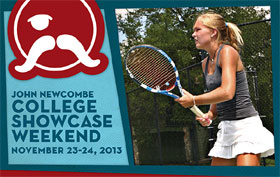 Newks College Showcase gives coaches the perfect opportunity to meet and watch potential recruits compete. Exposure between college coaches and players can be challenging, and this is the time of year most high school juniors begin looking into colleges tennis programs.
Over the weekend, you will have many opportunities to interact with our players:
Point, Set and Match play
Team tennis format in both singles and doubles
Fitness Sessions
Live ball drills
Q&A Sessions
Three meals on-site
Open to all players as well as Division II, III and Junior College Coaches
Don't miss this chance to get a head start recruiting your team! For more details, and to find out who will be attending, please email Phil Hendrie at [email protected].
Click here to learn more and to register online.
Please feel free to pass this information to current recruits whom you may want to watch in action.
Leave a Comment
More Special Features
28-Jun-2015
Mid-Atlantic College Showcase in Boyds, Maryland
On Saturday, July 11, the Montgomery TennisPlex will host its 2015 College Tennis Showcase, giving USTA Mid-Atlantic high school players a chance to learn about college tennis and interact with coaches. The showcase will be held at the Montgomery TennisPlex in Boyds, Maryland, and will include both information and on-court sessions.
26-Jun-2015
An Interview with Martin Blackman, General Manager USTA Player Development
If there are hats Martin Blackman hasn't worn in his decades associated with the sport of tennis, they'd be difficult to spot. Named General Manager of USTA Player Development in April, Blackman has a resume that includes experience as player, coach and administrator. Colette Lewis of ZooTennis.com talks with Blackman about a host of topics related to junior and college tennis.
9-Jun-2015
USTA Gives Position on Use of Periscope and Meerkat Live Streaming Apps
Less than three months after the release of live streaming video apps in Periscope and Meerkat, sports organizations and networks around the world are giving their positions and setting policy on how these convenient but controversial apps can be used by fans and others in attendance at their events. Rick Limpert discusses their use in the tennis world.