Showcase Announcement
Newks College Showcase to be held November 23-24
Press Release, 3 November 2013
Players and Coaches - Attend the John Newcombe College Showcase Weekend November 23-24!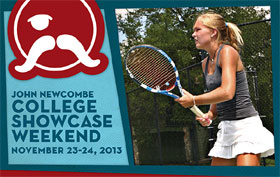 Newks College Showcase gives coaches the perfect opportunity to meet and watch potential recruits compete. Exposure between college coaches and players can be challenging, and this is the time of year most high school juniors begin looking into colleges tennis programs.
Over the weekend, you will have many opportunities to interact with our players:
Point, Set and Match play
Team tennis format in both singles and doubles
Fitness Sessions
Live ball drills
Q&A Sessions
Three meals on-site
Open to all players as well as Division II, III and Junior College Coaches
Don't miss this chance to get a head start recruiting your team! For more details, and to find out who will be attending, please email Phil Hendrie at [email protected].
Click here to learn more and to register online.
Please feel free to pass this information to current recruits whom you may want to watch in action.
Leave a Comment
More Special Features
22-Apr-2016
ITA Summer Circuit Schedule
The ITA Summer Circuit provides college, junior, and alumni tennis players the opportunity to compete in organized events virtually year round. Although the primary focus of the circuit is to provide incoming freshmen and collegiate players the chance to play in the summer months, these events are "open", so anyone is eligible to compete.
6-Apr-2016
College Tennis Weekly Features USTA, ITA
Earlier this year, the Fox College Sports Network premiered a new television series - College Tennis Weekly. The TV show, hosted by former LSU coach Tony Minnis and produced by Harry Cicma Productions, is a welcome addition to the cable airwaves. This week, a new episode that highlights USTA and ITA involvement in college tennis makes its debut, and anyone with an interest in college tennis should check it out ...
31-Mar-2016
ITA Forms Alliance with Arizona State
Arizona State University and the Intercollegiate Tennis Association, the governing body for college tennis, announced a strategic alliance that will leverage the resources of a research-based University to grow the sport of tennis locally, nationally and globally.