Showcase Announcement
Newks College Showcase to be held November 23-24
Press Release, 3 November 2013
Players and Coaches - Attend the John Newcombe College Showcase Weekend November 23-24!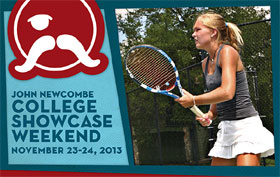 Newks College Showcase gives coaches the perfect opportunity to meet and watch potential recruits compete. Exposure between college coaches and players can be challenging, and this is the time of year most high school juniors begin looking into colleges tennis programs.
Over the weekend, you will have many opportunities to interact with our players:
Point, Set and Match play
Team tennis format in both singles and doubles
Fitness Sessions
Live ball drills
Q&A Sessions
Three meals on-site
Open to all players as well as Division II, III and Junior College Coaches
Don't miss this chance to get a head start recruiting your team! For more details, and to find out who will be attending, please email Phil Hendrie at academy@newktennis.com.
Click here to learn more and to register online.
Please feel free to pass this information to current recruits whom you may want to watch in action.
Leave a Comment
More Special Features
26-Nov-2014
Breakdowns Before Breakthroughs
Andre Agassi survived. So did Novak and Serena. And it brought Andy Murray to tears on center court at Wimbledon It is considered one of tennis' greatest challenges. The phenomenon called breakdowns before breakthroughs.
8-Oct-2014
Interview with USTA National Collegiate Coach Stephen Amritraj
Stephen Amritraj joined the USTA as a National Coach in January of this year and was recently named its National Collegiate coach. Amritraj played at Duke from 2002-2006, and after a brief stint on the tour, began coaching ATP professionals in Southern California, where he grew up. Colette Lewis of ZooTennis.com talked with Amritraj about the USTA Collegiate Team program which assists American college players as they transition to professional careers.
23-Aug-2014
Premiere of Inside College Tennis with Tony Minnis at Wichita State
The Bill Rodman Production Shoppe has completed production of the 4th episode of Inside College Tennis and premieres on Tennis Channel featuring Wichita State University. The show premieres tonight, Saturday, August 23rd at 10pm ET, on The Tennis Channel. Meet Colin Foster, Head Women's Coach and Brad Louderback, Head Men's Coach is this episode and come to understand why each coach says: "Our team is a like family."