Showcase Announcement
Newks College Showcase to be held November 23-24
Press Release, 3 November 2013
Players and Coaches - Attend the John Newcombe College Showcase Weekend November 23-24!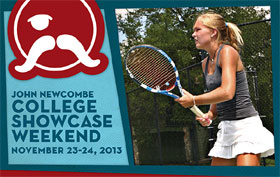 Newks College Showcase gives coaches the perfect opportunity to meet and watch potential recruits compete. Exposure between college coaches and players can be challenging, and this is the time of year most high school juniors begin looking into colleges tennis programs.
Over the weekend, you will have many opportunities to interact with our players:
Point, Set and Match play
Team tennis format in both singles and doubles
Fitness Sessions
Live ball drills
Q&A Sessions
Three meals on-site
Open to all players as well as Division II, III and Junior College Coaches
Don't miss this chance to get a head start recruiting your team! For more details, and to find out who will be attending, please email Phil Hendrie at [email protected].
Click here to learn more and to register online.
Please feel free to pass this information to current recruits whom you may want to watch in action.
Leave a Comment
More Special Features
13-Jan-2017
Eight Intriguing Questions for 2017
Covering junior tennis tournaments and reporting on individual matches is the bread and butter of what I do at ZooTennis.com. But every January, the Tennis Recruiting Network encourages me to step back and contemplate some of the structural and procedural changes that surround the always evolving sport of tennis. Here are the eight questions that I look forward to seeing answered in 2017 ...
10-Jan-2017
Welcome to the USTA National Campus
While in Florida last month for the big junior tennis tournaments, I took a few hours to tour the USTA's vast new 64-acre National Campus in Lake Nona. The scale of the project is difficult to grasp even when visiting in person, but here are 18 photos to provide a glimpse into what is available at the public facility.
14-Dec-2016
2017 USTA National Junior Competitive Structure
Significant revisions have been approved by the USTA Junior Competition Committee to the national junior competitive structure that will become effective on January 1, 2017. Take a look at how they will affect you ...