Showcase Announcement
Newks College Showcase to be held November 23-24
Press Release, 3 November 2013
Players and Coaches - Attend the John Newcombe College Showcase Weekend November 23-24!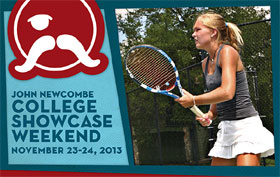 Newks College Showcase gives coaches the perfect opportunity to meet and watch potential recruits compete. Exposure between college coaches and players can be challenging, and this is the time of year most high school juniors begin looking into colleges tennis programs.
Over the weekend, you will have many opportunities to interact with our players:
Point, Set and Match play
Team tennis format in both singles and doubles
Fitness Sessions
Live ball drills
Q&A Sessions
Three meals on-site
Open to all players as well as Division II, III and Junior College Coaches
Don't miss this chance to get a head start recruiting your team! For more details, and to find out who will be attending, please email Phil Hendrie at [email protected].
Click here to learn more and to register online.
Please feel free to pass this information to current recruits whom you may want to watch in action.
Leave a Comment
More Special Features
24-May-2017
Hall of Famer Tracy Austin's Two Roles: Tennis Mom and Tennis Commentator
Tracy Austin was the definition of a tennis prodigy, with the former WTA No. 1 still holding records as both the youngest US Open women's champion (16) and youngest inductee into the International Tennis Hall of Fame. Today, Austin stays involved with tennis professionally as a commentator - and also as the parent of three boys who have all played tennis. Colette Lewis had the chance to talk with Austin at the Ojai in April on a wide range of topics.
13-May-2017
Tennis Community Mourns Loss of Steve Johnson, Sr.
Steve Johnson, Sr., a beloved figure in the tennis community and father of professional Steve Johnson Jr., died Thursday morning in his sleep at age 58. Johnson's death elicited an outpouring of sympathy from friends, students and colleagues across the country.
24-Apr-2017
Talking About the USTA All-American Combine
Today with chat with Scott Treibly of the USTA about the upcoming USTA All-American Combine that will take place at the USTA's Lake Nona facility in June.