College Feature
Duke Erases UCLA's 3-0 Lead to Earn Second ITA Women's Team Indoor Title
by
Colette Lewis
, 14 February 2014
When the seeds were announced last week for the ITA Women's Team Indoor Championships, Duke was a controversial No. 7, despite their preseason ranking of 10. When the Blue Devils defeated No. 4 seed UCLA 4-3 Monday in the final, roaring back from 3-0 down, they had proven they belong at the very top.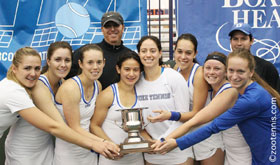 "We just wanted to come here and make a statement about where our program is, and what we're doing with our program after the year we had last year," said Duke head coach Jamie Ashworth, who lead Duke to its first Team Indoor title in 2003. "But we fought so hard last year, and I think that carried over to this year's group."
Although Duke made the NCAA Sweet 16 in 2013, they played the conference season and the NCAA tournament with only five players, one of whom was a walk-on, due to the academic suspension of Trice Capra and injuries to Ester Goldfeld, Monica Turewicz and Rachel Kahan.
"It's a tribute to the girls we have," said Ashworth. "I wouldn't wish what we went through on anybody, but it's such a learning experience for myself and for our team and it's made us better. It's made us tougher and it's made us not take anything for granted. And we've played like that all weekend."
Duke began its weekend at the Boar's Head Sports Club in Charlottesville, Virginia with a 4-2 win over Michigan, then avenged its loss in last year's semifinals to ACC rival North Carolina, the No. 2 seed and defending champion this year. Duke reached the final for the second time in three years when they squeezed past No. 6 seed Cal 4-2, winning all three match tiebreakers in lieu of the third set in the experimental format being used for the tournament.
While Duke was advancing in one thriller after another, UCLA was looking stronger with each match. After defeating Texas 4-2 to start the tournament, the Bruins blanked Pac-12 rival USC, the No. 5 seed, and shut out Northwestern, who had surprised top seed Florida 4-2 in the quarterfinals.
The final, a rematch of the 2012 championship that UCLA took 4-0, looked as if it would be another shutout for the Bruins when they won the doubles point easily and took five first sets in singles.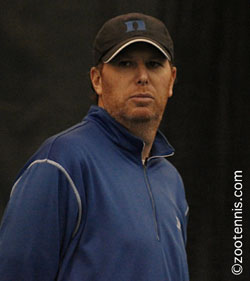 But led by freshman Alyssa Smith's comeback and capped by senior Hanna Mar's clutch play in two tiebreakers, the seventh-seeded Blue Devils turned a 3-0 deficit into an improbable 4-3 victory.
"An hour and a half into the match, it didn't look good at all," Ashworth admitted. "Somehow we found a way. We found a way to battle back in every second set and make it competitive. It easily could have been 4-0, but we competed and scrapped and believed."
Duke lost the doubles point in just 34 minutes, with UCLA's Robin Anderson and Jennifer Brady beating Capra and Mar 6-2 at 1 and Catherine Harrison and Kyle McPhillips defeating Goldfeld and Smith 6-1 at 2. The match at 3, with Duke's Chalena Scholl and Annie Mulholland facing Courtney Dolehide and Chanelle Van Nguyen, was abandoned with the score 4-all. After that disappointing showing, Duke needed a spark, which Smith eventually provided at line 4.
Just as Kaitlin Ray completed her 6-1, 6-1 victory over Duke's Marianne Jodoin at line 6 to make it 2-0 UCLA, Smith earned a match tiebreaker with McPhillips, winning the second set 6-1 after losing the first 6-3.
In the match tiebreaker, Smith led 7-5 at the second change of ends and maintained her lead, although she needed a bold and difficult overhead winner to go up 9-7. McPhillips saved the first match point with a forehand return winner, but Smith prevailed in a long rally on the next one, with McPhillips eventually netting a forehand to give Smith the 3-6, 6-1, 10-8 victory.
"I knew that every point was going to count," said the 18-year-old Smith, from Laguna Niguel, California. "UCLA is a really deep team. But I trusted all the girls on my team. I knew everyone was fighting so I just had to keep doing the same. You start with one and you build from that, so I was really happy to get that first one under my belt."
Just a few minutes after Smith put Duke on the board, UCLA's Harrison completed her 6-3, 6-4 win over Kahan at line 5 to make it 3-1 UCLA, with Brady serving for the match against Mar at line 3, just four points from the title.
Brady had taken the first set 6-3, and had broken Mar in a seven-deuce game to claim a 5-4 lead in the second, but she won only one point in that game, with Mar staying positive and defending admirably while nerves began to be an issue for Brady, a freshman.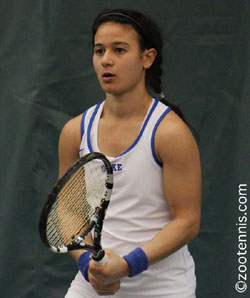 While Brady was losing that championship game, Duke pulled even, with Trice Capra taking a match tiebreaker from Robin Anderson at line 1 for a 1-6, 6-3, 10-7 victory, and Ester Goldfeld succeeding in her second opportunity to serve for the match, beating Chanelle Van Nguyen 6-4, 7-5 at line 2.
So all the attention switched to court 3, just as it had last year's final, when North Carolina freshman Whitney Kay defeated UCLA senior Pam Montez 6-2, 4-6, 7-6(5) to clinch a 4-3 win for the Tar Heels.
Mar held to go up 6-5, and Brady served well in the next game to hold at love and send the match into a tiebreaker, which Mar had to win. Brady's serve, an important part of her big game, deserted her at this stage, and she failed to get a first serve in play in her five attempts. Brady began to miss wildly, while Mar continued to get ball after ball back in play. At 4-3 in the tiebreaker, Mar somehow snuck a forehand volley winner past Brady at the net. That was all that was necessary to rattle Brady, who hit a forehand approach way long and then double faulted to give Mar the second set tiebreaker seven points to three.
The two-minute set break didn't stall Mar's momentum, with the diminutive Illinois native taking the first three points of the match tiebreaker that would decide the championship. Brady continued to struggle, making errors she had mostly avoided in the first two sets, while Mar scrambled and made first serves, seemingly oblivious to the pressure.
Even when she found herself down 7-2 in the match tiebreaker, Brady was unable to loosen up and swing freely, and when Mar hit a bold backhand volley winner and then a short slice that led to a Brady netted forehand, she had a 9-2 lead and seven championship points. Brady won the next point, getting a rare first serve in and outlasting Mar in a long rally, but it was a short reprieve. On the next point, Brady hit a forehand long, and the Duke celebration began.
"The tougher player won and the tougher team won," said UCLA head coach Stella Sampras Webster. "We didn't handle the pressure as well as we needed to today. But it's all about getting better, improving, and learning from it."
Mar was able to do what every tennis player hopes to in that moment, with her opponent serving for the match.
"I tried to keep it simple," Mar said. "One point at a time. Not one game, one point. It was just little steps, step by step."
Mar's match tiebreaker win was her third in three matches (she also split sets in her first match but didn't finish the tiebreaker), while Duke won 6 of its 8 match tiebreakers over the course of the tournament and all three played on Monday.
"We played really well when pressure was on us, which was good to see," said Ashworth. "Hanna's been doing that for us for four years. She's one of the most improved players in the country. When she came in her freshman year, she wasn't in our top six in the lineup, but she worked her butt off to be able to win matches like this for us."
Mar, who was one of the few Duke players to remain healthy and play all last season, acknowledged that the adversity had its benefits.
"It was tough," Mar said. "I think we learned a lot about what it means to be a team. And I'm really glad we can be here this year and be a really strong team together and achieve this. It feels amazing."
For more on the ITA Women's Team Indoor Championships, see the ITA website. The ITA Men's Indoors starts today in Houston, Texas.
Leave a Comment
More College Coverage
3-Dec-2014
Considering NCAA Division III Tennis
At Tennis Recruiting, one of our early New Year's resolutions is to provide more and better coverage of Division III tennis. Toward that end, we sought out the best - and today is the first feature article from our friends at Division3Tennis.com. Check out this introductory article - which provides some advice on how to approach the recruiting process with a focus on D-III schools...
19-Sep-2014
First American Collegiate Invitational Popular Addition to US Open
Any tournament with a prize that could include a US Open main draw wild card will draw the top college players regardless of its venue. Put that event at the USTA Billie Jean King National Tennis Center during the second week of the US Open and interest surges, as it did for the inaugural American Collegiate Invitational earlier this month.
22-Aug-2014
Musings on Proposed ITA/NCAA Division I Format Changes
The ITA recently announced a number of changes to NCAA Division I competition starting this fall. The most notable changes are a move to "no-ad" rather than traditional scoring and shortening doubles from an eight-game pro set to one standard six-game set. These changes have been met with strong feelings on both sides, and there are many coaches and players on both sides of this debate. This article offers our thoughts - in the context of many other articles on the issue.
About Colette Lewis
Colette Lewis
has covered topflight U.S. and international junior events as a freelance journalist for the better part of a decade. Her work has earned her contracts with such organizations as the Tennis Channel, USTA Florida and the Junior Orange Bowl, as well as
TENNIS
,
SMASH
,
USTA
,
Tennis Championships
and
Racquet Sports Industry
magazines. Lewis is active on
Twitter
, and she writes a weekly column right here at TennisRecruiting.net.
Lewis, based out of Kalamazoo, Michigan, has seen every National Championship final played there since 1977, and her work on the tournament's ustaboys.com website led her to establish ZooTennis, where she comments on junior and college tennis daily.