College Feature
ITA Format Experiment Comments: Part Two
by
Colette Lewis
, 21 February 2014
In part one of my discussion with college coaches, there was little support for continuing the women's experiment, which featured a match tiebreaker in lieu of a full third set. In part two below, five more coaches provide their perspective on the ITA's format experiment (men, women), as does Dustin Taylor, the USTA's National Coach for Collegiate Tennis, and Mitchell Frank, the University of Virginia's No. 1 player, who is leading the student-athlete opposition to any change of format.
Claire Pollard, head coach, Northwestern
I think it's important that we've done it, and important that we are doing it at a competitive level. It's been done in non-competitive matches, where most teams felt comfortable trying something new, so the fact that it was mandated in such a significant place is useful and gives us a better indication whether it's a feasible option.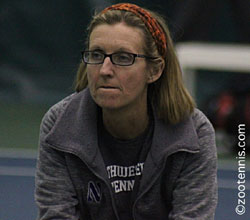 I'm open to suggestions. I think experimentation is important. I think fundamentally, we're not exactly sure why we need to do this - fans, student-athlete welfare, the increased risk of injury, matches go so long - they're all important factors. But at the end of the day, the beauty of the longevity of the sport inherently makes the game better. A 6-1, 6-1 match isn't as exciting to watch as a 7-6, 7-6 match, and 7-6 in the third is some of the most memorable matches that you play.
This certainly creates a different feeling. I think the girls are having to play from ahead and pressure points are more frequent. But the negative for me is that you only have to win one set, and that's a fairly significant drawback.
In doubles, from a coaching point of view it's tough to make an impact (in just one standard set). Now I feel like after one game, I'm saying, quick, abandon that. One of the things I love about the game and try to teach my girls is figuring out why you're winning and why you're losing, the skill of the game. And when you play to six games, you can't figure it out.
Paige Yaroshuk-Tews, head coach, Miami
I'm hoping to go back to traditional tennis. I've never heard of a sport that changes the sport, and that's what we're doing here. We're changing the sport of tennis. You're taking fitness out of it, you're enabling teams that might not be as deep to win one set of tennis and roll the dice.
I think why they're trying to change it is because they want more people interested in college tennis, and college tennis on TV. They want to shorten it up in order to keep people more enticed. Do you tell a baseball program to play six innings? You don't change a sport to get that. I was happy with the way that tennis was being played. We don't play our sport for spectators or fans, or at least that's me. We try to develop tennis players, help them get to the next level and playing a format that I don't think is going to help them get there isn't the way to do this.
We care about our sport, our girls care about our sport, the tennis community cares about our sport, but in the big picture, they [college sports fans] care about football and basketball, and that's okay. We're an Olympic sport, and we're going to continue to be an Olympic sport, it's a great sport, so why change? I'm pretty adamant that this cannot continue.
Roland Thornqvist, head coach, Florida
The singles part changes for us tremendously, because you really only have to play one set. We're sort of used to being able to lean on people in singles, wear them down, with our games having a cumulative effect, and you lose that completely in this format particularly. In ten minutes, the match can change from oh, Cal's winning, to oh, Duke's going to clinch.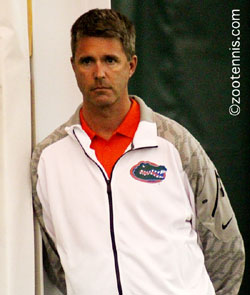 It's very different, but that's not to say it's bad. I think we need to come to terms with what our goal is, what it is we want out of this.
I will reserve my opinion until after the tournament, when the best teams have gone head-to-head. I've always thought we need to have a format that is at its best when two even teams go 4-3. I'm not so concerned about what kind of format we play when the teams are uneven, the blowouts.
All the national championships over the past four, five years, have been 4-3 matches on both the women's and men's sides. So we need a format that makes those types of matches exciting. Shorter, absolutely shorter, but I haven't seen enough matches in this format to commit to it.
Stella Sampras Webster, head coach, UCLA
I probably would not vote for this, although it does keep it really short for this tournament. I'm sure umpires and tournament people love it.
For us, I think doubles is way too fast, the no warmup is really hard, and then the third-set tiebreaker... I'd rather go to no-ad. This just makes it too unpredictable; you want the better player to win. If we had to, I'd rather do a no-ad format than this third-set tiebreaker.
Howard Joffe, head coach, Texas A&M
Of all the people you're interviewing I probably have the most hard-core opinion.
Any time you want to produce any type of a change, the obvious question becomes why. And I don't think that any entity has actually articulated a reason why the format needs to be changed.
I've heard all sorts of different things, but I don't know that anyone has articulated a congruent reason why we would change the format. I've heard about TV, and if people think that women's or men's college tennis is suddenly going to be on prime time television because we're playing a pro tiebreaker, it's ludicrous to me.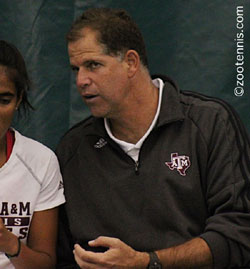 The other suggestion, bringing in more fans, that's another thing I've heard and I don't know if it's accurate. I'm very interested in college tennis, it's my job, I think it's fantastic, it's exciting, but the guy on the street is more interested in watching a high school football game. So I don't know that shortening the format does that.
I've heard matches are too long, it's the student-athlete's well-being. I don't know the data, but I would guess that tennis is a sport that leads or is right at the top of the GPA (for student-athletes), so a four-hour tennis match in no way fundamentally hurting the experience.
For me, it's not even about what the format change is, an extra deuce, a warmup, all those things to me are just silly, because no one's articulated a reason why it needed to be changed.
Dustin Taylor, USTA National Coach for Collegiate Tennis
I understand the interest in changing the format, but I'm hopeful that everyone is looking out for the best interest of all the players in their college tennis experience, their development and their aspirations beyond college.
Obviously, in Player Development, we have invested and continue to invest in college tennis, and believe it's a viable pathway to the pros more and more.
My biggest fear is that the current format gets changed to one that turns away our best players, and has them turning pro for the wrong reasons.
I believe a format that keeps the integrity of singles won't do that, but the experimental formats, both for the men and women, which are going on at the National Indoors, would impact these players to possibly not look at college as an avenue.
For me, it's hard to watch a national championship that comes down to 10-point tiebreakers. I've heard that from both the coaches and the players. It would be like having a soccer game go to penalty kicks after 45 minutes. It completely changes the dynamic of the sport in so many aspects both physically and psychologically.
I'm okay with no-ad in doubles. It's what they play on the tour. I do think no-ad is a great developmental tool as well. If you're going to explore shortening the match, maybe you do consider no-ad in singles. They used it in the 70s and 80s and great college players came out at that time. I'm a fan of no-ad, especially in doubles, because that's what they play on the tour. You get used to being the one that takes it, the pressure's on you in that deuce point. I have no problem with no-ad in doubles.
Mitchell Frank, Virginia student-athlete
I've met a few who are maybe for it, but pretty much every [student-athlete] is against the changes. Before I set up the Facebook group, I sent a message to Peter Kobelt, Marcos Giron, Ray Sarmiento, Nathan Pasha, because they were some guys I thought would oppose these changes. And they were pretty appalled by it.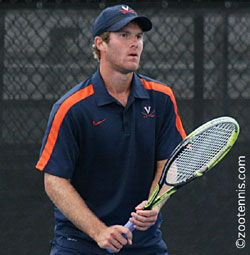 As for the doubles last (the USTA's College Match Day format), those guys said worse-case, they'd do that to keep two-out-of-three singles, but the doubles is a very exciting portion for the fans. If it comes down to the doubles, it would be an unbelievable atmosphere, but you don't know. Doubles provides an opportunity for guys to play who might not play singles, so right there you're decreasing the participation in college tennis, which I don't think would be beneficial for the NCAA or each school.
I think the [ITA experimental] format just takes away from the integrity of the sport. You've trained your whole life to get a college scholarship, to play college tennis, only to see them take away from that experience, which I think this format does.
People who put in the time will be more successful in the normal format, but now there's a little bit more luck that plays into it. In the normal format you get into those grinding games, where it's back and forth, and a break is a huge momentum shift. Now, a guy hits a big serve and you're like, yeah, I just lost that game because the guy hit a big serve on the one point.
The doubles is so quick, 20, 25 minutes. Sure, there's a sense of urgency, but it kind of takes away from the excitement.
In my opinion, if people are going to watch tennis, they are going to watch tennis. They're fans and they're going to watch regardless if it's two hours or three and a half hours. People are going to watch the UCLA - UVA match regardless of whether it's four hours or two hours, because it's entertainment. It's exciting when you see something that close.
I personally don't think it makes a difference, the match time, but obviously there are people who disagree.
Leave a Comment
More College Coverage
24-Jun-2014
American Collegiate Invitational to Debut at US Open
When sixteen American collegians take the courts late in the second week of this year's American Collegiate Invitational at the US Open, they will enjoy the same perks and surroundings as professionals Serena Williams and Rafael Nadal. The college players will not share in the millions of dollars of prize money, but they can collect something the pros cannot - a guarantee of entry for the following year.
19-Jun-2014
The Role of College Tennis in Isner, Johnson and Burdette's Pro Success
College tennis is a team game, a prime reason for its popularity, particularly among US-born juniors. After years of focusing on individual results in junior tournaments, collegians have an opportunity to perform for the benefit of their teammates, most of whom become lifelong friends. Yet many of the top college players also have their sights set on professional careers, using their years in college to mature and develop while competing and studying.
11-Jun-2014
Meet ITA Rookie of the Year Brayden Schnur
Eighteen-year-old Canadian Brayden Schnur didn't begin his freshman year at the University of North Carolina until January, but he had an enormous impact on the Tar Heels in his first five months in Chapel Hill.
About Colette Lewis
Colette Lewis
has covered topflight U.S. and international junior events as a freelance journalist for the better part of a decade. Her work has earned her contracts with such organizations as the Tennis Channel, USTA Florida and the Junior Orange Bowl, as well as
TENNIS
,
SMASH
,
USTA
,
Tennis Championships
and
Racquet Sports Industry
magazines. Lewis is active on
Twitter
, and she writes a weekly column right here at TennisRecruiting.net.
Lewis, based out of Kalamazoo, Michigan, has seen every National Championship final played there since 1977, and her work on the tournament's ustaboys.com website led her to establish ZooTennis, where she comments on junior and college tennis daily.