by TennisRecruiting.net, 4 June 2014
At the end of March, New Balance announced the first-ever New Balance High School Tennis Championship presented by the United States Tennis Association (USTA). The tournament will be held at the Beren Tennis Center at Harvard University in Boston, July 21-24, 2014.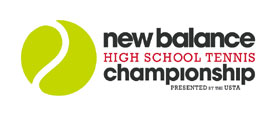 Boys' and girls' singles events will unfold in a 64-player compass draw format, giving players the opportunity to play many matches, and giving spectators the chance to witness exciting, level-based competition. Winners of the New Balance High School Tennis Championship will be awarded wildcard spots in an International Tennis Federation (ITF) junior event held in the U.S. prior to the 2014 US Open Junior Championships.
We got the chance to chat with Bruce Schilling, General Manager of Tennis for New Balance, about the tournament event, who will compete in it, and all the happenings around it. Let's take a look...
Questions and Answers
Tennis Recruiting (TR): Congratulations on the launch of the New Balance High School Tennis Championships. What is the event all about? What are its goals?
Bruce Schilling (BS): The New Balance High School Tennis Championship is an inaugural national level tournament for the best interscholastic tennis players in the country to compete at Harvard University, July 21-24. The champion for both the boys' and girls' tournaments will receive wildcard spots into an International Tennis Federation (ITF) event held prior to the 2014 US Open Junior Championships (the International Hard Courts in College Park, MD). The goal is to create a memorable event for all participants while offering these young tennis athletes an elite level of competition on the national stage.
TR: What is the basic structure of the tournament? How many matches will kids get to play?
BS: The draw sizes will feature 64 boys and 64 girls from across the country. It will be non-elimination, compass draw format which will allow each player to compete in a minimum of four matches. Also ideally, players can plan their travel around a definitive start and end time - which is not always the case for junior tournaments!
TR: Who is eligible to compete in the tournament? What is the selection process - and who should enter?
BS: The event is open to any tennis player who has participated on their respective varsity high school team during the 2013-14 academic year. The selection criteria will be primarily based on the entrants' player rating as determined by the Universal Tennis Rating system. Geographic distribution will also be considered in order to promote fair distribution among states as determined by the NBHSTC tournament committee.
TR: We are big fans of the Universal Tennis Ratings (UTR) system, and it seems to be picking up in popularity. Why did you decide to use the UTR in your criteria?
BS: The way high school tennis is structured from state to state varies widely. The reality is that there could be both a 13-year-old and a 19-year-old entered into the same draw, based on local eligibility standards. We did not want to offer a typical age-group tournament. Also, the age-group National Standings Lists would not even be an effective way to determine entries when ages vary so widely. The UTR was our best available option, and we are really interested to see how this first-year process goes.
TR: You mentioned that the winners of the tournament get wildcards into an ITF event later in the summer. Could you talk a bit about that?
BS: One boy and one girl will receive a wildcard into the International Hard Court Championships that take place August 18-24, 2014 in College Park, Maryland. The International Hard Courts is an exclusive international event that is a warm- up tournament for the 2014 US Open Junior Championships. We want to reward the efforts of our elite high school champions by providing them the opportunity to test their abilities at an international level.
TR: Looking over the schedule, there seem to be a lot of fun activities planned for everyone. What are some of the highlights?
BS: There's a variety of spectacular tennis and social activities planned for the players through the week. On Monday, we are excited to bring our footwear team on site to fit the athletes with the appropriate New Balance shoe based on their playing style. We will make sure that all the players receive a really generous gift bag! Tuesday night will feature the world famous Boston Duck Tour of historic Boston and a pizza party to feed the players. We will also hold a college coaches forum for the players and parents. We will provide free transportation from our host hotel to and from the site throughout the days, we are offering lunches at Harvard for three days and two dinners, we have secured an incredible room rate deal at our host hotel. This will be a really unique event.
TR: In addition to this national tournament, New Balance has been making a big push to champion high school tennis. Could you describe your efforts there?
BS: We are proud to recognize the efforts and commitment that young tennis athletes show toward the game. Through this event and our ongoing outreach programs and services for individual players and coaches, our intent is to build relationships with high school state athletic associations to foster participation among high school players. This year, we have relationships with twenty State Associations - and that number will grow in the future.
TR: Everything sounds great. Is there anything else we should know?
BS: We hope to set a really high standard during this tournament. Because it is a new event, getting the word out is important. We invite all the top high school players in the country to enter. I can promise that every player who is selected into the event will have an incredible and memorable experience!
Click here to read the press release about the New Balance High School Tennis Championship, and click here to register for the event.
Leave a Comment
More Tournament Features
24-Jul-2015
Riffice Pulls Through to Claim Gold in Boys 18s
A seven-hour rain delay and a few rounds of pickle ball may have saved Sam Riffice in the boys' 18s final of the USTA National Clay Court Championships. Riffice trailed 5-1 in the first set of the title match against fellow Boca Raton resident Alexandre Rotsaert before a downpour forced the competitors off the court. When the pair returned Riffice rallied for a 7-6 (5); 6-3 victory for the first gold ball of his career.
24-Jul-2015
Ellyse Hamlin Wins Singles, Doubles in Girls 18s
Ellyse Hamlin has some glittering hardware on display at her home in Fairfield, Conn. Hamlin captured the gold balls of the singles and doubles events at the USTA Girls 18 Clay Courts Championships at The Racquet Club of Memphis. The sixth-seeded Hamlin beat No. 17 Kaitlyn McCarthy of Cary, N.C., 6-7 (8), 6-1, 7-5 in a three-hour singles battle. Hamlin and teamed with Katharine Fahey of Fair Haven, N.J., to claim the doubles title.
23-Jul-2015
Danny Thomas Wins Boys 16s in South Florida
It wasn't until four years ago that Danny "DJ" Thomas first started taking tennis seriously. Now the talented 15-year-old is taking the sport by storm - literally. Thomas, of Columbus, OH, won his first gold ball in singles as he captured the Boys 16s USTA National Clay Court Championships with a 6-2; 6-4 win over Aleks Huryn (Alpharetta, GA) at the Boca West Country Club.