News & Features
Tournament Schedule
ITA Summer Circuit Schedule
by ITA, 24 May 2015
Since its launch in 1993, the ITA Summer Circuit has provided college, junior, and alumni tennis players the opportunity to compete in organized events virtually year round. Although the primary focus of the circuit is to provide incoming freshmen and collegiate players the chance to play in the summer months, ITA Summer Circuit events are "open" tournaments - everyone is eligible to compete in these events as long as they are current ITA members.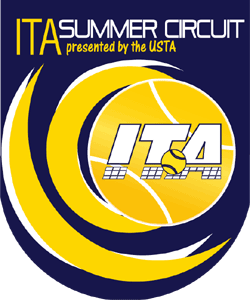 The ITA Summer Circuit is currently made up of nine regional circuits - Northeast, Mid-Atlantic, Southeast, Midwest, Central, Mountain, Texas, Northern California and Southern California. Each circuit hosts four consecutive open tournaments in late June and July, leading up to the ITA/USTA National Summer Championships in August.
All participants in the ITA Summer Circuit must be ITA student members. Memberships are affordable and available for current college players, junior players, alumni and more. Click here to learn about ITA membership registration.
For more details on the ITA Summer Circuit, including the point charts and registration details, click here.
Check the schedule below to find an event in your area.
Circuit
Starts
Location
Contact
Central
UMKC
6/28
Kansas City, MO
Scott Hanover
Wichita State
7/05
Wichita, KS
Colin Foster
Kansas
7/18
Lawrence, KS
Todd Chapman
Oklahoma
7/26
Norman, OK
Cristina Moros
Mid-Atlantic
Mary Washington
6/28
Fredericksburg, VA
Todd Helbling
Virginia Tech
7/06
Blacksburg, VA
Jim Thompson
Charlotte
7/19
Charlotte, NC
Billy Boykin
UNC Greensboro
7/26
Greensboro, NC
Jeff Trivette
Midwest
Minnesota
7/05
Minneapolis, MN
John Pratt
Purdue
7/05
W. Lafayette, IN
Laura Glitz
Western Michigan
7/12
Kalamazoo, MI
Ryan Tomlinson
Notre Dame
7/19
Notre Dame, IN
Ryan Sachire
Indiana
7/26
Bloomington, IN
Ramiro Azcui
Mountain
New Mexico
6/28
Albuquerque, NM
Erica Jasper
Colorado
7/12
Boulder, CO
Nicole Kenneally
Denver
7/19
Denver, CO
David Lowenthal
Northeast
Pittsburgh
6/30
Pittsburgh, PA
Hank Hughes
Wellesley
7/12
Wellesley, MA
Brian Kuscher
Rutgers
7/19
New Brunswick, NJ
B. Bucca, Jr.
Cornell
7/26
Ithaca, NY
Mike Stevens
Northern California
San Jose State
7/05
San Jose, CA
Sylvain Malroux
UC Davis
7/12
Davis, CA
Eric Steidmayer
Pacific
7/19
Stockton, CA
Ryan Redondo
Sonoma State
7/26
Rohnert Park, CA
S. Cunninghame
Southeast
Florida State
7/06
Tallahassee, FL
Jennifer Hyde
Middle Tennessee
7/12
Murfreesboro, TN
Jimmy Borendame
Alabama
7/19
Tuscaloosa, AL
Jenny Mainz
Florida
7/26
Gainesville, FL
Dave Balogh
Southern California
Laguna Niguel
7/05
Laguna Niguel, CA
Mark Spearman
La Verne
7/12
La Verne, CA
Yolanda Duron
Azusa Pacific
7/19
Azusa, CA
Mark Bohren
Cal State L.A.
7/26
Los Angeles, CA
Sandy Kriezel
Texas
Abilene Christian
7/05
Abilene, TX
John Walker
Texas Dallas
7/12
Richardson, TX
Bryan Whitt
Texas Arlington
7/19
Arlington, TX
Diego Benitez
Texas A&M
7/25
College Station, TX
Mark Weaver
Leave a Comment
More Special Features
25-Nov-2015
Laaksonen the Winner at 20th Champaign Challenger
Singles winner Henri Laaksonen and doubles champions David O'Hare and Joe Salisbury had plenty to celebrate on Saturday as they took the top prizes at the USTA JSM Champaign pro circuit event, but they weren't the only ones cheering. The Challenger celebrated its 20th year, making it one of the longest running tournaments of its kind in the country.
31-Oct-2015
ImRecruitable College Training Day and Showcase
ImRecruitable will once again host its largest recruiting event of the year. The College Training Day and Showcase will be held at Sunrise Tennis Club in Sunrise, Fla., on Dec 2 and 3, 2015. These events allow players the opportunity to gain maximum exposure and networking with college coaches that can lead directly to scholarship opportunities.
7-Oct-2015
USTA Adds Brad Stine to National Collegiate Coaching Staff
Brad Stine has coached tennis for 30 years, and he was recently appointed as the newest member of the USTA Player Development's collegiate division. Colette Lewis of ZooTennis.com recently talked with Stine about many topics - including the reasons he decided to pursue coaching, the five requirements for success as a pro, the value of the college pathway and the ITF's push for more prize money at the lower levels.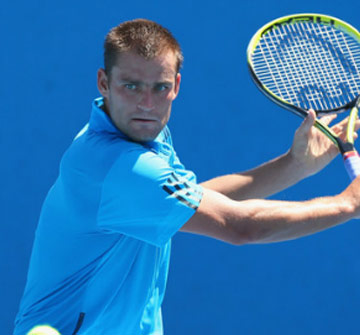 Mikhail Youzhny

Click on Mikhail Youzhny to view and buy his equipment, apparel, and footwear.