News & Features
Tournament Schedule
ITA Summer Circuit Schedule
by ITA, 22 April 2016
Since its launch in 1993, the ITA Summer Circuit has provided opportunities for competition in organized events virtually year round. Although the primary focus of the circuit is to provide incoming freshmen and collegiate players the chance to play in the summer months, ITA Summer Circuit events are "open" tournaments - college, junior, and alumni tennis players are eligible to compete in these events.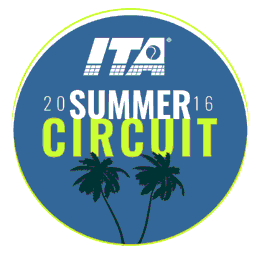 The ITA Summer Circuit is currently made up of nine regional circuits - Northeast, Mid-Atlantic, Southeast, Midwest, Central, Mountain, Texas, Northern California and Southern California. Each circuit hosts a series of open tournaments on college campuses during six weekends in late June and July, leading up to the
ITA Summer Nationals
in mid-August.
For more details on the ITA Summer Circuit, including the point charts and registration details, click here.
Check the schedule below to find an event in your area.
Circuit
Starts
Location
Contact
Central
UMKC
6/25
Kansas City, MO
Scott Hanover
Kansas State
7/02
Manhattan, KS
Jordan Smith
Wichita State
7/09
Wichita, KS
Colin Foster
Kansas
7/16
Lawrence, KS
Todd Chapman
Oklahoma
7/23
Stillwater, OK
Boomer Saia
Missouri
7/23
Columbia, MO
S. Stuckenschneider
Iowa
7/30
Iowa City, IA
Ross Wilson
Mid-Atlantic
Elon
7/02
Elon, NC
Elizabeth Anderson
Mary Washington
7/09
Fredericksburg, VA
Todd Helbling
Charlotte
7/16
Charlotte, NC
William Boykin
Furman
7/23
Greenville, SC
Adam Herendeen
Wake Forest
7/30
Winston-Salem, NC
Jeff Wyshner
Midwest
Northwestern
6/25
Evanston, IL
Jennifer Lutgert
Western Michigan
7/02
Kalamazoo, MI
Ryan Tomlinson
Gustavus Adolphus
7/02
St. Peter, MN
Jon Carlson
Purdue
7/08
W. Lafayette, IN
Laura Glitz
Notre Dame
7/16
Notre Dame, IN
Ryan Sachire
Michigan State
7/23
East Lansing, MI
Gene Orlando
Indiana
7/30
Bloomington, IN
Ramiro Azcui
Mountain
Denver
6/25
Denver, CO
Drew Eberly
Arizona Christian
6/25
Phoenix, AZ
Chris Tolson
Colorado
7/09
Boulder, CO
Nicole Kenneally
Metropolitan State
7/30
Denver, CO
Daniel Hangstefer
Northeast
Sacred Heart
7/08
Fairfield, CT
Paul Gagliardi
Rutgers
7/16
New Brunswick, NJ
B. Bucca, Jr.
Princeton
7/23
Princeton, NJ
Damian Hume
Wellesley
7/23
Wellesley, MA
Brian Kuscher
Cornell
7/30
Ithaca, NY
Mike Stevens
Northwest
Pacific
7/02
Stockton, CA
Ryan Redondo
UC Davis
7/16
Davis, CA
Eric Steidmayer
Linfield
7/16
McMinnville, OR
Ben Belletto
Sonoma State
7/30
Rohnert Park, CA
S. Cunninghame
Southeast
Florida State
6/25
Tallahassee, FL
Jennifer Hyde
Georgia
7/02
Athens, GA
Drake Bernstein
Middle Tennessee
7/09
Murfreesboro, TN
Jimmy Borendame
Louisville
7/16
Louisville, KY
Meg Peavy
Alabama
7/16
Tuscaloosa, AL
Jenny Mainz
Florida
7/23
Gainesville, FL
Dave Balogh
Georgia Gwinnett
7/30
Lawrenceville, GA
Chase Hodges
Southern California
Pomona-Pitzer
6/25
Claremont, CA
Steve Bickham
CS Northridge
7/02
Northridge, CA
James Ciuffo
La Verne
7/08
Fullerton, CA
Yolanda Duron
CMS
7/16
Claremont, CA
Kathy Settles
Azusa Pacific
7/23
Azusa, CA
Mark Bohren
Cal State L.A.
7/30
Los Angeles, CA
Sandy Kriezel
Texas
Abilene Christian
6/25
Abilene, TX
John Walker
Texas Tyler
7/02
Tyler, TX
Chris Bizot
Texas Dallas
7/09
Richardson, TX
Bryan Whitt
Texas Arlington
7/16
Arlington, TX
Diego Benitez
Texas Tech
7/23
Lubbock, TX
Todd Petty
Texas A&M
7/30
College Station, TX
Mark Weaver
Leave a Comment
More Special Features
7-Jun-2016
USTA Midwest Section to Hold College Showcase in Indianapolis
On Friday, June 24, the USTA Midwest Section will host its 2016 College Showcase, giving students from the region a chance to learn about the wide range of opportunities in college tennis. The showcase will be held at the Barbara S. Wynne Tennis Center, North Central High School in Indianapolis, Indiana, and will include both information and on-court sessions for high school players.
4-May-2016
ASU Reinstates Men's Tennis
After an eight-year hiatus, Sun Devil Athletics announced the reinstatement of the men's tennis program at Arizona State. Through a lead gift of $1M by Buffie and Ray Anderson, Vice President for University Athletics, ASU will now field a total of 26 NCAA varsity sports.
6-Apr-2016
College Tennis Weekly Features USTA, ITA
Earlier this year, the Fox College Sports Network premiered a new television series - College Tennis Weekly. The TV show, hosted by former LSU coach Tony Minnis and produced by Harry Cicma Productions, is a welcome addition to the cable airwaves. This week, a new episode that highlights USTA and ITA involvement in college tennis makes its debut, and anyone with an interest in college tennis should check it out ...