Recruiting Feature
2016 Top Mid-Major Men's Classes
by TennisRecruiting.net, 6 June 2016
From a participation standpoint, tennis is one of the most popular college sports around. There are almost 2,500 programs across the country playing intercollegiate tennis at some level.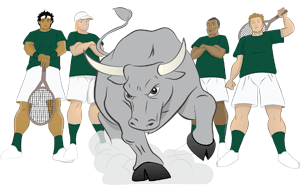 Today we take a look at the top college recruiting classes from outside the "Power 6" conferences - programs from conferences that do not get automatic bids to the new College Football Playoff.
Many mid-major schools compete at a high level on the court, as evident in the NCAA team and individual championships over the years. Two weeks ago in Tulsa, Oklahoma, four players from conferences outside the Power 6 - two from South Florida and one each from San Diego and Tulane - earned ITA All-America status for reaching the Round of 16 at the NCAA singles tournament. In the doubles tournament, David Biosca and Rogerio Ribeiro from ETSU upset the No. 1 team in the nation to advance to the Round of 8.
We could also talk about many the accomplishments and quality teams in Division II, Division III, NAIA, NJCAA, and CCC - teams that compete for national titles every year.
Top 25 Mid-Major Men's Recruiting Classes (through May 22)
Today, the Tennis Recruiting Network is excited to present the Top 25 Mid-Major Men's Recruiting Classes for 2016.
The mid-major rankings in tennis include all colleges in all divisions except for those in the five so-called "major" football conferences - the ACC, Big 10, Big 12, Pac 10, and SEC - as well as the Ivy League.
As is our policy, in these rankings we did not consider incoming transfer students.
So here they are - the Top 25...
Also Receiving Consideration
We reviewed the résumés for more than 50 teams for these rankings. Teams that received strong consideration and almost made our list are (alphabetically) as follows: Boston U, Carnegie Mellon, DePaul, Georgia State, Western Michigan, and Williams.
Charging Bulls
South Florida Head Coach Matt Hill certainly does have his squad hitting on all cylinders. The Bulls captured their third straight American Conference Championship en route to a final Oracle/ITA team ranking of No. 17 and a second-round appearance in the NCAA Tournament. Two players - Roberto Cid and Dominic Cotrone - earned ITA All-America status by advancing to the Round of 16 in the singles competition - with Cid reaching the quarterfinals.
USF is losing some valuable seniors, but they are gaining some top talent as a trio of highly-rated recruits heads to Tampa in Fall 2016.
Blue chip senior Jakub Wojcik joins Benjamin Hannestad of Denmark and Great Britian's Thomas Wright to form a three-man class that ran away with the No. 1 position in our recruiting class rankings.
Hannestad headlines the class with a career-high ITF junior ranking of No. 45 and a UTR of 13.86. Based in Bradenton, Fla., at the IMG Academy, Hannestad won six qualifying matches in April at Futures tournaments in Orange Park and Vero Beach, Fla.
"Our makeup next year will be a very large group of young players," said Hill in a school release. "We expect these freshmen to make an immediate impact."
Give Me Five
Another strong recruiting class is heading to Middle Tennessee, who check in at No. 2 in our rankings. Head Coach Jimmy Borendame has attracted German Max Rauch, Tom Floris Moonen of the Netherlands and Nicolas Buitrago of Columbia - all recruits with strong Universal Tennis Ratings.
"I think all three will have an impact on the singles lineup right away," said Borendame in a school release. "Tom and Max will both be very strong doubles players also, which was an area that needed improvement."
The No. 3 class comes from Tulane University, where German Luis Erlenbusch leads a trio of international recruits.
Rounding out our Top 5 are Loyola Marymount (No. 4) and UC Davis (5).
State Breakdown
These twenty-five programs hail from sixteen states. Leading the way is the Golden State. A whopping seven of the twenty-five ranked classes come from California - inlcluding four of the Top 10: Loyola Marymount (No. 4), UC Davis (5), Pacific (7), Santa Clara (8), CMS (17), UC Santa Barbara (19), and Fresno State (20).
Only three other states have more than one ranked recruiting classes: Florida, Louisiana, and New York each have two recruiting classes in our rankings.
Conference Call
The West Coast Conference lead all conferences with four ranked programs and three in the Top 10. Three Top-10 California programs Loyola Marymount (No. 4), Pacific (7), and Santa Clara (8) are joined by Washington state program Gonzaga (22) in these recruiting class rankings.
Also notable are four recruiting classes from NCAA Division III. Amherst checks in at No. 6 in our rankings, and they are joined by fellow D-III programs Chicago (12) and Claremont-Mudd-Scripps (17).
Coming Friday... Mid-Major Women
Just a few days time until we publish the women's list. This coming Friday, TennisRecruiting.net will release ranking of the top 25 women's mid-major recruiting classes. Shortly afterwards, we will wrap up this ranking season with our lists of the top NCAA Division III programs.
Leave a Comment
More Recruiting Class Rankings
22-May-2017
Top Men's Classes - 2017 Spring Rankings
Today we release our spring rankings of the Top 25 Men's Recruiting Classes. A rash of recent commitments have moved a number of programs up the list - including two previously unranked classes who are now in the Top 10. One thing that hasn't changed on our list is that the top class overall is heading to Berkeley this fall ...
6-Feb-2017
Top Women's Classes - 2017 Winter Rankings
Spring Signing Day is just over two months away, and coaches are busy finalizing their recruiting classes. A number of highly-ranked seniors have already made their college choices - they have made verbal commitments or signing NLIs during the Fall Signing Period. Find out which women's teams are looking good at this stage - as The Tennis Recruiting Network and ArrowBar proudly present the Top 25 Women's College Tennis Recruiting Classes of 2017.
30-Jan-2017
Top Men's Classes - 2017 Winter Rankings
Late January is a great time to take a look at college recruiting. More than 850 seniors have made their college choices, and recruiting classes are really shaping up. How is your favorite team doing? Let's find out ... as Tennis Recruiting and ArrowBar bring you the Top 25 Men's College Tennis Recruiting Classes for 2017.