Player Advice
Shutting Off The Thinking Mind in Tennis
by Patrick Albán, 16 November 2016
Special from
SPMI
I'd like to introduce to everyone The Thinking Mind. Many junior players throughout the country feel and recognize its presence more and more as the college playing years creep up. You will often see players becoming tight in the presence of college coaches such as in showcases, tournaments, and college visits.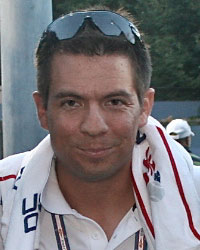 Many high school players develop a Thinking Mind due to their inability to cope with what I like to call, "college tennis deadline anxiety." If left untreated, players' performances often worsen throughout their most important years instead of flourishing.
Below are four tips to overcoming the Thinking Mind - so that you can take control of your thoughts in this critical stage of a player's tennis development.
Four Ways To Stop Over-Thinking
Identifying Triggers: After each match and practice, take ten minutes to identify when and what caused the fear. Write down those triggers, and next to them label them as either fear or danger. Many players will find that most of their overwhelming thoughts were due to fear.
Diaphragmatic Breathing: After identifying fearful thoughts, practice slow and deep breathing. Players may choose to listen to soft music while practicing their breathing to enhance the relaxation response.
Embracing Fear: Many players develop the bad habit of avoiding fearful situations like the plague. This habit - when reinforced - often results in choking and "ugly tennis." Players need to practice embracing fearful thoughts every time they recognize them. By embracing the fear, players are teaching themselves to go after pressure. This technique will help players improve their performance - especially in tough moments.
Practice Paying Attention to the Present:
Learning how to stay in the present for longer periods of time helps athletes take control of the thinking mind and keep thoughts to a minimum. One technique players can practice is to pay attention to the taste of their food with each bite. Try to notice slight changes in taste, texture, temperature, and consistency. By practicing this skill, tennis players will develop a deeper understanding of the present moment while controlling distracting thoughts on and off the court.
Add these techniques to your training and be patient with the results. In fact, the less focused the player is on the results, the faster they will see improvement.
Patrick Albán, B.S, M.S., is Director of Mental Training at SPMI, Cañas Tennis Academy, and Rick Macci Tennis Academy. Albán has trained hundreds of tennis players throughout the world, helping them maximize their mental game and achieve their goals in tennis and in life. You can reach him at (786) 350-1554 - or check out his website.
Leave a Comment
More Player Advice
26-Apr-2017
Are You 100% Present?
When I work with competitive junior tennis players, one of the first concepts I share has to do with "The Now" and "The Noise". This article discusses what each of these concepts really mean ‐and why understanding what they are and how they work is crucial to being a consistent player when the pressure is high or when you are struggling to stay motivated.
23-Jan-2017
Tennis Level Does Not Equal Tennis Level
I think there is a misconception in the tennis world that you need to be playing with higher level tennis players, junior or professional, in order to become a higher level tennis player. Level does not equal level.
27-Nov-2016
Building A Game: The Tennis Imagination
Junior tennis abounds with players adept at contemporary tennis: an attrition-based, narrowly-focused baseline game. This mode certainly generates outcomes in the form of match wins, rankings and scholarships. But what about a long-term, sustainable process for staying engaged with the tennis? Talk of strokes - that is, groundstrokes - is plentiful. But talk of a playing style - the rich literature - is minimal.