Coverage Announcement
Winter Nationals Week
by Dallas Oliver, 2 January 2017
The New Year has barely started, but we already have our first national champions in American junior tennis.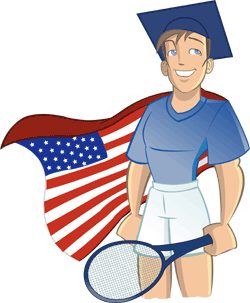 Once again, the state of Arizona served as able hosts to all age divisions of the USTA National Winter Championships. Competition in the 12s and 14s divisions took place in Tucson, while Phoenix hosted the 16s and 18s. National titles - and gold balls - were awarded for all eight junior divisions.
This week, the Tennis Recruiting Network and Van Der Meer Academy feature special coverage of all these tournaments with during our presentation of Winter Nationals Week. Every day brings an article celebrating the best in American junior tennis.
Here is our planned coverage schedule:
Winter Nationals Week Article Series
Things start tomorrow morning with our wrapup of the 12s Nationals.
We hope you enjoy our complete coverage schedule of Winter Nationals Week. Check in each day for coverage of the top boys and girls from across the country.
About Van Der Meer Tennis Academy
We are excited to have Van Der Meer Tennis Academy as the title sponsor of Championship Week at TennisRecruiting.net.
Van Der Meer Academy: Train Harder, Play Smarter...
Van Der Meer Tennis Academy is dedicated to providing personalized, performance-driven tennis instruction, along with rigorous fitness training and family-oriented housing, so that recruited players acquire the athletic and life skills to successfully pursue college scholarships and/or tennis careers as high-powered players and respectful global citizens.
Our elite Tennis Academy uses an integrated approach and commitment to on-court tennis training, physical training, mental toughness, nutrition, tennis tournament scheduling and injury prevention. On a daily basis, VDM coaches assist players in every facet of their development. A wide range of Tennis Academy programs are available. Our expert staff will lift your game with tactics, strategy, mental toughness and fitness.
Connect with Van Der Meer Tennis Academy on Facebook and YouTube - or on their website.
Leave a Comment
More Website News
13-Mar-2017
Countdown to Signing Day
It's that time of year... Signing Day is approaching. April 12 is the first day of the Spring Signing Period - when seniors from around the nation can sign on to play college tennis at Division I or Division II schools. And once again, The Tennis Recruiting Network and GAMMA are ready with the Countdown to Signing Day.
6-Mar-2017
Star Ratings '16-'17 - Spring Edition
Three Star Recruit? Or Four Star? You can find out right now, as The Tennis Recruiting Network proudly presents the Star Ratings for Spring 2017.
10-Oct-2016
Countdown to Signing Day
Once again, in the junior and college tennis, the changing leaves mean that we are getting closer and closer to Signing Day. November 9th is is the first day of the one-week fall signing period - the only opportunity this calendar year for seniors to sign a National Letter of Intent with a Division I or Division II school. As always, The Tennis Recruiting Network and GAMMA are here to keep you up to date on all the happenings.