National Roundup
Welcome, Class of 2012
by Dallas Oliver, 5 September 2005
Ah, September. There is something about tradition. The weather gets cooler, the leaves change color, and a new season begins at TennisRecruiting.net. This week's rankings are the first of the 2005-06 season, and they also mark the arrival of the Class of 2012.
The calendar at TennisRecruiting.net runs from September 1 through August 31. We calculated the final rankings for the outgoing seniors during the final week of August, and we bade farewell to the Class of 2005 last week.
This week, the first week of September, we welcome the new 6th graders from the Class of 2012. Tuesday and Wednesday's rankings are the first lists for the 2012 boys and girls, respectively.
This article takes a brief glance at some stories behind the kids in the Class of 2012. These youngsters have performed quite well in the 12s division - as well as the 14s and 16s. And they seem to have plenty of time for things other than tennis - which is good, since they are indeed just kids.
Boys' Roundup
The inaugural rankings for the Class of 2012 boys will be available tomorrow, but we can take a peek at a couple of highly-ranked boys right now...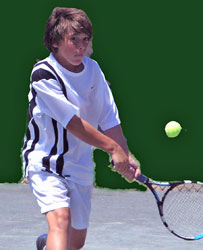 Alex Weinstein
We start our whirlwind tour in Memphis, Tennessee - the home of
Alex Weinstein
. Weinstein has had a great year playing in both state and sectional tournaments, going 16-11 in 2005 (at the time of this writing).
A highlight for Weinstein was placing third in a junior circuit event at the Racquet Club of Memphis in January '05. "Alex was disappointed when he lost a close match in the round of 16," said his mother, Jane Weinstein. "But then he strung together four straight victories to win the consolations.
Weinstein is described as a "smart player" and "someone who is very competitive without being overly aggressive." Jane Weinstein says that her son is a very good student who makes time to play many other sports. "Soccer and basketball are his favorites."
One 6th grader who spends time playing up in the 14s division is Harrison Kennedy (Suwanee, GA). "Harrison was ranked #1 in the Boys' 10's in Georgia last year, so we started playing mostly 14s in Georgia for a while for tougher competition," says father David Kennedy. "Now he plays 14s in local tournaments and on the Southern and National level he is playing in the 12s."
Kennedy is a well-rounded athlete who has decided to focus on tennis. The elder Kennedy elaborates: "Harrison was a county champion swimmer and an All-Star basketball player in the county. But Harrison came to me last fall and asked if [he could take time off from basketball] and concentrate on tennis. That was his decision. He came to me totally unsolicited as a 10-year old, recognizing that tennis is his first love."
Girls' Roundup
You will have to wait until Wednesday to see the first rankings for the Girls Class of 2012. But there is no time like the present to take a brief look at two youngsters who have been playing great tennis: Adaugo Ukaegbu and Jessie Pegula.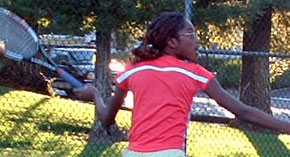 Adaugo Ukaegbu
Adaugo Ukaegbu
(Antelope, CA) has been competing all over the West Coast in the Girls' 12s division, and she has already tasted success. "In my last tournament I won the consolations after losing in three sets (2-6;7-5;6-2) in the quarters to [4-star player]
Srinidhi Raghavan
. I was playing really well in the first set with Raghaven, but I started making some mistakes and she capitalized. After losing that match, I did not want to lose again, and I played my aggressive game and won three matches to win the consolations."
Adaugo also got her first taste of team competition recently, playing in the USTA Zonals in Tuscon, Arizona. "It was really fun," said Adaugo.
Another exciting player is Jessie Pegula from Hilton Head Island, SC. Pegula has racked up wins all across the country - competing primarily in the Girls' 16s division. Her competition in the 16s includes two National Opens, finishing 6th overall in Midland (TX) back in May.
Pegula has come a long way fast. Her mother says that last year's Eddie Herr International was only the second tournament of her career. At the prestigious event, Pegula won two matches before falling to [Blue Chip player] Alexandra Anghelescu.
Pegula's family makes sure she is well grounded as well. She takes time away from tennis, visiting her grandparents and going on vacations with her family. She also plays soccer for Heritage Academy in Hilton Head.
Leave a Comment
More Roundup Articles
21-Apr-2017
Hot 100 List - April '17
Today we announce the April edition of the Hot 100. The Hot 100 features 100 boys and 100 girls who have been playing outstanding tennis. These players have substantially improved their rankings over the past month.
11-Apr-2017
Spring Signing Week '17: National Roundup
Signing Week is now underway, and tomorrow seniors can start signing their National Letters of Intent. Today, we check in with boys and girls from across the country who are heading to a variety of schools. Find out how they came to their decisions... in our National Roundup.
10-Apr-2017
Spring Signing Week '17: Signing Week Arrives
The second week of April is here - and Signing Week has finally arrived! We start our coverage of Spring Signing Week '17 with a look at the uncommitted boys and girls from the top 100. We update you on a few developments from the past few weeks, and we note that some of these top recruits plan to announce their college choices this week in our coverage.