Special Announcement
USTA Tennis On Campus Names UC Davis Club Of The Year
Press Release - 11 April 2009
The USTA announced that the University of California, Davis has been awarded the inaugural Club of the Year Award for the 2008-2009 Tennis On Campus season. The USTA Tennis On Campus program will present the University of California, Davis the Club of the Year award during the 2009 USTA National Campus Championship. In addition, Lone Star College - Cy-Fair, University of Wisconsin, Whitewater and UCLA received honorable mentions.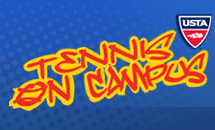 The USTA Tennis On Campus Club of the Year Award honors a Tennis On Campus club for significant improvements in their program and how it commits time and resources to benefit its community. This year's winner, UC Davis, is a close-knit, 90% self-financed, and diverse club of over 250 recreational and competitive players whose goal is to spread the joys of tennis through volunteering and mentoring. For its impact on the community at large, the UC Davis Club holds a number of charitable events per year and has strong partnerships with local businesses. The club also partners with the USTA to provide a free clinic to over 400 underprivileged kids every year. In addition, the team offers a membership card which allows for discounts at local Davis merchandisers.
"It is remarkable to see how many of these student-led programs commit their time, energy and resources to improving their local communities," said Glenn Arrington, USTA Tennis On Campus National Program Manager. "So many of the Tennis On Campus teams are great ambassadors not just for tennis, but also their campuses. In the end, the team from University of California, Davis stood out from the crowd, and they should be proud of their achievements."
The USTA Tennis On Campus program will present the University of California, Davis the Club of the Year award during the 2009 USTA National Campus Championship, to be held April 16-18, 2009 at the award-winning Surprise Tennis & Racquet Complex in Surprise, Arizona.
At the Championship, 64 co-ed teams representing colleges and universities throughout the nation will play using the World TeamTennis format to try and knock off defending champion University of Texas at Austin.
Since its inception in 2000, the Tennis On Campus program has grown to over 500 colleges and 30,000+ student athlete participants. With approximately 340,000 students playing high school tennis nationwide and only a fraction of those having an opportunity to play college varsity tennis, the USTA Tennis On Campus program fills a tremendous void on campuses around the country.
About the USTA
The USTA is the national governing body for the sport of tennis in the U.S. and the leader in promoting and developing the growth of tennis at every level -- from local communities to the highest level of the professional game. A not-for-profit organization with 725,000 members, it invests 100% of its proceeds in growing the game. It owns and operates the US Open, the highest attended annual sporting event in the world, and launched the Olympus US Open Series linking 10 summer tournaments to the US Open. In addition, it owns the 94 Pro Circuit events throughout the U.S., and selects the teams for the Davis Cup, Fed Cup, Olympic and Paralympic Games. The USTA philanthropic entity, USTA Serves, provides grants and scholarships and through tennis, helps underserved youth and people with disabilities to improve academics, build character and strive for excellence. For more information on the USTA, log on to usta.com.
Check out the Tennis On Campus website at www.tennisoncampus.com for complete results, stories and photos. The Tennis On Campus website also offers all college clubs fundraising resources, coaching tips, and marketing materials.
Leave a Comment
More Special Features
7-Dec-2016
Don't Pass on Playing in a Pro Am
While it may not possess the prestige of a national tournament or high school state tournament, it is possible that one of the most important matches you might play, even as a junior, could be in a pro am. While it might seem trivial, it can be a unique chance to make a lasting friendship - or a chance to catch the eye of a college tennis coach.
7-Oct-2016
ImRecruitable College Showcase Events Nov 30 to Dec 1
ImRecruitable will host its 5th Annual College Tennis Showcase November 30th and December 1st 2016 at Patch Reef Park Tennis Center in Boca Raton, FL. This unique, one-of-a-kind event combines both on-court training with college coaches as well as showcase match play in front of observing coaches. This event allows players the opportunity to gain maximum exposure and networking with college coaches.
30-Sep-2016
What an Agent Does: Interview with Topnotch Management's Sam Duvall
Sam Duvall played high-level tennis as a junior outside of Louisville, Ky., and he played college tennis at Bates College. As a senior, Duvall had an internship at Octagon, a sports management firm. After several years at SFX, Duvall started his own firm, Topnotch Management. Colette Lewis of ZooTennis.com spoke with Duvall about many issues around sports management - and what advice he would give top juniors and their families.