TOP PROSPECTS
Boys' Class of 2010 - Seniors
As of Monday, 10/5/2009




| | | | | | | | | | | | | |
| --- | --- | --- | --- | --- | --- | --- | --- | --- | --- | --- | --- | --- |
| View: | | Blue Chip | | 5-Star | | 4-Star | | 3-Star | | 2-Star | | 1-Star |





| Rating | Name | City | State |
| --- | --- | --- | --- |
| | Anbarci, Kurt | Miami | FL |
| | Anton, Jack | Tamarac | FL |
| | Bandy, Ryan | Cincinnati | OH |
| | Banks, John | Charlotte | NC |
| | Barlow, Landon | Sandy | UT |
| | Barrett, Wesley | Cary | NC |
| | Beneck, Troy | Wilmington | DE |
| | Bermudez, Dominic | Tucson | AZ |
| | Bogodist, Antony | San Francisco | CA |
| | Bouillin, Axel | San Diego | CA |
| | Bowling, Jake | Cary | NC |
| | Bridges, Tyler | Thousand Oaks | CA |
| | Brown, Daniel | Montgomery | TX |
| | Bruchmiller, Zachry | San Antonio | TX |
| | Carter, Arren | Powell | OH |
| | Castellow, Kevin | Burke | VA |
| | Chavez, Cristian | Miramar | FL |
| | Cheung, Ryan | Irvine | CA |
| | Collins, Logon | Tulsa | OK |
| | Cook, Thomas | Lilburn | GA |
| | Cowley, Matthew | N Salt Lake | UT |
| | Coxe, James | Raleigh | NC |
| | Crum, Alex | Louisville | KY |
| | Dale, Christopher | Austin | TX |
| | Davis, James | Manassas | VA |
| | Dawson, Kyle | St Charles | IL |
| | DeBot, Brandon | Stevens Point | WI |
| | Decoster, Mika | Coto De Caza | CA |
| | Diaz, Eric | Athens | GA |
| | Doleac, Alex | Hattiesburg | MS |
| | Dooley, Matthew | New Braunfels | TX |
| | Dunbar, Ethan | Medina | OH |
| | Durham, Alexander | Austin | TX |
| | Evins, Connor | Greenville | SC |
| | Fitzgibbons, Teddy | Mission Hills | KS |
| | Ford, Matt | Allen | TX |
| | Friedlich, Alexander | Great Neck | NY |
| | Galleno, Jose | Austin | TX |
| | Ghorbani, Cameron | Lexington | MA |
| | Giannetti, Shane | Oyster Bay | NY |
| | Gill, Ratan | Richmond | BC |
| | Gladstone, Matthew | Miami Beach | FL |
| | Gold, Maks | Prospect | KY |
| | Goldberg, Mark | Beachwood | OH |
| | Golovin, Alexander | Round Lake | IL |
| | Goralka, Matthew | Chicago | IL |
| | Grubbs, Alexander | FtWorth | TX |
| | Gryaznov, Alexander | Santa Barbara | CA |
| | Guay, Justin | Richmond | BC |
| | Hairston, Taylor-J | Oxon Hill | MD |
| | Haskin, Max | New York | NY |
| | Helgeson, Max | Overland Park | KS |
| | Hill, Joe | Missouri City | TX |
| | Hirsh, Jeffrey | Atlanta | GA |
| | Hoogland, Ben | Glenview | IL |
| | Jackson, Andy | Dayton | OH |
| | Jang-Milsten, Henry | Alpharetta | GA |
| | Janssen, Christopher | Deerfield Beach | FL |
| | Jones, Brantner | Winnetka | IL |
| | Kalhorn, Ashton | Henderson | NV |
| | Kallick, Ethan | Pittsburgh | PA |
| | Kamisar, Nicolas | Issaquah | WA |
| | Kamono, Kyohhei (Keith) | Boca Raton | FL |
| | Karandikar, Neil | Skillman | NJ |
| | Kelley, Parker | Manhattan Beach | CA |
| | Khachatryan, Andranik | Burbank | CA |
| | Kuelker, Matthew | Saint Louis | MO |
| | Kuo, Tim | Houston | TX |
| | Laduca, Garrison | Woodstock | GA |
| | Lane, Devin | Salt Lake City | UT |
| | Laster, Ian | Bradenton | FL |
| | Lied, Drew | Brookfield | WI |
| | Loong, Tyler | Highland | UT |
| | Lorentzen, Joshua | Visalia | CA |
| | Loutsenko, Oliver | Bellmore | NY |
| | Luba, Adam | Monterey | CA |
| | Lvovsky, Lance | Dania | FL |
| | Martinez, Mario | Maumelle | AR |
| | Mcelwain, Evan | Tulsa | OK |
| | Mei, Mesa | Somerville | MA |
| | Melton, Chase | Santa Barbara | CA |
| | Metka, Kevin | Worthington | OH |
| | Micheli, Matthew | San Francisco | CA |
| | Miller, Kyle | Pacific Grove | CA |
| | Mirkin, William | Wilmette | IL |
| | Mora, Emilio | Mamaroneck | NY |
| | Morgenstern, Corey | Old Bethpage | NY |
| | Neilson, Travis | Overland Park | KS |
| | Nicholas, J.Hunter | Irvine | CA |
| | Papac, Nicholas | Fresno | CA |
| | Peets, Ross | Jackson | MS |
| | Pena, Antonio | Weston | FL |
| | Pereverzin, Yevgeny | Clackamas | OR |
| | Perez, Juan | Miami | FL |
| | Pittman, Stewart | Southlake | TX |
| | Plattes, Christian | Palm Springs | CA |
| | Pozantidis, Andre | Kenmore | NY |
| | Prince, Andrew | Hastings Hdsn | NY |
| | Quigley, Zack | Boca Raton | FL |
| | Raude, Jonathan | Rego Park | NY |
| | Ravella, Krishna | Westmont | IL |
| | Reindel, Justin | Mamaroneck | NY |
| | Riveros, Reinaldo | Schenectady | NY |
| | Rizvi, Ali | Frisco | TX |
| | Roberts, Matthew | San Jose | CA |
| | Roth, Kyle | New York | NY |
| | Rubin, Max | Cherry Hill | NJ |
| | Salazar, David | Mcallen | TX |
| | Schoenhofer, Cameron | Bixby | OK |
| | Schuster, David | Lacey | WA |
| | Seidelman, Eric | Boca Raton | FL |
| | Shutov, Daniel | Cliffside Park | NJ |
| | Simon, Jason | Roslyn Heights | NY |
| | Smith, Austin | Columbus | IN |
| | Song, Chris | Novi | MI |
| | Spencer, Ryan | Katy | TX |
| | Spiker, Jared | Honolulu | HI |
| | Stockton, Taylor | El Paso | TX |
| | Tomlins, Chase | Tulsa | OK |
| | Tsamas, Dean | Lexington | KY |
| | Urquidi, Mario | El Paso | TX |
| | Warden, John | Tulsa | OK |
| | Weerasinghe, Hamish | Edina | MN |
| | Westmoreland, Matthew | Pearl City | HI |
| | Williams, Jack | Alpharetta | GA |
| | Wu, Curtis | Yorba Linda | CA |
| | Yedigarian, Garik | Bradenton | FL |
| | Zlobinsky, Dennis | Greenvale | NY |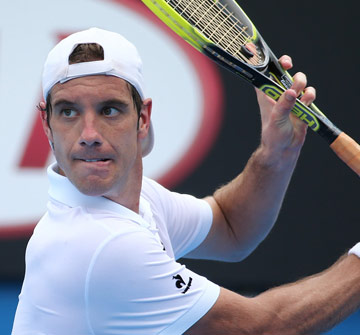 Richard Gasquet

Click on Richard Gasquet to view and buy his equipment, apparel, and footwear.


Follow college tennis with the ITA - the governing body that oversees all levels of men's and women's varsity collegiate tennis.
Weil Tennis Academy
For the past sixteen years in Ojai, California, the Weil Tennis Academy has steadily built a program whose focus is developing competitive players into Champions!