Ask the Experts
Q&A with Erica Perkins: Campus Showdowns
by TennisRecruiting.net, 25 August 2010
They are going on now - and at a college near you. Campus Showdowns - one-day, short-format tournaments that take place on college campuses across America - are open to everyone from juniors and amateurs to college players and professionals. These tournaments give junior players a unique chance to check out college - as well as the level of competition. Erica Perkins of USTA Player Development stops by to talk about this joint initiative between the USTA and ITA.
Questions and Answers
TennisRecruiting.net (TR.net): It is exciting that the USTA has placed more emphasis on college tennis over the past couple of years. What programs that promote college tennis are in place today that did not exist when you started at USTA Player Development?
Erica Perkins (EP): Not being the governing body of college tennis - the ITA is - most of our programming is designed to enhance college tennis and create opportunities for all the great coaches, players, and programs out there.
We have 2 kinds of programming that we run: Advocacy and Player Development. Our advocacy programming utilizes player development tools to spread the word about college tennis both within the USTA and to the rest of the country. This area includes programs such as Campus Showdowns, Campus Kids' Days, and Campus QuickStart as well as College Spotlights on USTA.com featuring the nations top college players and coaches. We also work with the USTA sections to help them put together College Tennis Information Sessions, Showcases, and Forums to expose their junior players and parents to college tennis. None of these are really "new" concepts or ideas, we have just worked very hard over the last two years to organize, promote, and institutionalize these programs.
Our player development programming is designed to give out top collegians opportunities and support in collegiate, professional, and international events. One of the major undertakings in this area is our title sponsorship of the USTA/ITA Regional Championships, National Small College Championships, National Collegiate Wheelchair Championships, and National Intercollegiate Indoor Championships which starts this coming school year. Over the last two years, we have expanded the USTA Summer Collegiate Teams - which provide the top American college players with travel grant money and coaching to play USTA Pro Circuit events during the summer - and we've created men's and women's Pro Tour Transition Camps for those players selected to the summer team. Not only do the camps kick start our players' summer but also each camp has educational components designed to educate players about the realities of the pro tour. We also send National Team of college players to the Master'U Championships in France. Last year's team took home the world title!
TR.net: Wow. That's a lot. Let's focus on Campus Showdowns - now in their third year. Could you describe these showdowns briefly - and state the goals for the program?
EP: Campus Showdowns are one-day, non-sanctioned, non-ranking tournaments open to juniors, college players, professionals, and adults. The tournaments are run on college campuses with the college coach acting as tournament director. Matches are shorts sets, and most events use compass draws to give players four to five sets in a day - plus compass draws ensure that people get two to three sets at an appropriate level of competition.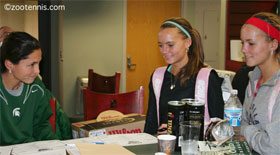 Molly and Amanda Wickman (right) at an
MSU
Campus Showdown with Head Coach Simone Jardim
©
ZooTennis.com
Events can be men's women's or coed - and in fact the coed events are growing in popularity - and entry fees are low, usually $5 to $15. And all of this is done within NCAA rules.
Campus Showdowns give junior and college players an opportunity for more competition - and for the juniors a great opportunity to play high level competition near their home with little to no cost to them: entry fees are very low, and there is no need for a hotel stay or huge travel costs. Campus Showdowns also get more junior players on a college campus - giving them a taste of college life and a chance to compete against college players to see how they stack up. And, of course, one of the major benefits also is connecting college programs with their local tennis community - and creating that bridge.
TR.net: How many showdowns ran last year? How many showdowns are on the schedule for this year?
EP: When I started in August of 2008, the Campus Showdown program was in its infancy. I think there were only 5-6 scheduled. Timon Corwin and I immediately set out to grow that number - and I think we had over 60 that first fall.
In 2009-10 we grew it to over 100 and hope to have similar numbers this year. We provide a small grant to offset costs for the college coaches who host - the first 100 get these grants, so there is usually a spike in registrations about this time of year as coaches want to host and get that grant!
TR.net: What kind of feedback are you getting from players and coaches?
EP: Pretty much everything I heard back from players, parents, and coaches is positive and fun. These events, because they bring together players from all ages and a variety of experiences, are highly-competitive - but also quite fun. People are there to compete, to work on their games, and to enjoy the sport that they love.
I love the events that bring in a variety of players: a 16-year-old might play the section's top 12-year-old in the first round, followed by the #2 player on the college team, followed by the top 45 year old in the state. It's that kind of competition that helps players grow as competitors - but it also makes it a lot of fun.
TR.net: Talk about the future. What are your short- and medium-term goals for Campus Showdowns over the next few years?
EP: A lot of my short-term goals have to do with technology and marketing. We're working every year to make the registration process simpler for the coaches. I also hope to continue to improve the marketing help we can provide the coaches who are hosting - it's already been a huge bonus that the National Campus Showdown schedule is posted on Tennisrecruiting.net but I'm always looking to create better templates for flyers and other marketing materials.
In the long term, obviously the goal has always been that nearly
every
college coach would host a Campus Showdown each year - and that Campus Showdowns would become part of the regular patterns of play of all our junior players, college players, and adults.
TR.net: You get the last word... Most of our users are junior tennis players and their parents. What do you want them to take away?
EP: Most users of this site have already made college tennis one of their goals, so that's great. I highly encourage all junior tennis players who are serious about improving - and serious about playing tennis in college - to take advantage of these fun, low-cost, competitive events. Due to rules and regulations, there are very few opportunities for junior players to get on a college campus, to play on college campuses, and to play against college players.
Not only will the competition help your game, but it can assist you in the recruiting process: You get to see a college campus and most likely meet some players from that team - and you get to play against older, more experienced college players - something that obviously doesn't happen in junior events. This can be key when trying to figure out the types of programs where you can play - and it may expose areas in your game that you need to work on as you strive to take it to the next level!
Leave a Comment
More Recruiting 101 Articles
30-Dec-2019
Recruiting Insight From a Mother, Coach and Player
Courtney Hance has witnessed the recruiting process from many different angles. She's a former Division I player, a mother of four tennis-playing children and a coach to many junior players. Hance reveals what she's learned along the way.
26-Dec-2019
Essential Campus Visit Tips from USTA
A campus visit is the best way to evaluate whether a college is the best fit for any player. The USTA provides a few tips on what to consider during an unofficial or official visit, and the best questions to ask about every college on each trip.
9-Dec-2019
Alternate Reality: Billups Takes Advantage of Showcase Entry
Leyton Billups arrived for the TRN College Showcase at the ITA Coaches Convention on Sunday as an alternate. After somone pulled out of the draw, the junior took advantage of the opportunity to help get seen by coaches and pursue his dream of playing college tennis.