News & Features
Tournament Schedule
USTA/ITA Campus Showdown Schedule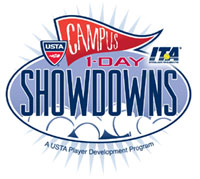 The USTA is teaming with the ITA to promote Campus Showdowns on college campuses throughout the United States. Campus Showdowns are one-day, short-format tournaments open to juniors, college players, professionals, and adults. These events give junior players a chance to compete against college competition on a college campus.
Learn more about these Showdowns here, and then check the schedule below to find a Showdown in your area - or at a school of interest for you. Just email the listed tournament director for more information.


There are no Schowdowns currently scheduled


Leave a Comment
More Special Features
23-Feb-2018
USTA's Stephen Amritraj Talks Collegiate Tennis
In a Q&A with Colette Lewis, USTA Director of Collegiate Tennis, Stephen Amritraj, discusses college dual matches on the Tennis Channel, the recent success of former collegians on the pro tours, this summer's second annual All-American College Combine and more.
9-Feb-2018
Jamie Loeb Is Trusting The Process On The Pro Tour
After leaving the University of North Carolina, early Jamie Loeb is in her third full season on the WTA Tour. Colette Lewis recently caught up with Loeb to discuss her goals for 2018, the financial struggles of being outside the Top 100 and how she plans to stay connected to tennis after her career is finished.
26-Jan-2018
Talking Player ID and Development With USTA's Kent Kinnear
As the USTA's Director of Player ID and Development, Kent Kinnear serves as the liaison between the organization and all competitive 14-and-under tennis players in the country. That's a daunting and wide-ranging responsibility, but Kinnear has prepared for it with decades of experience on all levels of tennis. He recently sat down with Colette Lewis for an expansive Q&A about the player development programs.