News & Features
Tournament Schedule
USTA/ITA Campus Showdown Schedule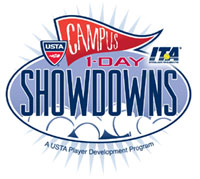 The USTA is teaming with the ITA to promote Campus Showdowns on college campuses throughout the United States. Campus Showdowns are one-day, short-format tournaments open to juniors, college players, professionals, and adults. These events give junior players a chance to compete against college competition on a college campus.
Learn more about these Showdowns here, and then check the schedule below to find a Showdown in your area - or at a school of interest for you. Just email the listed tournament director for more information.


There are no Schowdowns currently scheduled


Leave a Comment
More Special Features
13-May-2022
Former Illini Anderson Reflects on His College, Pro Career
Former Illinois All-American Kevin Anderson announced his retirement from the ATP Tour last week. One of the top former collegians to compete on the ATP tour this century, Anderson reflected on his career milestones, how college helped him and his future plans.
20-Feb-2022
Fight With Filer
TRN has covered David Filer a number of times over the years. Unfortunately, the Blue Chip freshman is in the news today for tougher reasons. Last week while at a USTA Level 2 in Scottsdale, Arizona, Filer fell ill and was diagnosed with Glioblastoma Multiforme.
28-Jan-2022
Eight Intriguing Questions For 2022
Colette Lewis returns with her annual look at eight intriguing questions that everyone in the tennis community will be waiting to have answered in 2022. Job replacements, tournament logistics and players moving up the rankings are just a few of the topics covered.