News & Features
Tournament Schedule
USTA/ITA Campus Showdown Schedule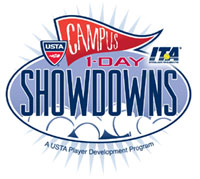 The USTA is teaming with the ITA to promote Campus Showdowns on college campuses throughout the United States. Campus Showdowns are one-day, short-format tournaments open to juniors, college players, professionals, and adults. These events give junior players a chance to compete against college competition on a college campus.
Learn more about these Showdowns here, and then check the schedule below to find a Showdown in your area - or at a school of interest for you. Just email the listed tournament director for more information.


There are no Schowdowns currently scheduled


Leave a Comment
More Special Features
10-May-2019
Happy Mother's Day: Sweet 16 Players Honor Mom with Tributes
They spent years driving them to practice and tournaments. They paid for entry fees, food and travel. They sacrified personal time to watch matches at all hours. They are tennis moms, and we are honoring them this weekend with tributes from players still remaining in the NCAA Division I Sweet 16. Happy Mother's Day!
12-Mar-2019
Oracle's Hurd Places a High Value On College Tennis
Mark Hurd is a passionate advocate of college tennis, having benefitted from his own playing experience at Baylor. The Oracle CEO is now helping lead the charge for his company's investment in the sport through sponsorships and grants.
15-Feb-2019
Stepping Up: Di Lorenzo Returns After Foot Injury
Francesca Di Lorenzo has returned to the court after being sidelined with plantar fasciitis. The former Ohio State star sat down with Colette Lewis to talk about her comeback, her collegiate experience, her first year as a pro and much more.