News & Features
Tournament Schedule
USTA/ITA Campus Showdown Schedule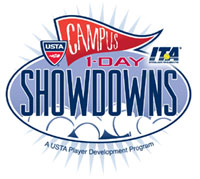 The USTA is teaming with the ITA to promote Campus Showdowns on college campuses throughout the United States. Campus Showdowns are one-day, short-format tournaments open to juniors, college players, professionals, and adults. These events give junior players a chance to compete against college competition on a college campus.
Learn more about these Showdowns here, and then check the schedule below to find a Showdown in your area - or at a school of interest for you. Just email the listed tournament director for more information.


There are no Schowdowns currently scheduled


Leave a Comment
More Special Features
4-Jan-2019
USTA Debuts New Wild Card Linkage System for Americans
In response to the new ITF World Tennis Tour, the USTA has created an expanded wild card linkage system to help provide American players with opportunities to participate in professional events. Juniors and college players can earn merit-based wild cards at several major events in 2019.
28-Dec-2018
Q&A with USTA's New Head of Men's Tennis Kent Kinnear
Kent Kinnear, the USTA's new Head of Men's Tennis, sat down with Colette Lewis at the Orange Bowl to discuss his new role, his future goals for player development and his thoughts on the new ITF World Tennis Tour.
17-Dec-2018
Going the Distance to be Seen by College Coaches
Jasmine Caballero traveled from Phoenix, Arizona to Naples, Florida to participate in the Tennis Recruiting Network Showcase held in conjunction with the ITA Coaches Convention. The three-star junior stayed for only a day, but got exposure and experience.