News & Features
Tournament Schedule
USTA/ITA Campus Showdown Schedule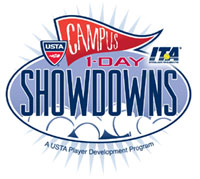 The USTA is teaming with the ITA to promote Campus Showdowns on college campuses throughout the United States. Campus Showdowns are one-day, short-format tournaments open to juniors, college players, professionals, and adults. These events give junior players a chance to compete against college competition on a college campus.
Learn more about these Showdowns here, and then check the schedule below to find a Showdown in your area - or at a school of interest for you. Just email the listed tournament director for more information.


There are no Schowdowns currently scheduled


Leave a Comment
More Special Features
21-Sep-2018
New ITF Heat Rule Scorches US Open Juniors
The ITF Junior Circuit's new extreme heat rule became a storyline at the recent U.S. Open Junior Championships. Several matches were delayed or suspended as temperatures soared in New York. Find out more about the rule and how it may impact tournaments in the future.
18-Jul-2018
Tiebreak Shootout Offers Chance to Play in Necker Cup
Premier Live is hosting the Tiebreak Shootout in the Atlanta area on July 26, with a chance for any high-level player to earn a free trip to the Necker Cup to compete with the top pros. It's one of two events the company is organizing along with the One World Players' Party and ping pong tournament in New York City.
11-Jul-2018
Korda Measures Next Step of His Career
Coming off his third junior Grand Slam appearance of the year, Sebastian Korda discusses his Australian Open boys title, his father's advice as he pursues a pro career, his summer schedule and what World Cup team he is supporting in a Q&A with Colette Lewis.