Championship Week Preview
Jordan Cox, Shane Vinsant Top Seeds for USTA Boys 18 and 16 National Championships in Kalamazoo
by
Colette Lewis
, 5 August 2010
Jordan Cox won the 2008 16s singles title in Kalamazoo, demonstrating his ability to cope with the pressure and pomp surrounding a final at the pinnacle of boys junior tennis in the United States.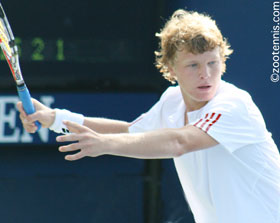 This year, the 18-year-old from Georgia faces a different kind of pressure while seeking the tournament's coveted U.S. Open main draw wild card; he will have a big red "1" next to his name when he takes the court in Saturday's second round.
A Wimbledon junior finalist in 2009, Cox turned professional shortly thereafter and has been playing on the ITF Men's Circuit throughout 2010. In April he won his first Futures event in Korea, and is at a career-high 552 in the ATP rankings.
Seeded second is Denis Kudla, who lost to Cox in the 2008 16s championship match. Virginian Kudla, also competing as a professional, carries a 614 ATP ranking, boosted by a recent win over No. 199 Santiago Ventura at the Campbell's Hall of Fame Championships in Newport, Rhode Island. Unlike Cox, the 17-year-old right-hander has been playing regularly on the ITF Junior circuit, winning the Grade 1 Eddie Herr, the Grade A Casablanca Cup and reaching the quarterfinals at Wimbledon - results that have helped keep him in the Top 10 of the junior world rankings throughout the year.
Jack Sock, the 2009 finalist in the 16s, is the third seed, with an ATP ranking of 650. Sock, who won a Futures event in Florida last November as an amateur, has continued to play high school tennis, winning his third consecutive 6A title this spring in Kansas, where the Nebraskan trains and attends school.
Fourth seed Bjorn Fratangelo has dominated the USTA 18s division this year, winning the Spring Nationals in Mobile, the Easter Bowl and the Clay Courts. The 17-year-old, who won the bronze ball in the 16s last year, splits his time between Pittsburgh and Naples, Fla.