Special Feature
Flashback: Colette Lewis on the Grips Program
by
Colette Lewis
, 8 September 2010
The Tennis Recruiting Network is proud to republish Colette Lewis' award-winning article on the Grips Program. This article - originally published in Racquet Sports Industry Magazine in February 2009 and here at TennisRecruiting.net in October 2008 - won second place in the annual US Tennis Writers writing contest. Take another look at this article on a program developed by Southern California junior development coaches Craig Cignarelli and Aaron Fox.
It's a scenario that has played out countless times in tennis clubs across the country. Riviera Tennis Club junior development director Craig Cignarelli was approached by the mother of a young player, who asked that her son be included in his class. Cignarelli declined, saying the boy lacked the skills for that level of play. But when the mother accused him of being unfair, Cignarelli didn't simply shrug and return to his existing pupils.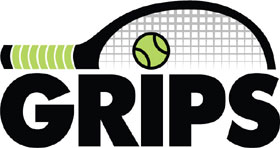 Instead, he took action.
"I told her, you're right. Let me write a skills test for him, and if he can pass, I'll put him in the class," Cignarelli recalls of that 2006 conversation. "Well, the kid failed the test. But six weeks later he came back and retook the test and passed. And his mom said to me, you know that really inspired my child; it's a great idea, and it was totally fair."
Six months later Cignarelli and his partner Aaron Fox, also a teaching professional at the Los Angeles area club, had developed 11 on-court skills tests, each more difficult than the previous one.
Augmented by 11 off-court exams that incorporate history, sportsmanship, rules, strategy and fitness, those tests marked the birth of the Grips Program.
Based on the belts associated with martial arts proficiency, the program's 11 stages ascend from beginner's white to expert's black. Once a student has taken and passed an online test for a specific level via the program's interactive website, he or she can take the on-court exam. If successful at demonstrating the skills pegged to that level, the player receives a certificate of achievement, recognition on the website and, most importantly, the next grip color for their racquet.
"It's a structured curriculum with objective benchmarks which makes administering a junior program easier for coaches," says Cignarelli, 38, who has been teaching tennis for 13 years.
"But mostly, it's effective at capturing new players and pushing them to higher levels, because it provides a path to skill development that rests in the hands of the player. They have a path to improvement independent of the coach."
Clubs adopting the program, which now number more than 100, pay nothing, and receive 12 books with all the drills and tests included. The cost, $6 a month or $60 a year, is generally paid by the player, and was set intentionally low to encourage participation not just at country clubs, but also at public parks and in recreation programs.
Dale Miller, regional director for ClubSport, a group of five fitness clubs in California, Oregon and Nevada, believes the Grips Program has brought additional objectivity and focus to his juniors at ClubSport Valley Vista in Walnut Creek, Calif.
Grips co-founder Fox with Stanley and Samantha Corrigan Morris
courtesy, Aaron Fox
"It was an easy decision for us, because we have a very active junior program of about 80 kids," says Miller, who learned about the Grips Program via the USPTA and has been using it for eight months.
"It helps you to see patterns on what the kids are doing well and what the kids are struggling with," Miller says. "If the testing is showing we're not performing very well on say, backhand slices, then we've got some basis to start working on that. It becomes one more tool for us to help parents and kids know why the lesson plans are the way they are, because we have the objective data.
"The great, great majority of our kids and parents see it as a really nice addition to our program."
It's a system that co-founder Fox, who is traveling extensively to introduce the concept to clubs across the country, believes fills two voids.
"The information and the structure that we're providing the kids is definitely something I wish I would have had," says Fox, 29, who was a top junior in Pennsylvania and played at Drake University.
"And, in my mind, the play, the fun in the game, has sort of been lost to the opportunities that are there now--it's become this big fight. I just took the gray grip (one level below black) test myself, which I have now not passed for the third time, and it is just fun. When I was taking the test, the kids were on the sideline cheering and we were having fun, just like we were throwing horseshoes or out shooting hoops."
But aside from injecting some fun into tennis practice and drills, Cignarelli and Fox are also serious about providing a connection between the world's top players and those aspiring to join them.
"If we had stopped at the green grip, which is where most of kids at the highest level at the club were, we wouldn't have put it in relationship to the best players in the world," says Fox.
Lester Cook, ranked around 300 on the ATP tour, has yet to pass his black grip test in three tries, and for Cignarelli, who has worked with Cook for over a dozen years, that typifies the program's ability to motivate.
"He's still out on the practice courts, working to get better and get to that level," says Cignarelli, who also works with touring professionals Shane LaPorte, Maureen Diaz and Prakash Amritraj. "I think it inspires people at all levels."
That's certainly true of 6-year-old Samantha Corrigan Morris and her brother, 8-year-old Stanley. Stanley was one of the first participants in the Grips Program, and will travel to the Little Mo Nationals this month, while Samantha has graduated from the Little Grips, a program for young beginners, to a white grip. (Cignarelli and Fox are also developing an assessment for QuickStart participants).
Their father, Stanley Morris, who describes he and his wife Michelle Corrigan as "cheerleaders" for the program, have seen the difference it has made in their children's attitude toward practice.
"Anything you can do to motivate kids, especially to do something that is a little bit of drudgery, is good," says Morris. "If you can give them a reason why they should learn to hit 9 backhands out of 10 down the line, that's obviously a very positive influence.
"I know my daughter is very, very motivated to get her next grip and probably to catch her brother."
"That's not going to happen," chimes in the young Stanley, who has earned a green grip, squarely in the middle of the spectrum.
But as for that black grip, Stanley is determined to keep progressing toward it.
"Last time I heard, no one had done it, but I hope to be the first one."
Leave a Comment
More Special Features
8-Oct-2017
ImRecruitable College Tennis Showcase
ImRecruitable will host its 6th Annual College Tennis Showcase November 29 and 30. This unique event combines instruction from college coaches as well as showcase match play. Our showcase will help you gain maximum exposure to college coaches. In addition, get education from coaches and experts.
7-Oct-2017
Sanchez-Casal International Junior Cup
The Sanchez-Casal International Winter Junior Cup in Naples, Fla., is a global event for US and international tennis players that will provide a unique experience, at one of the best world-class tennis training academies in the world.
29-Sep-2017
Q&A: New USTA Head of Men's Tennis Brian Boland
After 16 years as head coach of the University of Virginia men's program, Brian Boland left Charlottesville in March to become the USTA's head of men's tennis. Boland sat down with Colette Lewis of Zoo Tennis during the U.S. Open to discuss the changes he's introduced at the USTA, his goals for American men's tennis, the viability of the college tennis pathway and much more.
About Colette Lewis
Colette Lewis
has covered topflight U.S. and international junior events as a freelance journalist for over a decade. Her work has appeared in
Tennis
magazine, the
Tennis Championships
magazine and the US Open program. Lewis is active on
Twitter
, and she writes a weekly column right here at TennisRecruiting.net. She was named
Junior Tennis Champion
for 2016 by Tennis Industry Magazine.
Lewis, based out of Kalamazoo, Michigan, has seen every National Championship final played since 1977, and her work on the tournament's ustaboys.com website led her to establish ZooTennis, where she comments on junior and college tennis daily.