Tournament Feature
Reddy, Lee Capture Rain-Slogged Winter National 14s Titles
by James Hill, 9 January 2023
Rain besieged the city of Tucson, Arizona during the USTA 14s Winter National Championships.
Despite numerous delays, Vihaan Reddy (San Jose, California) and Nancy Lee (Belmont, Massachusetts) emerged as the singles winners at the Reffkin Tennis Center.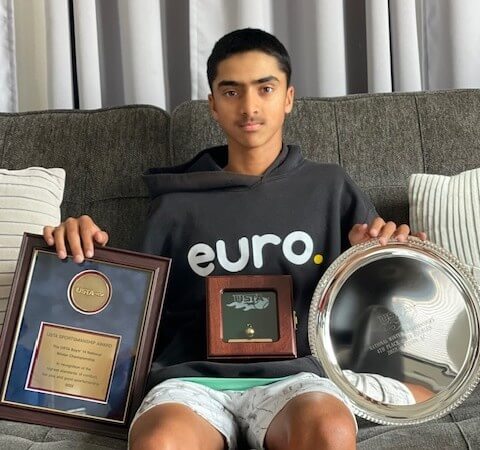 Boys Singles Champion Vihaan Reddy
© Contributed Photo
The fourth-seeded Reddy defeated No. 3 Colin McPeek (Carmel, Indiana) 6-1, 6-1 in the boys final. Lee, seeded seventh, was a 6-0, 6-0 winner over No. 9 Carrie-Anne Hoo (Brooklyn, New York).
Boys doubles was captured by top seeds Yannik Alvarez (Cumming, Georgia) and Mason Taube (Atlanta, Georgia), who bested the No. 8 duo of Maksim Nekrasov (Encino, California) and Navneet Raghuram (Port St. Lucie, Florida) 6-2, 6-3 in the finals.
The girls doubles title went to No. 1 seeds Alyson Shannon (Plano, Texas) and Kori Montoya (Austin, Texas), who defeated the fourth-seeded pair of Catherine Rennard (Asheville, North Carolina) and Isabelle DeLuccia (Livingston, New Jersey) 6-4, 2-6, 10-8.