Recruiting Profile
Harrison Looks Toward College as First Step to Pro Career
by
Colette Lewis
, 22 July 2011
Catherine Harrison knows what she wants from her college tennis experience. The 17-year-old rising senior from suburban Memphis, Tennessee is seeking a coach and a program that will prepare her for a career in professional tennis.
That's the easy part. The hard part is deciding among her final three: Duke, Georgia Tech and Virginia.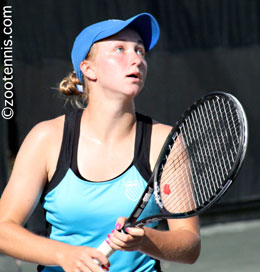 "Honestly, I don't know how I'm going to make a decision," Harrison said during an interview this week during the
Girls 18s Clay Court Championships
at the
Racquet Club of Memphis
. "I'm looking at the coach, I'm looking at the team - do you get better when you get in the program - and all the schools seem to have that. Obviously, the campus and everything factors in, but honestly, I like all the campuses."
Just to get her options down to a manageable number, Harrison started the process of narrowing her choices as a sophomore, reaching out to coaches to express her interest. Recently, she and her parents have taken two unofficial visits to each of the three ACC schools, and since July 1 she has been busy scheduling home visits from the coaches.
While doing all this research, Harrison still has found time to play tournaments and work on her game with her coach of the last 18 months, Damien Spizzo of the Leftwich Tennis Center in Memphis.
Since she began working with Spizzo, Harrison has seen improvement in her game and her results. Last year she won the bronze ball at the 18s Clay Courts in her hometown (and has reached the quarterfinals at the Clays this week), made the final of the Dunlop Orange Bowl 16s, and this spring, reached the final of the USTA 18s Spring Championships. Last month Harrison traveled to the Wimbledon Junior Championships, where she qualified and won a round in the main draw, an experience that left her even more determined to pursue a pro career.