National Roundup
Welcome, Class of 2019!
by Dallas Oliver, 3 September 2012
Labor Day is the unofficial end of summer. School starts back up, and there are new sixth-graders walking the halls. This week's rankings at the Tennis Recruiting Network are the first of the 2012-13 season - and they also mark the arrival of the Class of 2019.
The calendar at TennisRecruiting.net runs from September 1 through August 31. We calculated the final rankings for the outgoing seniors last week, and we bade farewell to the Class of 2012.
This week, the first week of September, we welcome the new sixth graders from the Class of 2019. Tuesday and Wednesday's rankings are the first official lists for the 2019 boys and girls, respectively.
This article takes a brief glance at some of the top youngsters in the Class of 2019. These kids have performed quite well in the 12s division - as well as the 14s and 16s.
Abigail Desiatnikov (Gates Mills, Ohio)
Rising 6th-grader Abigail Desiatnikov has put up eye-popping numbers over the past year. The soon-to-be No. 1 player on the Babolat Class Rankings List competed primarily in the Girls' 14s over the past year, going undefeated in three USTA Regional tournaments - and dropping only one match in three USTA National Opens at the 14s level. In the 12s division, Desiatnikov also rolled through to a gold ball in last month's USTA Girls' 12s Nationals, added a bronze ball in July's Clay Court Nationals, and reached the quarterfinals of both the Eddie Herr International and the USTA Spring Nationals, finishing in 5th place at the latter.
All told, Desiatnikov has posted a 92-11 record over the past year, including a 21-7 record over Blue Chip athletes from older classes. That is very impressive stuff.
The Ohio native got an early jump on the game - thanks in part to her father, Eugene Desiatnikov.
"[Eugene] has played the sport since high school and dreamed his daughter would take up the sport before she could even walk or talk," said her mother, Irina Desiatnikov. "She would tag along when he went in to hit against the ball machine, and at age three she was able to hit the ball back. At that point we hired tennis coach Rick Shy of the Five Seasons Sports Club - who she still trains with today. By age four Abby was able to serve and keep score accurately."
The early start for the 4'9" right-hander has helped make the younger Desiatnikov a natural, and her mother says she is comfortable with an aggressive style.
"Abby looks for opportunities to go on the offense from first point. Hitting the ball on the rise, running towards the net, taking the ball out of the air are her trademarks. Taking away time from her opponent is her biggest weapon."
With so much tennis at a young age, the Desiatnikov family took a proactive approach to ensuring a good balance between tennis, academics, and a social life for their daughter.
"We talked a lot with Abby - and with each other," said her mother. "We decided together that home-schooling would be the best alternative. Abby has completed both 4th and 5th grade through the online home-schooling program, Ohio Virtual Academy. Home-schooling allows Abby to complete her school work at her own pace, on her own schedule, and in half the time of a traditional school day."
Desiatnikov takes her exams live, and her year-end test scores place her in the top 1% of the country's scores in both reading and math. Those scores give her parents confidence that her academics are not suffering.
Completing her schoolwork quickly also gives Desiatnikov, who turned eleven earlier this year, time for a social life. Her mother works hard to provide that for her.
"I take extra measures to be sure to be available to drive Abby to social events - like parties, mall outing, and movies with friends," she said. "I make a conscious effort to balance Abby's tennis life with plenty of friend time. During tournaments, we like to make friends with other families in the tournament, so that dinner time, or after dinner pool outings in the hotel or an early movie can be arranged with girls of similar ages."
And while Desiatnikov is an only child, the young star has great support from her family.
Abby has an extensive extended family that often travel with her to tournaments throughout the country. Along with the always present mom and dad, she has three aunts, an uncle, and three grandparents. At least a couple of these people can be counted on to follow her just about anywhere in America."
Jenson Brooksby (Sacramento, Calif.)
Eleven-year-old Jenson "JT" Brooksby has been a fixture at the super nationals in 2012. He started the year reaching the round of 16 in both the Winter and Spring Nationals - before posting a semifinal appearance at the Clay Courts. Those performances helped earn Brooksby a No. 5 seeding at the Hardcourt Nationals in North Little Rock last month, where he went 4-2 and lost in the semifinals of the Northeast Consolation. In all, Brooksby posted 15 wins in the supers, which should be good enough to earn him the top spot when the first official Athletic DNA Class Rankings for the Class of 2019 are published tomorrow.
"JT's tenacity is his greatest strength," said his mother, Tania Brooksby. "He loves to play, and he is known to never give up - no matter the score."
On the court, Brooksby pairs his tenacious attitude with patience to frustrate his opponents.
"He is an excellent defender," said his mother. "JT has great hands at the net, and he is super patient in waiting for the short ball. He is happy to hit thirty balls to win a point, yet he also has a good mix-up game."
Brooksby, the son of Tania and Glen Brooksby, is a native of Sacramento, Calif. He got his start in tennis at his parents club at a young age - in part because he was an active youth.
"He was four years old, and he was bouncing off the walls," laughed his mother. "Our club had a mini-star program twice a week for a half hour."
Today, the 5'1" right-hander works with Joseph Gilbert of the Rollingwood Racquet Club in Fair Oaks, Calif. Brooksby is working with his coach on maturing his game.
"They are working on lots of things - like more racquet speed at all times, movement at angles, and taking advantage appropriately of the mid-court ball. He is an excellent student with his coach, and they have a ton of fun growing together."
Although he is a top tennis player, Brooksby's parents keep him well-grounded.
"JT's priorities are the same as other children. Homework first, then extracurricular activities, computers, and time with neighborhood children. He enjoys talking with his friends, and loves to be doing all sports, both on and off the court.
Alycia Parks (Boynton Beach, Fla.)
Rising sixth-grader Alycia Parks had an auspicious first experience with a tennis racquet as a seven-year-old.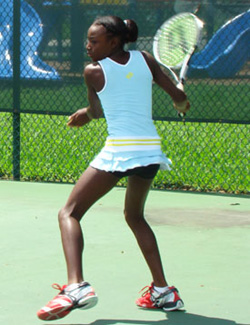 "At the end of her school year, I took Alycia and her older sister,
Mikayla
to the toy store to reward them for their grades," said her mother, Erica Parks. "Alycia couldn't decide on anything, and we happened to be standing next to a display of tennis racquet sets. I grabbed one and purchased it for Alycia.
"Later that day, I took the kids to a neighborhood tennis court and vaguely explained the object of the game. Fifteen minutes later, Alycia and her sister were rallying balls - baseline to baseline - and Alycia asked me while in mid-play, 'Like this, Mom?'"
Parks has continued to have great success on the court. Over the past year, she has posted strong results in both the 12s and 14s division - almost exclusively within the state of Florida. Her 38-13 record over the past year includes titles at multiple Florida sectional tournaments and winning the consolation event at a USTA Regional in Coral Gables.
Parks, the daughter of Michael and Erica Parks, often goes up against older sister Mikayla, facing off against her in the final round three times over the past year.
Her father serves as one of her coaches, but Parks also works with Rick Macci at the Rick Macci Tennis Academy. One point of emphasis for Parks with her coaches currently is the placement of her first serves.
"Alycia is a natural born competitor," said her mother. "She is very aggressive and focused, and she is fearless on the court."
While the 5'1" right-hander is strong on the court, she only trains a couple of hours each day. But her parents have made it very clear where tennis fits in.
"Alycia loves the sport," said her mother, "but academics take priority over all other activities. If she does not maintain good grades, then she cannot participate in tennis - or anything else - until she brings them up. So far, it hasn't been any problem at all."
Parks has a number of interests outside of tennis - many of them athletic interests.
"She and her sister are also on a local swim team. She enjoys her swim team teammates, but just as in tennis, she and her sister turn on the competive switch when it's time to compete."
RJ Fresen (Short Hills, N.J.)
RJ Fresen has competed in all the big tournaments over the past year, and his results have shown consistent improvement. Competing almost exclusively against older players, Fresen posted 16 wins in the four National Championships and Zonals, including a 4-1 showing at the 14s Zonals in late July and a quarterfinal appearance at last month's 12s Hardcourt Nationals in North Little Rock.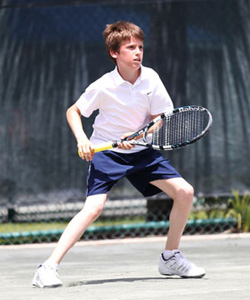 "We introduced RJ to a lot of different sports and activities when he was young," said his mother, Kathleen Horvath. "He was drawn to tennis more and more - and he started playing regularly when he was five or six."
The attraction to tennis may not be too surprising. People might recognize Horvath's name as a Top 10 player from the WTA tour in the mid-eighties. Horvath serves as RJ's primary coach.
"RJ also plays in clinics and hits with coaches at Garden State Tennis Academy in Edison, N.J. When in New York, plays at Stadium Tennis in the Bronx.
Fresen, a 5'0" right-hander, has an aggressive, all-court game. He is working with his coaches on his serve and on maintaining a more positive attitude on the court.
Fresen, who reached the finals of the last two National Opens he played and won the title in Monroeville, is able to easily strike a balance with tennis.
"Maintaining a 'normal' life has not been too difficult yet," said Horvath. "He does not have too much homework, and he only plays two hours a day six times a week."
Fresen loves to be active, and he also enjoys playing baseball, basketball, skiing, and swimming.
Fresen is the son of Horvath and Phil Fresen. He was born in New York City, N.Y., and the family now resides in Short Hills, N.J.
Starting this week, and for the next 366 weeks, the Tennis Recruiting Network will provide rankings for the Class of 2019. Please join me in welcoming our newest players to TennisRecruiting.net!
Leave a Comment
More Roundup Articles
20-Sep-2017
Spotlight Players of the Week - Gabriel Jinich and Amy Kaplan
Each week TRN shines the spotlight on a boy and girl player randomly selected from our class ranking lists. Beyond match scores and tournament results, the players reveal more about their interests and personalities. Get to know sophomore Gabriel Jinich (La Jolla, Calif.) and junior Amy Kaplan (Brooklyn, N.Y.)
11-Sep-2017
Spotlight Players of the Week - Jessica Brown and Robert Wilson
Each week TRN shines the spotlight on a boy and girl player randomly selected from our class ranking lists. Beyond match scores and tournament results, the players reveal more about their interests and personalities. Check out our first installment - featuring seniors Jessica Brown (Midland, Mich.) and Robert Wilson (Sugar Land, Texas).
4-Sep-2017
Tennis Recruiting Welcomes the Class of 2024
Tennis Recruiting Network welcomes the Class of 2024 to the rankings this week. Among the young rising stars are sixth-graders Ava Krug, Andrew Salu, Liv Hovde and Max Safir. They each have interesting backgrounds and bright futures.