Commitment Profile
Fall Signing Week '12: Goldhoff is Hooked by the 'Horns
by
Ali Jones
, 14 November 2012
George Goldhoff was a late bloomer, playing in his first tennis tournament at age nine and almost quitting at 13. He didn't qualify for his first Supernationals until he was 16.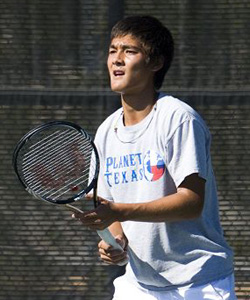 George Goldhoff
is heading to Austin next fall
© Julie Wrege, TennisRecruiting.net
By his senior year, however, he made tennis history of sorts. Goldhoff will probably be best remembered as one of the finalists in the rain-drenched
2012 Boys 18s Clay Court finals
. For the books, the match is recorded as "abandoned," although the gold ball was awarded to Goldhoff in a coin toss.
Jared Hiltzik
, the other finalist, got the silver.
But in an unusual display of class, grace and sportsmanship, Goldhoff handed the gold to Hiltzik, who was up a set and an early break in the second. No one will ever know the turnout of that finals, for as players know, a match is never over until the handshake.
"For sure that was a match I'll never forget," Goldhoff laughed. "Just the randomness of it. I've never seen or heard of a match where that's happened. Honestly, even if I didn't win that match, I'd still be happy with my performance 'cause I've never reached that far in a Level-1 tournament before."
The 16th seed in Delray Beach, Goldhoff convincingly defeated the higher seeded Ronnie Schneider, Nolan Paige and Deiton Baughman en route to the finals, and later achieved a career-high ranking of 3 on the Athletic DNA Class Rankings List. No surprise then, that the University of Texas, one of the nation's top programs, offered the young champion a much-coveted spot on its team.
"I didn't know that they were interested at all," he said.
Academically and athletically, the flagship state university in Austin had everything that Goldhoff wanted. Having once trained in New Braunfels, his heart holds a nostalgic affection for the terrain and tennis community of the Lone Star State.
"I'm going back to Texas, and I'm really excited," the Blue Chip recruit said. "It was hard for me to leave; I have really good memories there. I actually have some family who had gone there, and I've heard nothing but good things about it."
His college search began during his junior year, but picked up in earnest in May, when his court performance translated into noteworthy results.