Tournament Summary
Konjuh, Djere Cap Two Tough Weeks with Orange Bowl Titles; Rublev, Liang Take 16s
by
Colette Lewis
, 14 December 2012
Croatia's Ana Konjuh and Serbia's Laslo Djere finished the ITF 2012 Junior Circuit with two weeks worth of outstanding tennis, following their success at the Eddie Herr International with Grade A Orange Bowl titles last week on the Har-Tru courts of the Frank Veltri Tennis Center in Plantation, Florida.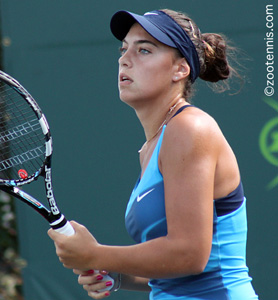 Konjuh, seeded seventh, defeated No. 2 seed
Katerina Siniakova
of the Czech Republic 6-3, 6-2 to add the Orange Bowl championship to her title at the Eddie Herr, while No. 10 seed Djere, a finalist at the Eddie Herr, defeated No. 12 seed
Elias Ymer
of Sweden 6-4, 6-4 to claim his first Grade A championship.
Konjuh, playing her 12th singles match in 14 days, still had enough energy to duplicate her Eddie Herr semifinal win over Siniakova, who entered the Orange Bowl with a mathematical chance to catch No. 1 Taylor Townsend of the United States for the 2012 ITF World Junior Championship.
Once Townsend reached the semifinals with a nearly four-hour 7-5, 5-7, 7-6(2) victory over No. 5 seed Carol Zhao of Canada and Siniakova lost in the doubles quarterfinals, Townsend would secure the year-end top spot, although the 16-year-old American, who recently signed with sport management agency Lagardere, was also stopped by Konjuh 4-6, 6-1, 6-3, in a well-played semifinal.
Konjuh, who will turn 15 on December 27th, had needed three sets to overcome Siniakova at the Eddie Herr, but in the Orange Bowl final, she never trailed, taking leads of 5-0 and 4-0 in each set before the 16-year-old Czech managed her first games.
Pleasant weather early in the week had given way to stifling humidity for Sunday's final, which may have contributed to the uninspired tennis. Points were short, with Konjuh hitting aces and winners, while also making errors that were largely absent in her previous victories. Siniakova, who uses her backhand to control the court and keeps unforced errors to a bare minimum, lost that key to success in the final, although Konjuh's play contributed to that.
"I wanted to play different, but she played different too," said Siniakova, explaining how she planned to reverse her Eddie Herr loss. "She played more slice, and I couldn't make something with it. We know each other, but it was a little bit different than the last match. I made a lot of mistakes. Last match she made lots of winners, but this match it was my fault a little bit more."
With an effective slice and drop shot to complement her power, Konjuh knew the best way to keep Siniakova off balance.
"I have to mix it up," said Konjuh, the first Croatian to win an Orange Bowl title. "She's really good, so I had to play drop shot, slice, go to the net."
Konjuh's coach Kristijan Schneider believes, barring injury, she is capable of reaching the WTA Top 5, but with the age restrictions she faces at that level, she is planning to play all the junior slams next year, and may even play a few ITF Grade A tournaments, in addition to Fed Cup in February.
But first, Konjuh, who trains in Zagreb, is looking forward to resting and enjoying the holidays in Dubrovnik, her hometown.
"I'm sure I have a lot of confidence right now, but I'm also tired and I have to relax a bit right now," said Konjuh, who joins Lauren Davis as the only player to win the Eddie Herr and Orange Bowl in the same year since 1993. "I played a lot of matches. I'm going to go home, spend a lot of time with my family, practice and prepare for Australia."