Tournament Preview
Americans Poised to Shine in US Open Junior Championships
by
Colette Lewis
, 29 August 2014
While the US men and women haven't had a Grand Slam finalist in 2014, the country's younger players have had more success in the top level of international competition, with Noah Rubin winning the Wimbledon boys title and Stefan Kozlov reaching the final there and at the Australian Open.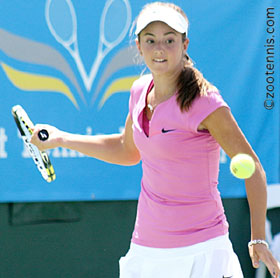 With both the top seed and the
2013 finalist
in the girls draw and six of the 16 seeds in the boys draw, the US juniors are poised for another outstanding showing at the US Open Junior Championships, beginning Sunday at the USTA Billie Jean King National Tennis Center in New York.
The world's No. 2 junior and the top seed in Flushing Meadows, 15-year-old CiCi Bellis will be closely watched as she competes in just her fourth junior slam. The Northern Californian, who received a wild card into the women's draw for winning the USTA 18s National Championships, lit up New York with her performance in an opening round match this week, beating No. 12 seed Dominika Cibulkova of Slovakia 6-1, 4-6, 6-4 to become the youngest player in 18 years to win a match at the US Open.
Bellis reached the round of 16 in the US Open Junior Championships last year and also advanced to the third round at the French Open Junior Championships this year. Her 41-4 record at the top level of junior competition this year is impressive, and her win in the Nationals final over Tornado Alicia Black, who had beaten her on both previous meetings last year, shows her ability to handle the pressure of competing against her peers.
Black, who lost in the finals of the US Open Junior Championships last year as an unseeded wild card, will join Bellis as one of the top seeds this year. After reaching the quarterfinals of the Wimbledon Junior Championships, Black won a $10,000 Pro Circuit event and then qualified for the WTA Citi Open in Washington DC before reaching the 18s finals in San Diego. The 16-year-old Floridian also won a match in women's qualifying at the US Open last week.
Although Bellis and Black will be the only seeded American girls, wild card Katerina Stewart is another threat to go deep. The USTA 18s Clay Courts champion also won a match in women's qualifying last week and prior to her Clay Court title, collected back-to-back championships at $10,000 tournaments on the USTA Pro Circuit.