Tournament Summary
ATA Fall Open Wrap-up
by James Hill, 6 October 2014
The first National Showcase event in the state of Texas was a rousing success.
The Austin Tennis Academy/TennisRecruiting.net Fall Open, held from Sept. 26-28, provided 370 junior players, in 33 events, the opportunity to compete against participants from a variety of locales.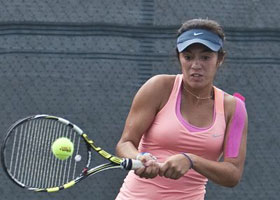 Girls 18 Champion
Paola Bou
© Julie Wrege, TennisRecruiting.net
Tennis Recruiting is working in conjunction with adidas adiplayer on a series of tournaments called the
National Showcase Series presented by adiplayer
. There were almost 40 tournaments on this year's schedule, and the hope is to increase the number to 50 for 2015. Players who compete in these events, and win at least one singles match, will become National Players, which help tournament directors assess the quality of other events.
Julie Wrege, the editor of TennisRecruiting.net at Sirius Software, Inc., flew from Atlanta to Austin to witness the tournament first hand.
"The goal of these tournaments," Ms. Wrege said, "is to provide additional opportunities for players to compete in other parts of the country. This is the second year for the National Showcase Series, and we have asked some of the best directors in the nation to conduct these open tournaments."
That certainly was the case as the tournament director was Brian Notis, director of junior development at Austin Tennis Academy. Mr. Notis has been at ATA for eight years, and has been running tournaments since the mid-1990s.
"Partnering with TennisRecruiting.net has been amazing," Mr. Notis said. "It has brought more out-of-section players to the event. The result of bringing in additional players also improves the caliber of tennis at the tournament. I thought this was a very strong event, with tons of competitive matches."