NCAA Feature
An Interview with ITA Rookie of the Year Brooke Austin
by
Colette Lewis
, 10 June 2015
Freshmen, even those who are ranked No. 1 in their senior year by the Tennis Recruiting Network, often need a semester to adjust to life in a top Division I program. Not the University of Florida's Brooke Austin. Proving a quick study, the 19-year-old Indianapolis resident excelled throughout her freshman year, ending it as the Intercollegiate Tennis Association's Rookie of the Year.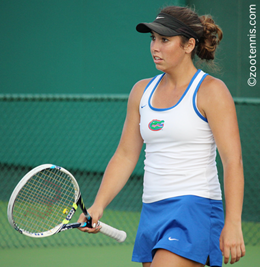 Austin, coached throughout her illustrious junior career by Jeff Smith, committed to Florida in
November of 2013
. When she competed in her first collegiate tournament last fall, Austin won three rounds of qualifying, then went on to reach the semifinals of the
ITA Riviera All-American Championships
. The following month, at the
USTA/ITA Indoor Intercollegiate Championships
, Austin also reached the semifinals, establishing herself as one of the top players in the country.
Playing No. 1 singles and doubles for the Gators during the dual match season, Austin went 19-3. Her 10-2 record in the SEC helped Florida to a regular season conference title and she was named SEC Freshman of the Year and Player of the Year, a rare double. Austin finished the 2014-15 collegiate season ranked No. 4 in singles and No. 3 in doubles.
Although she lost to UCLA's Jennifer Brady in the opening round of the NCAA singles tournament after the Gators had fallen to eventual champion Vanderbilt in the quarterfinals of the team championships, Austin and Kourtney Keegan went on to reach the semifinals of the doubles competition in Waco, Texas.
In Waco, I had an opportunity to talk with Austin about her freshman year in Gainesville - how her game improved, how her perspective changed and how she adjusted to being back in a classroom - as well as her goals and plans for this summer.
Questions and Answers
Colette Lewis (CL): What are your overall impressions of your first year at Florida?
Brooke Austin (BA): I learned a lot, and I grew a lot as a person and a player. It was really hard for me to move away from home, because I've had the same coach since I was six years old at home. So it was really different for me, having a new coach. But I think I adjusted well. And I really like the girls on my team, and I think I mesh well with them. So overall, I had a lot of fun and grew a lot.
For me, Florida has been the best fit possible. Obviously, academically it's a Top 10 public university, and athletically, it's amazing. I get to hit every day with people like Josie [Kuhlman], who is Top 10 in the country. We have great people on our team. I went from having to drive 45 minutes to practice every day to living across the street and being able to hit whenever I want and with people who are Top 100 in the country every day.