College Opinion
Matching Up: A New Way to Think About College Tennis Lineups
by
Colette Lewis
, 20 November 2015
I have been a sports fan ever since I can remember, and a tennis fan since my teens, but my interest in college tennis is much more recent.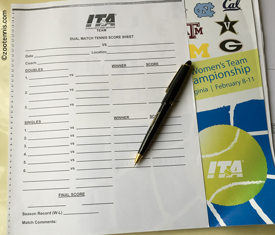 College tennis coaches submit their lineups for review
©
ZooTennis.com
I mention that personal history to explain why I have never shared the outrage directed at a coach who is accused of stacking a lineup (inserting an inferior player at a higher position in the expectation of getting additional wins with stronger players pushed lower in the lineup). That concern just never made sense in the context of the sports I grew up with. The rule that players be slotted into playing positions via a judgment of their games' strengths is so foreign to most sports that it's difficult to find another example of it. One of the truisms of sport is that it's all about matchups, and yet that concept is expressly prohibited in college tennis.
Can you imagine an NBA coach forced to determine his best player, then required to send that player to defend the opposing team's best player? Or a major league baseball rule that demands a manager rank his relief pitchers by ability then compels him to use his team's second-best relief pitcher against the opponent's second-best hitter late in the game?
Managing matchups is what coaches and managers do, and college tennis coaches are certainly capable of taking on that responsibility. Right now, considerable time is devoted to lineup challenges and protest hearings, time better spent coaching, marketing, and connecting with the university and its community. Below is my proposal for a radical change in how lineups are set in college tennis:
An hour or so before the dual match, both coaches meet with the referee. They submit a list of their players available for the match. The list doesn't have to be in any particular order and could contain six or more players. After a 15-minute window for the coaches to review the opponent's list, the referee tosses a coin, with the host school coach declaring heads or tails.
The coach who wins the toss may declare her player for match #1 or defer, so that the other coach must first make her designation of their player for match #1. After the first player for match # 1 is designated, the other coach names her player for match #1 and then declares her choice of player for match #2. The other coach then responds with her player for match #2 and designates a player for match #3 and so on until all six singles matches have players designated.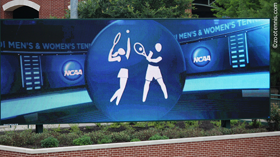 Then, the process is repeated for doubles teams, with the coach who lost the initial coin toss given the choice to first name a doubles team for match #1 or require the other coach declare first.
All players selected must come from the submitted list of players available. Once the line-up is created, no substitutions are allowed. To eliminate possible gamesmanship, a player suddenly stricken by "match flu" or even a legitimate last-minute injury would result in a walkover.
Host coach chooses heads. The coin toss shows tails. The visiting coach chooses to defer the first declaration. The host coach then designates the second player on his list to play in match #1. The visiting coach designates player the third player from his list to be the opponent in match #1 and declares that the first player on his list will play in match #2. Next, the home coach designates the third player from his list to be the opponent in match #2 and that the seventh player from his list will play in match #3 and so on until all six matches are filled. Then, for doubles, the home coach decides to declare first and names player #1 & 5 to be in dubs match #1. The visiting coach chooses players #2 and 3 to be the opponent for dubs match #1 and designates players #7 and 1 for dubs match #2 and so on.
The benefits:
Eliminates the ranking of players on a team and does not require that the "best" player on team A play the "best" player on team B.


Eliminates lineup challenges and protests, removing friction between coaches over such issues


Allows coaches to give their players experience against perceived stronger or weaker players, which could enhance their development.


Allows coaches to give an opportunity to a player who needs a ranked win to make the NCAAs


Allows newcomers to adjust to college tennis without being pigeon-holed in a position from their first match.


Provides an opportunity to work a player into a lineup after an injury


Provides a more democratic atmosphere on the team, perhaps eliminating internal squabbles over who is highest on the totem pole.


As a fan, I believe this process would deliver more intrigue and fun, with more options for armchair quarterbacking, than the current system, which frowns on change from match to match. It's true that some coaches currently do adjust their lineups with an eye toward enhancing their chance to win the match. Rather than trying to legislate against that, why not experiment to see who has the skill to excel in that facet of coaching?
About K-Swiss
College Content at TennisRecruiting.net is sponsored by K-Swiss.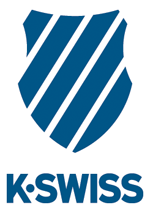 At K-Swiss we are 100% invested in the sport of Tennis and committed to helping players play their very best and win at every level. From a competitive junior or adult player to the greatest doubles team of all-time, Mike and Bob Bryan. For over 50 years we have been making some of the most innovative, high quality tennis footwear in the game featuring the very best in comfort with a consistent fit.
We encourage you to try the K-Swiss shoe that is best for your game.
Connect with K-Swiss on Facebook, Twitter, and YouTube - or on their website.
Leave a Comment
More College Coverage
21-Nov-2019
Mortera Navigates First Recruiting Period for Ute Women
Ric Mortera was hired to lead the Utah women's program on June 28th. Like nearly all first-year coaches, he knew some patience would be required for his first signing class. The Utes haven't signed anyone for 2020 yet, but are hoping two players can become the perfect fits.
20-Nov-2019
Nott Begins New Chapter at UT-Rio Grande Valley
After starting his coaching career with a Power Five conference program, West Nott has returned to college tennis with a program more removed from the national spotlight. Nott has taken over as the women's head coach at the University of Texas-Rio Grande Valley.
8-Oct-2019
Wyoming's Clower Hasn't Let MS Impact His Coaching Climb
Wyoming women's coach Dean Clower was diagnosed with multiple sclerosis at age 23. But Clower never let it hinder his dreams. He credits two coaches for saving his life and keeping him motivated to excel in the profession.
About Colette Lewis
Colette Lewis
has covered topflight U.S. and international junior events as a freelance journalist for over a decade. Her work has appeared in
Tennis
magazine, the
Tennis Championships
magazine and the US Open program. Lewis is active on
Twitter
, and she writes a weekly column right here at TennisRecruiting.net. She was named
Junior Tennis Champion
for 2016 by Tennis Industry Magazine.
Lewis, based out of Kalamazoo, Michigan, has seen every National Championship final played since 1977, and her work on the tournament's ustaboys.com website led her to establish ZooTennis, where she comments on junior and college tennis daily.