Where Are They Now?
Krajicek's Climb
by
Colette Lewis
, 23 November 2015
There's been nothing meteoric about Austin Krajicek's climb into the ATP Top 100. The 25-year-old Floridian has methodically advanced in the rankings since 2011, when he embarked on a pro career after his final season of eligibility at Texas A&M, reaching the elite level of professional tennis for the first time last month.
Krajicek, a 6-foot-2 left-hander, started his collegiate career at age 17, and, with just one semester under his belt, won the
2008 USTA 18s Nationals
in Kalamazoo, beating Steve Johnson, Rhyne Williams and Ryan Harrison en route.
After beginning his career as an Aggie at the No. 4 and No. 5 singles positions, Krajicek moved to the No. 2 spot in 2009, then played at No. 1 in 2010 and 2011. He and partner Jeff Dadamo won the men's doubles title at the 2010 National Indoor Intercollegiate Championships and captured the NCAA title, the program's first, the following spring.
After leaving College Station, Krajicek won two Futures titles in his first full year as a professional, moving his ranking from 765 to 339 by the end of 2012. Four Futures titles in 2013 moved him to 240, and his first Challenger title, in Medellin Colombia, helped him reach 152 in the ATP rankings at the end of last year. Krajicek has collected 22 doubles titles on the ITF Men's Pro Circuit and the ATP Challenger Circuit and has been inside the ATP doubles Top 100 since January of last year.
This year, Krajicek began to make inroads at the ATP tour level, beating Ivo Karlovic to reach the Memphis quarterfinals, Denis Istomin to get his first ATP Masters 1000 win in Miami and Santiago Giraldo to earn his first main draw slam victory in New York. Last month, Krajicek reached the quarterfinals of the ATP 500 event in Tokyo, a result that moved him into the ATP Top 100 for the first time.
At last week's Champaign Challenger, I sat down to talk with Krajicek about his progress, his goals, his favorite tournaments, how college tennis prepared him for ATP success, and his advice for juniors who are in the recruiting process.
Questions and Answers
Colette Lewis (CL): What has led to your success on the ATP tour this year?
Austin Krajicek (AK): It's been a long process the whole way. At every level it's a similar deal. With the Futures, I think I had some quarterfinal success here and there, and then I won a couple of tournaments and was able to start to play some more Challenger main draws, and was able to do the same sort of thing in Challengers. Working hard along the way, I think I put in a lot of good work in the last year and a half or so with [USTA National Collegiate Coach] Stephen Amritraj out in Carson and my coach Andres [Alarcon], who I've worked with since this summer. I think I've been playing well the last two years, it's just been putting it together at the right times. That was a big step for me, getting to play more ATP matches and just having the opportunity to be around those guys and see how they prepare, on the court, off the court, every day, day in and day out.
It's a little bit different at that level and I think that's why those guys succeed consistently. To see that, and not be so overwhelmed by playing guys in the Top 50 or Top 20, I think it's good to have that experience. Everyone can tell you you can do it, you can do it, but until you actually are in that position, it's tough to understand exactly what it's like. The tennis level is not that much different, it's just a lot of the little things that add up.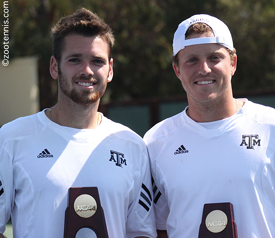 CL: How did your years at Texas A&M help you prepare for a pro career?
AK: College was probably the best decision I've made in my career so far. When I was 17 at IMG, there was a discussion that I could go straight to the pros if I wanted to, some at the USTA thought maybe that was the better play. But luckily I was recruited by Coach [Steve] Denton and Coach [Bob] McKinley, and I also loved the University of Florida. At the last minute I went to A&M, took another trip there and loved the team, loved the campus and obviously really had a lot of respect for both coaches. With their success on the Pro Tour, any position I would be in, they'd already done. I knew they could help me not only at that level, but at the next. All the way through, the coaches were great with me.
Steve played a very aggressive game style, and he helped on the court early on a lot, thinking-wise, and it helped me a lot at Kalamazoo that year.
As a player and a person, I don't think I was mature enough to go pro right away. That's one great thing about college, especially with the age later now in the Top 100. Some guys are ready, but physically, I just wasn't mature enough at 18 to compete with these guys week in and week out. You can do it for a week, but to do it consistently for a year, that's where you make your money.
College is such a great route, because you not only mature physically, with great fitness coaches, you're practicing with great guys every day, you have two amazing coaches if you pick the right school. All the guys on the team are pushing each other. You also mature socially, and with time management. You balance your social life, studying, playing and practicing and that whole thing was a huge bonus for me going onto the tour, being able to manage my time better and just being more mature as a person.