Special from
First Strike Tennis
College tennis is widely regarded as the primary alternative to the professional tour for the majority of 'transitioning' players as it affords them with the opportunity to not only continue their tennis pursuits, but simultaneously achieve a bachelor's degree in their chosen field while under scholarship.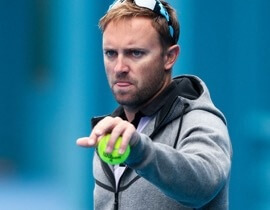 Mark Gellard Is A Former College Player And Assistant Coach
Prospective student athletes need not look far when searching for information pertaining to the recruitment, enrollment and eligibility process as there currently exists a vast array of resources for those who require assistance in obtaining a scholarship, understanding the college tennis setup and improving their on-court effectiveness. Furthermore, most universities now have their own academic services department as well as on-campus NCAA/NAIA eligibility centers that ensure the modern process is relatively streamlined despite being somewhat laborious.
However, despite most player's innate talent, competitive experience and familiarity with the idiosyncrasies of the game, there is little information readily available with regards to what is actually expected of them on the tennis court once the season commences. University of South Alabama head women's coach Jaco Keyser explains, "Many players come to college unprepared. As a Division 1 college coach it is critical that I find players that are not only competitive on the singles court but who are also competent doubles players as the doubles point is often the most important one in dual matches. Additionally, I want my recruits to continue competing in tournaments right up until they begin their freshman year so that they come to college ready to fight for a position in the lineup."
As a former college tennis player, Division I assistant coach and current WTA/ITF touring coach, I have had the unique opportunity of being on both sides of the table. Now that Signing Day has come and gone, it's time to begin preparing for college tennis. Here are three factors that are essential in your preparation.
Fitness
Most players arrive to college staggeringly out of shape. College tennis will provide you with a rude awakening if you are not in optimal physical condition. There is no hand holding. No awards for taking part. If you don't have what it takes physically then there are plenty of others lined up right behind you who do. If you have significant physical limitations as a player (endurance, strength, flexibility, power etc.) then your training sessions will be submaximal and far from productive. Former Clemson tigers coach and ITA Hall of Famer Chuck Kriese was infamous for his "morning madness" workouts that set a precedent for physical conditioning in college tennis. A 5 a.m. workout at Clemson typically consisted of running 4x400 meters at 75 seconds, 2x200m at 30 seconds and 1x800m at 170 seconds. Coach Kriese now presides over the men's team at the Citadel but his philosophy on fitness and his methodology have been adopted by numerous coaches who believe that extreme physical conditioning not only eliminates unsuitable players, but also creates mental strength and team chemistry.
As a player preparing for college tennis your last six months of preparation should not focus on technical modifications or large game-style changes, rather it should be on fine-tuning your skills and preparing your body to handle the stresses of repetitive training and competitive match play. The USTA provides some practical fitness tests in its book Complete Conditioning For Tennis that will provide you with an objective measurement of your current fitness level, rather than subjective feelings. The ITF also outlines some physical norms for tennis specific fitness testing (separated by gender and age) in its book ITF Strength and Conditioning For Tennis that are reliable indicators of a person's physical capabilities.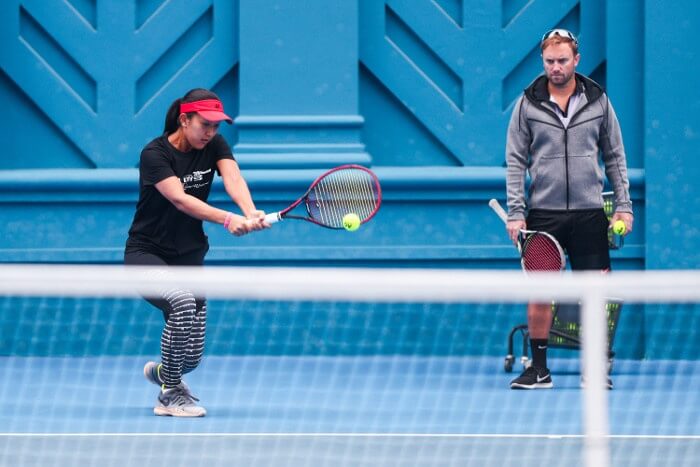 Mark Gellard Is A WTA/ITF Touring Coach
Additionally, for those who are injury prone or simply want a deeper knowledge of their strengths and weaknesses then finding an official Functional Movement Screen (FMS) tester near you could be beneficial. Tennis is a sport that requires a combination of aerobic and anaerobic qualities, powerful bursts of energy, agility, and extreme flexibility, all of which are components of a well-rounded athlete. The modern game at the professional and collegiate level has become almost exclusively about power, so players need to ensure that they are engaged in specific pre-habilitation training routines that focus on strengthening the muscles eccentrically, concentrically and isometrically as well as balancing any significant discrepancies anteriorly and posteriorly that could increase the likelihood of injury. Ramping up your fitness training protocol 3-6 months prior to attending college is a highly recommended action.
Doubles
In recent years, tennis has somewhat disregarded the importance of doubles at the junior and professional level. However, in college tennis there is no doubt that those who are familiar with the nuances of doubles play hold a significant competitive advantage over their teammates and will almost certainly find their way in to the coach's lineup. It currently appears that the American junior development system has disregarded the importance of doubles and subsequently is appears that American juniors are somewhat tactically inept on the doubles court in comparison with their more proficient European counterparts. Taking the time to evaluate your doubles IQ and allocating a necessary portion of your practice time to improving it would be a worthwhile investment.
My first advice to all incoming college players is to compete in as many doubles tournaments as possible with as many different partners as possible in order to improve all of the necessary skillsets required for this discipline. Far too many players enter only the singles event of tournaments believing that doubles is not worth the time, yet at the college level doubles is perhaps the most important part of dual matches. Furthermore, for those who aspire to play on the professional tour after their college career will rapidly recognize that being a competent doubles player not only improves your singles game but simultaneously helps alleviate much of the financial strain.
World-renowned doubles coach Louis Cayer created a comprehensive doubles strategy DVD called Doubles Tennis Tactics that I highly regard and recommend all players to watch as it provides a simple methodology that will almost certainly improve your efficiency and results. When discussing the importance of doubles in college tennis, and the new scoring format (6 game set instead of 8 game pro set and 'no-ad scoring'), Troy University coach Scott Kidd said "too many young players fail to understand the significance of doubles at the college level. There are so many great singles players but finding someone who can be an asset to the team both on the singles and doubles court is hard to find. I put a premium on any player who is seasoned in both areas".
Game Style/Match-Play
Due to rigorous study demands, tournament travel and mandatory university engagements the NCAA currently imposes training limitations for student-athletes. Currently, players may only engage in 'organized' practices (with a coach present) for a maximum of 20 hour per week (including fitness) meaning that the time you do have available is precious. Due to these training restrictions UNLV assistant coach Tim Nichols encourages his recruits to arrive at college with well-established technical foundations "college tennis is about getting wins and being efficient. There are limitations on how many hours a week players are allowed to practice and we like to maximize this time on physical conditioning, strategy development and doubles play, not on technical adjustments such as grip change or stroke production".
The simplest way to solidify your game-style and improve your match play is simply by participating in as many official competitions as possible. Participating in competitive tournaments right up until your college commencement is an excellent way to immediately challenge your college teammates for a position in the coaches starting lineup.
College tennis provides an undeniably unique opportunity. Invest time getting to know your team's history, coach's philosophy and school traditions so that you are as prepared as possible to have an immediate and positive impact. Balancing and prioritizing your tennis, education and social activities is of paramount importance to the longevity of your individual success as well as the teams.
Those who fail to prepare, prepare to fail.
Contact Mark Gellard at [email protected] or www.FirstStrikeTennis.us
Leave a Comment
More Player Advice
3-Nov-2021
Advice for Seniors Still Searching for the Right College
The signing period opened yesterday, and some seniors are still searching to find the right college. College coaches from across the country offer their advice for the uncommited recruits in our special signing week edition of the Coaching Rountable.
22-Sep-2021
Georgia's Bryde Unveils Tennis Mentors Online Course
Georgia senior Trent Bryde has revamped his Tennis Mentors business and is offering an online course to help younger players navigate the junior tennis experience. Bryde has taken advantage of new NIL legislation to be more active in the marketing process.
12-Jul-2021
Eight FAQs About Tennis Recruiting Network's Site
Tennis Recruiting Network is happy to answer any and all questions from players, coaches and parents about how the rankings work, how to create a profile and when certain things appear on the site. We have complied eight of the most frequently asked questions to widely distribute the information.