Blue Chip Brooksby Sees Growth Potential At TCU
by Rhiannon Potkey, 8 May 2018
(Editor's note: Since this article was published, Brooksby de-committed from TCU and signed a National Letter of Intent to play at Baylor)
It wasn't the typical morning routine for a kindergartener. Before leaving for school each day, Jenson Brooksby would grab a tennis racket and rush out to the driveway.
He would hit a soft tennis ball against the garage door until his parents came out to start the car.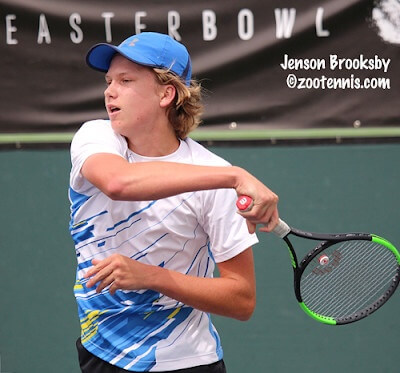 "Nobody ever told him to do that," said Brooksby's mother, Tania. "He just had to get some of his energy out because he had so much. He was bouncing off the walls when he was younger."
Brooksby found an outlet for his constant motion in sports, and tennis became his favorite. The junior from Carmichael, California has developed into a blue chip recruit with professional aspirations.
He recently committed to TCU, putting trust in head coach David Roditi and assistant Devin Bowen to help him reach his goals.
"The most important thing to me was Devin and David and their mindset of how they are going to help me get better as a player," Brooksby said. "I feel like they can help me get to the next level, and I really love how TCU was a smaller school with smaller class sizes."
Brooksby thoroughly researched every college he considered. He visited nine schools, and made a list of the pros and cons of his favorites once he narrowed down the options.
"We had two questions for him to answer: Is this a place you want to live afterwards? And if you are injured and couldn't play tennis, would you still want to go to that school?" his mother said. "If he couldn't answer yes to both of them, we knew it wouldn't be the right place for him."
Brooksby, who has been homeschooled since the sixth grade, has a 4.3 GPA and places a high value on academics.
"Obviously, the biggest thing with college tennis is you can get a scholarship to get your education. That is big for me," said Brooksby, who captured the Boys 18s Easter Bowl title last month. "I also feel like college can be a good tool to help you go pro too. You can grow mentally and physically, and there are so many different aspects you can learn in college that can help you on the pro tour."