Tournament Summary
Liu Earns Second Easter Bowl ITF Title, Ayeni Breaks Through to Claim Boys Championship
by
Colette Lewis
, 19 April 2017
As a former champion and top seed, expectations were high for Claire Liu at the adidas Easter Bowl Championships, and she met them, defeating Ellie Douglas 6-1, 6-2 to claim her second title. Boys champion Alafia Ayeni was in unchartered territory once he advanced to the semifinals, but he emerged with his first ITF Grade 1 title, beating Sebastian Korda 6-4, 0-6, 7-5 in a tense and entertaining championship match.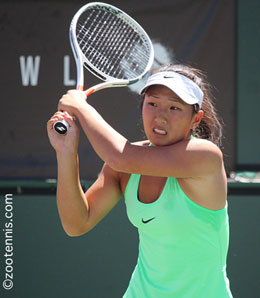 Liu's biggest challenge during the week came in the third round, when No. 16 seed
Elli Mandlik
forced Liu to three sets in the third round. Mandlik, the daughter of tennis great Hana Mandlikova, was up 6-4, 1-3 when winds exceeding 50 mph caused play to be postponed until the following day at the
Indian Wells Tennis Garden
, home of the BNP Paribas Open.
Liu rebounded for a 4-6, 6-2, 6-3 victory, and lost only five games in her quarterfinal and semifinal wins over No. 6 seed Caty McNally and No. 3 seed Whitney Osuigwe.
"The first couple rounds in any tournament are really tough," said the 16-year-old from Thousand Oaks California, playing in her sixth consecutive Easter Bowl. "I think getting through Elli in that really tough match gave me confidence to be more free with my shots and just trust myself, and I think I played a lot better in the last three matches."
In the final, Liu dropped serve to open the match, but then won six straight games, as the fourth-seeded Douglas struggled to find the form she had displayed in her quarterfinal win over No. 10 seed Hurricane Tyra Black and her semifinal win over No. 2 seed Taylor Johnson.
"I was pretty nervous," said Liu, who accepted a wild card into the event after missing the entry deadline. "Every match I was pretty nervous, but that's kind of what I was here for. I wanted to come here to deal with my nerves, be able to keep playing well even though I had pressure, and I think I did pretty well."
It was a beautiful week for tennis at Indian Wells
©
Zoo Tennis
Douglas was hoping her second consecutive finals appearance would end differently from the first, but she could not find a way to pressure Liu.
After dropping the first game of the second set, Douglas got the break back, but Liu kept the pressure on, breaking Douglas in a four-deuce game for a 2-1 lead, then winning the next three games. Douglas saved a match point serving at 1-5 and two more after Liu had gone up 40-0 on her serve, but Liu finished with a fine volley to become the first player to win two Easter Bowl 18s titles in non-consecutive years.
"My mindsets were different in both tournaments," said Liu, who is coached by Mike Gennette, who was recently named USTA Player Development Coach of the Year for 2016. "When I was younger I needed to get into French [juniors] and I had to do well in this tournament. In this tournament, I was just focusing on more my game and improving that, so I can do better in the pro tournaments."
Douglas, who is planning to play the ITF junior circuit in Europe this spring and summer, including the junior slams, was disappointed in her performance in the final.
"It was not my day, definitely," said Douglas, who fell in three sets to Alexandra Sanford in last year's final. "So many unforced errors. But she played really well, hit a bunch of lines and I'm happy for her."
Douglas had beaten Liu when they played in the Mexico City Grade A semifinals last November, but Douglas has now lost the last four major junior finals she has played in the past year: in Mexico City to Taylor Johnson, to Kayla Day in Tulsa at the Pan American Closed, and the last two Easter Bowls.
"I don't know, it's something about finals," said the 16-year-old from McKinney Texas. "I'm just not very good at them. My first serve percentage was horrible, and I just made way too many errors - and you can't compete with that. I've had a great week, but I've got to go home and learn how to close a tournament out."
A new prize for Liu and the other champions this year is a USTA gold ball, which had not been awarded in the previous 12 years of the ITF event, but was added when the USTA balls were restored to the 12s, 14s, and 16s divisions.
In contrast to Liu's record of success in the desert, No. 8 seed Alafia Ayeni was 1-2 in his previous two Easter Bowl appearances. He had opted to skip the ITF Grade 1 International Spring Championships in Carson the week before, playing Futures qualifying instead, so his form coming into the tournament was a question mark. His first test came in the quarterfinals, when No. 14 seed Kyrylo Tsygura served for the match against him in the third set, but Ayeni eked out a 6-4, 2-6, 7-5 victory. He earned an impressive 6-3, 7-5 victory over No. 6 seed Patrick Kypson in the semifinals, after Kypson had eliminated top seed Trent Bryde in the quarterfinals.
Korda, seeded tenth, had come from a set down in both his quarterfinal win over unseeded Jake Sands and his semifinal victory over No. 4 seed Sam Riffice, a pattern that continued in the championship match.
Neither player had ever reached a ITF Grade 1 final before, but Ayeni, who had been in two ITF junior finals, appeared to cope better with the atmosphere, which included ballrunners, a full officiating crew and courtside streaming. The 17-year-old from San Diego didn't lose a point on serve until his fourth service game, and that was on a double fault, while Korda was having difficulty keeping the ball in play. But there were no breaks until Korda served at 4-5, when Ayeni converted his second break point with a second serve return that handcuffed Korda on the baseline.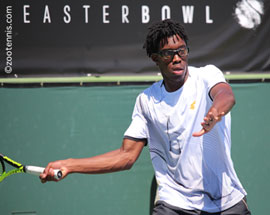 After the close first set, the second set was anything but, with Ayeni winning just five points in the 15-minute set.
"To be honest I was really nervous in the second set," said Ayeni, who is coached by his father Anthony and by Patrick Oyone.
"I was like, ok, I've got the first set, I'm one set away from winning the Easter Bowl and I think it got into my head a little bit," Ayeni said. "It also didn't help that I was sitting down for quite awhile. Sebi took a bathroom break and I allowed myself to get cold and immediately started to hit bombs again, which obviously is not going to work. My first serve was nonexistent and he stepped up his game a lot."
Korda agreed.
"I made a lot more balls and he wasn't expecting it," said the 16-year-old from Bradenton, the son of 1998 Australian Open champion Petr Korda. "I played a lot better."
It was then Ayeni's turn to take a bathroom break, but he didn't have the same success when he returned for the third set. He held in his first service game, but Korda hit two backhand winners on the line from 30-all to get the break and held for 3-1.
Ayeni faced three break points in the next game, but found his first serve when he needed it most, hitting one 130 mph, another at 133, then closing out the hold with one clocked at 127.
"At 3-1, a couple of break points, he just hit some unbelievable serves," Korda said. "He served really well in the third set."
Ayeni understood how important it was to stay within striking distance with a hold in that fifth game.
"I knew if he got the break there, it wouldn't be impossible, but it would be very, very difficult to come back from that," Ayeni said. "Sebi's such a good server, it's difficult to break him ... But I was just, ok, I'm going to let go, start hitting some serves, just believe in my serve and myself. I just started hitting my serve a lot bigger and I think he was kind of startled by the change in pace and I think that gave me a little bit of an advantage to hold serve there."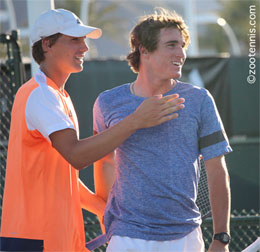 Ayeni broke in the next game and saved a break point in a four-deuce game to take a 4-3 lead. He continued to serve well, with serves in the high 120s and low 130s and it was Korda who was forced to come up with some big shots down match points serving at 4-5. He saved the first with a forehand putaway and the second going behind Ayeni for a backhand winner and then hit two good serves himself to make it 5-all.
Ayeni hit two aces in the next game to take a 6-5 lead, and Korda went up 30-0 when serving to reach the tiebreaker, but Ayeni won the final four points of the game, with an excellent backhand pass, a net cord winner and two errors, the final one forced, to claim the championship.
Ayeni collapsed on the court, while the crowd gave both players a long ovation, appreciating the high level of play, particularly in the final set.
"He's a little bit younger, not nearly as experienced," Ayeni said. "I know this was his first ITF final and I've played in two before, and I think that gave me a little bit of an experience advantage over him."
Korda said he was not surprised by Ayeni's performance, although they were meeting for the first time.
"I know he's an amazing athlete and he gets so many balls back, some incredible shots," Korda said. "I knew what I had to do coming into this today, and he played amazing."
As he had been doing for the final four days of the tournament, Korda immediately left the Indian Wells Tennis Garden to follow his two sisters in the LPGA major championship going on a few miles away at Mission Hills Country Club. Jessica, 24, finished tied for 11th and 18-year-old Nelly, playing in her first major, finished tied for 42nd.
Ayeni had little time to celebrate, with a long transatlantic flight just hours away, his destination a Grade 1 tournament in Spain that kicks off his European clay court season as he prepares for his first French Open junior championships.
Doubles
Top seeds Caty McNally and Whitney Osuigwe won the girls championship with a 6-3, 7-6(10) win over No. 2 seeds Taylor Johnson and Ann Li. Johnson and Li had seven set points, two in the ninth game and five in the tiebreaker, but McNally and Osuigwe won them all, then converted their first match point to claim the title.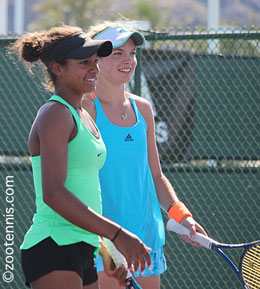 "On the set points there was a lot of times I was returning and I told myself to go after my return, and play the right way," said McNally, a 15-year-old from Ohio. "I knew if they brought up a good shot, then it's too good by them, but there was a high percentage that we were going to win the point."
"I think we have the communication skills and we're good friends," the 14-year-old Osuigwe said of the basis for their success this week. "Our games fit with each other and we know how to pump each other up."
"Whitney hits a big ball obviously, and I have pretty good volleys and she's able to be at the baseline and I'm able to do what I want to do at the net," McNally said. "Also, we're good friends so we can laugh on the court and have a good time, which definitely helps."
The boys doubles title went to No. 3 seeds Patrick Kypson and Oliver Crawford, who defeated No. 2 seeds Brian Cernoch and Sam Riffice 6-1, 6-4.
Kypson and Crawford are frequent doubles partners and finished third at Kalamazoo last year, but this is their first title as a team.
"We played one final in Italy last year, quarters in Milan, semis in Kalamazoo, we played well together and finally this week, we won five matches in a row," Kypson said. "We pretty much ran through it. Oliver carried, played some good dubs."
"We played solid, took care of business," said Crawford, who claimed his first USTA gold ball with the victory.
"I was surprised how the first set went," Kypson said. "You never expect to win a set in doubles 6-0 or 6-1. In the second set, it was a little bit tougher, and when we got that break at 4-all, I knew we were going to serve it out, so it was good."
Crawford and Kypson, who defeated top seeds Trent Bryde and Alafia Ayeni in the semifinals, did not lose a set in any of their five victories.
Sportsmanship Awards and Travel Grants
The boys award went to Lukas Greif, with Whitney Osuigwe receiving the girls award.
Tournament Director Lornie Kuhle presented the Jackie Cooper/Tory Fretz Sportsmanship Award, a special Easter Bowl honor, to Hailey Baptiste, and announced that for the second consecutive year, the tournament will distribute $10,000 worth of travel vouchers. The ITF winner and finalist receive $750, semifinalists $500, quarterfinalists $325, and those who reach the round of 16 $150.
About 2XU
2XU is proud to sponsor Junior Tennis Articles at TennisRecruiting.net.
2XU: Human Performance. Multiplied.

Incorporated in January 2005, 2XU is driven by a relentless company mission to advance human performance through the development of world-leading athletic garments.
Designed and tested in consultation with leading industry experts and sporting institutes, all 2XU garments employ intelligent physiological design, cutting edge performance fabrics and construction.
From the elite athlete driving their body to its limits, to the weekend warrior out to achieve personal goals, 2XU provides the equipment required to take the human form to the best it can be.
Connect with 2XU on Facebook, Twitter, YouTube, and Instagram - or on their website.
Leave a Comment
More Tournament Features
18-Sep-2017
OSU's Di Lorenzo, Stanford's Fawcett Claim ACI Titles
Ohio State's Francesca Di Lorenzo and Stanford's Tom Fawcett won the titles at the American Collegiate Invitational, an event for top-ranked Division I players from the United States that is now an established part of the final weekend at the U.S. Open
15-Sep-2017
Anisimova, Wu Claim Historic U.S. Open Junior Titles
History was made at the 2017 U.S. Open Junior Championships with Amanda Anisimova becoming the third different American junior slam girls winner in the same year for the first time ever, and Wu Yibing becoming the first junior from China to win a slam singles title just hours after he captured the doubles title.
30-Aug-2017
Fourlis, Mejia Sweep ITF Grade 1 Titles in College Park
Australian Jaimee Fourlis and Colombian Nicolas Mejia outshined the competition at the ITF Grade 1 Prince George's County International Hard Court Championships by sweeping both the singles and doubles titles Saturday at the Junior Tennis Champions Center in College Park, Md.
About Colette Lewis
Colette Lewis
has covered topflight U.S. and international junior events as a freelance journalist for over a decade. Her work has appeared in
Tennis
magazine, the
Tennis Championships
magazine and the US Open program. Lewis is active on
Twitter
, and she writes a weekly column right here at TennisRecruiting.net. She was named
Junior Tennis Champion
for 2016 by Tennis Industry Magazine.
Lewis, based out of Kalamazoo, Michigan, has seen every National Championship final played since 1977, and her work on the tournament's ustaboys.com website led her to establish ZooTennis, where she comments on junior and college tennis daily.