Special from
Zoo Tennis
Sisters Victoria and Kristina Yu knew with just one year together at Wesleyan, a chance for glory would come down to a few matches this spring, at the end of Victoria's senior year. That sense of urgency led to a historic season for the Cardinals, including the school's first NESCAC title and a dream run to the NCAA Division III Team Championship last month in Kalamazoo, Michigan.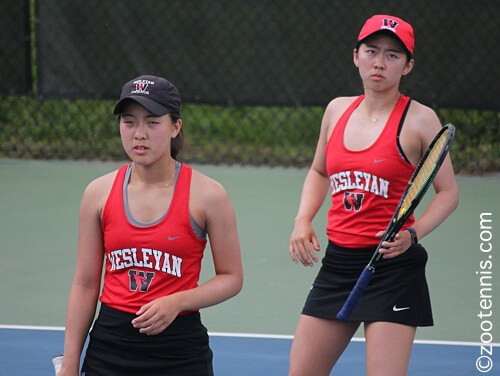 Wesleyan Title-Winning Sisters Kristina and Victoria Yu
© Zoo Tennis
Victoria played No. 1 singles for the Cardinals, while freshman Kristina was at line 3 throughout the year. Their wins at No. 1 doubles in the team's 5-4 victory over No. 2 seed Emory in the semifinals and 5-4 victory over top seed Claremont-Mudd-Scripps in the final were pivotal, giving Wesleyan a critical 2-1 edge heading into singles competition.
Victoria, who won the 2017 NCAA Division III doubles title with Wesleyan legend Eudice Chong, had her choice of partners to start this season, with coach Mike Fried willing to follow her lead when it came to selecting a new partner.
"I asked Victoria at the beginning of the year, what do you think? Victoria's coming off her junior year national doubles title with Eudice and a singles finalist, so we wanted to defer to her," Fried said. "We had some non-freshmen who would have been viable partners for her this year too, and she was pretty clear, I want to play with my sister."