Special from
Zoo Tennis
After starting his coaching career with perennial Pac-12 powerhouse USC just a few years removed from his own stellar collegiate career, West Nott had an early opportunity to participate in college coaching at its highest level. But in the spring 2017, after 10 years as the associate head coach for USC's women's team, Nott was let go. A few weeks later, USC head coach Richard Gallien, who had hired Nott, left his position after 22 seasons leading the Trojans.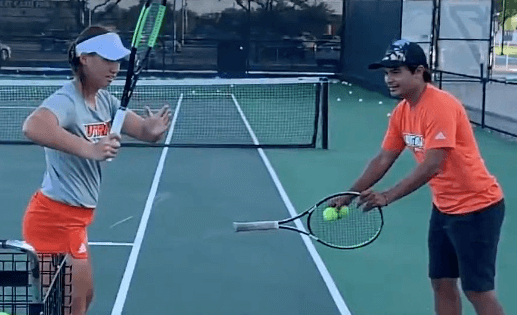 West Nott Now Leads the UT-Rio Grande Valley Women
© Contributed Photo
Nott, who played at Georgia Tech for three years and graduated in 2004, spent the past two years coaching privately, most recently at the Bobby Riggs Tennis Center in San Diego. But when the University of Texas-Rio Grande Valley called about its women's head coaching position, Nott decided to explore a return to college tennis. In August, the school announced that Nott was succeeding former University of Tennessee co-coach Sonia Hahn, who had taken an administrative position at Southern Utah.
"I explored a bunch of things, I wasn't really actively looking, but this was kind of unique," said Nott, 37. "It was the right situation because they wanted me just as badly as I wanted them."
Last week I spoke to Nott about his decision to return to college tennis at a non-Power 5 program, the international presence in collegiate tennis, recruiting budgets and the one thing he would change about college tennis.
Colette Lewis: Is University of Texas-Rio Grande Valley a new school?
West Nott: This university has been around for a long time; it was the University of Texas-Pan American. In 2015, I think, they switched the name over to Rio Grande Valley and that's why a lot of people don't know about it. But this university has been here for a long, long time; there have been some great teams in the 70s, and there have been some excellent players, both men and women. We are a part of the University of Texas system. It's quite a big school, 29,000 students.
CL: What attracted you to the job?
WN: I've come full circle. I was at a lot of big schools, played at Florida, then Georgia Tech, volunteer coached at the University of Washington, then being at USC. After being around that high-pressure environment, I was kind of craving something where the pressure wouldn't be as high. It's going to be a healthier mix, I think, for where I'm at in my career, to get some head coaching experience.
CL: What were your takeaways from your years at USC?
WN: I was just lucky to be at USC at such a young age. I really didn't have the experience to be coaching at that level at that age. So luckily, I knew the right people at the right time and Richard (Gallien) was so nice to believe in me, so I just tried to capitalize on it, work as hard as all the top coaches out there, mimic everyone else's behavior. Through that, I learned a lot. It was just a great starting point for being a coach. I didn't really truly know if I wanted to be a coach long-term, but that really got me going competitively and got me to realize there's so much more to coaching, more than forehands and backhands. It really came down to management of the team, who you surround yourself with, what type of players you're looking for, how you're going to manage the day-to-day schedule, limit downside risk. These are all the things I learned over the 10 years, so when it ended, I was really grateful for the whole opportunity to be there.