Special Feature
Father's Day Commitment: Sons Choose To Play For Dad
by Rhiannon Potkey, 21 June 2020
Some recruits never get to experience a home visit from a college coach. For Ben Shelton, Frank Thompson, Gavin Young and Ashe Ray, it's a daily occurrence. Their future coaches sleep just down the hallway, pay for all their food and provide their transportation.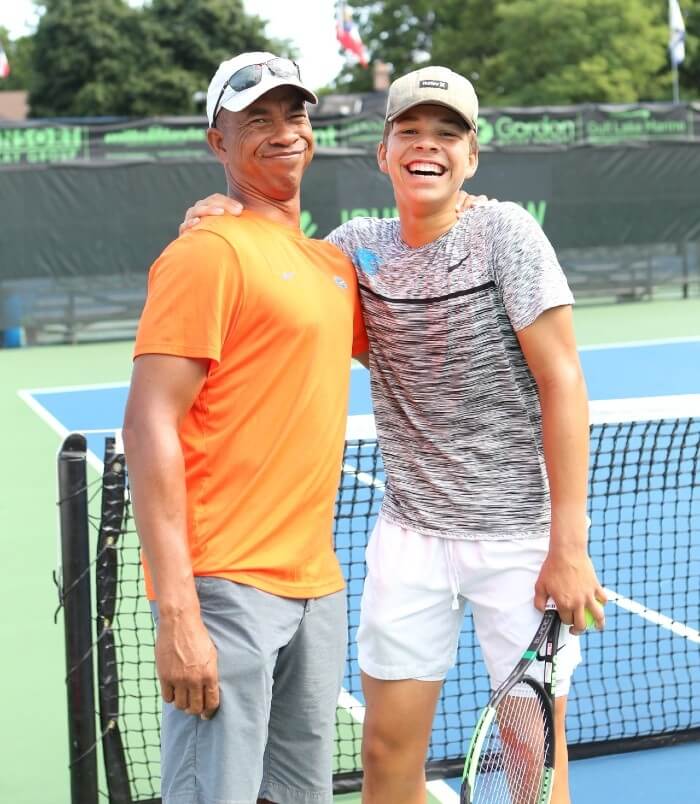 Ben Shelton and His Father Bryan Shelton
© Bill Kallenberg
All four high-profile recruits have committed to play for their fathers in college. Shelton will play for his father, Bryan, at Florida. Thompson will play for his father, Jim, at Virginia Tech. Young will play for his father, Geoff, at Minnesota, and Ray will play for his father, Rod, at Wofford.
The four are celebrating Father's Day knowing they will be spending a lot more time with their dads during college than most kids. They prefer it that way.
"My dad was such a big influence and role model for my game growing up and playing for him was always my dream," said Young, a blue chip 2020 recruit. "I have always thought a lot about playing on home courts at Minnesota and how cool it would be to have a chance to represent the school. Now that I have a chance to do it, I am really glad I took the opportunity."
Having their dad as a coach will be nothing new for Shelton, Thompson, Young and Ray. They have been taking lessons from them since they first picked up rackets. The four grew up around the college programs they coached and benefited from their knowledge.
"He knows everything about my game and knows me really well," said Shelton, a blue chip 2021 recruit. "I feel like I would have had to completely start over if I went somewhere else and create a new relationship with that coach, whereas with my dad it would be continuous and we can keep going and improving."