NCAA Championships
UVA, Texas Capture NCAA Division I Team Titles
by Rhiannon Potkey, 23 May 2022
Championship pedigree beat out first-timers in the NCAA Division I Championships this season.
The Texas women defended their title and the Virginia men returned to the top with victories in their respective finals on Sunday at the Kahn Outdoor Tennis Complex in Champaign, Illinois.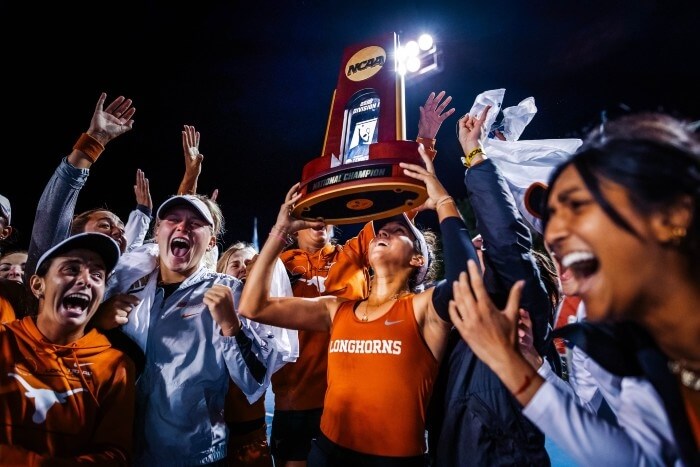 The Texas Women Defended their NCAA Team Title
© Texas Athletics
No. 7 Virginia swept No. 8 Kentucky 4-0 to win the fifth national championship in program history and first since concluding a three peat from 2015-17.
No. 3 Texas ousted No. 2 Oklahoma 4-1 in a showdown of Big 12 rivals to capture the fourth national championship in program history. The Longhorns join Stanford and Florida as the only women's programs to repeat as NCAA champions since 1982.
"If you had seen the fall we had, if you had seen our team in January and February, I'd sooner buy a lottery ticket and cash that than our team be here and win it," Texas head coach Howard Joffe said on the TennisONE webcast.
After starting the season with a 5-5 record, Virginia (28-5) won its final 23 matches to close out the season.
"It means a great deal to win the national championship," said UVA head coach Andres Pedroso, in his fifth season leading the program. "I'm just so grateful, so grateful. It was definitely in the back of our minds. We're always thinking national championship at some point, but I didn't know if it was gonna happen this year or year seven or year nine. I am super happy for these guys. They have evolved through the year after five losses in a row In February. So really happy for them."
The Kentucky men and Oklahoma women were both appearing in the championship match for the first time in their program's history.
Oklahoma had never even advanced beyond the second round before, and Kentucky had never gotten past the quarterfinals.
But Texas (26-4) beat Oklahoma (32-3) for the second straight time to end OU's magical season and hoist another trophy. After losing the first two meetings between the programs this season, Texas beat the Sooners in the Big 12 tournament final and NCAA final.
The Longhorns won the doubles point with Charlotte Chavatipon and Kylie Collins beating OU's Alexandra Pisareva and Layne Sleeth 6-1, and UT's Sabina Zeynalova and Bella Zamarripa taking down Dana Guzman and Emma Staker 6-2.
After Oklahoma evened the match with Staker beating freshman Vivian Ovrootsky 6-1, 6-1 at the six line, UT's Peyton Stearns put the Longhorns back in front for good with a 6-0, 6-2 win over Sleeth at No. 1.
UT's Zeynalova followed with a 6-3, 7-6 (4) victory on court 3 against Ivana Corley, and freshman Allura Zamarripa clinched the win for the second straight day for the Longhorns by beating Pisareva 7-5, 7-6 (4) victory on court 5 over Pisareva. Zamarripa was named the NCAA Championship Most Outstanding Player.
Zeynalova's win was especially meaningful. The Kyiv, Ukraine native has been dealing with the emotional turmoil of her country enduring an invasion by Russia and her family trying to flee danger. The freshman finished the season with a 23-1 record and a national title to help bring some happiness to her homeland.
Texas took down No. 1 North Carolina in the semifinals to prolong UNC's streak without an outdoor national title.
The Virginia men made a run through SEC competition in Champaign to lift the national title trophy. The Cavs beat three straight SEC opponents, including defending champion Florida in the quarterfinals.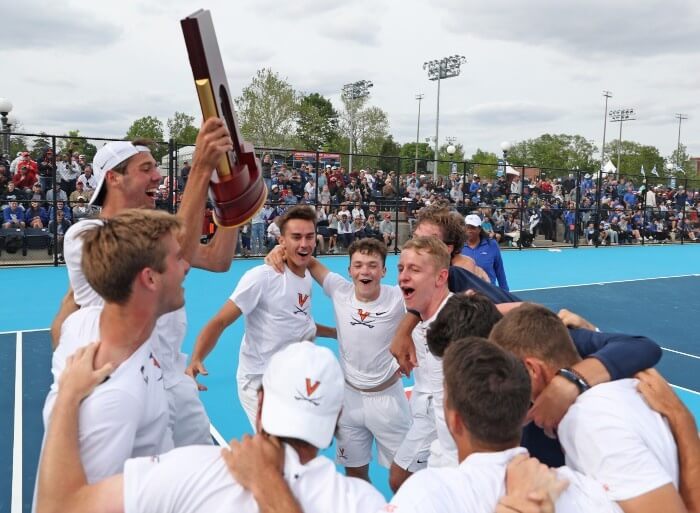 Virginia Won its Fifth NCAA Team Title
© Virginia Athletics
UVA captured the doubles point with Jeffrey von der Schulenburg and Gianni Ross defeating Liam Draxl and Alexandre Leblanc 6-1, and Ryan Goetz and Inaki Montes beating Gabriel Diallo and Joshua Lapadat 6-3.
In singles play, Bar Botzer, who won a national title while playing for Wake Forest in 2018, beat JJ Mercer 6-1, 6-1 on court 6 for a 2-0 UVA lead. On court 2, Montes defeated Diallo 6-2, 6-2 and Ross, the fifth-year senior, clinched the victory by beating Lapadat 6-4, 6-4 on court 5.
Ross, named the NCAA Most Outstanding Player, was immediately mobbed by his teammates in celebration.
"It was surreal for the 15 to 20 minutes after the match ended, but I'm starting to believe it now," Pedroso said. "These guys worked hard and they put themselves in a position to do it. Really proud of them. Our composure was huge."
Men's Final
No. 7 Virginia 4, No. 8 Kentucky 0
Doubles
#61 Bar Botzer/Chris Rodesch (UVA) vs. #55 Millen Hurrion/Francois Musitelli (UK) 4-4, unfinished
Ryan Goetz/Inaki Montes (UVA) def. Gabriel Diallo/Joshua Lapadat (UK) 6-3
Gianni Ross/J vd Schulenburg (UVA) def. Liam Draxl/Alexandre LeBlanc (UK) 6-1
Singles
#30 Chris Rodesch (UVA) vs. #4 Liam Draxl (UK) 2-6, 7-5, unfinished
#39 Inaki Montes (UVA) def. #21 Gabriel Diallo (UK) 6-2, 6-2
#45 J vd Schulenburg (UVA) vs. #33 Millen Hurrion (UK) 2-6, 6-3, 2-2, unfinished
#96 Ryan Goetz (UVA) vs. Francois Musitelli (UK) 6-0, 6-6 (6-5), unfinished
Gianni Ross (UVA) def. #113 Joshua Lapadat (UK) 6-4, 6-4
Bar Botzer (UVA) def. JJ Mercer (UK) 6-1, 6-1
Order of finish: Doubles (3,2); Singles (6,2,5)
Women's Final
No. 3 Texas 4, No. 2 Oklahoma 1
Doubles
#11 Peyton Stearns/Allura Zamarripa (UT) vs. #10 Ivana Corley/Carmen Corley (OU), 4-3, unfinished
#67 Charlotte Chavatipon/Kylie Collins (UT) def. Alexandra Pisareva/Layne Sleeth (OU), 6-1
Sabina Zeynalova/Bella Zamarripa (UT) def. Dana Guzman/Emma Staker (OU), 6-2
Singles
#2 Peyton Stearns (UT) def. #10 Layne Sleeth (OU), 6-0, 6-2
#49 Kylie Collins (UT) vs. #53 Carmen Corley (OU), 5-7, 6-2, 2-1, unfinished
#93 Sabina Zeynalova (UT) def. #97 Ivana Corley (OU), 6-3, 7-6 (7-4)
Charlotte Chavatipon (UT) vs. Dana Guzman (OU), 6-4, 2-6, 2-5, unfinished
Allura Zamarripa (UT) def. Alexandra Pisareva (OU), 7-5, 7-6 (7-4)
Emma Staker (OU) def. Vivian Ovrootsky (UT), 6-1, 6-1
Order of finish - Doubles (2, 3); Singles (6, 1, 3, 5)
About RIA Eyewear
College Content at TennisRecruiting.net is sponsored by RIA Eyewear.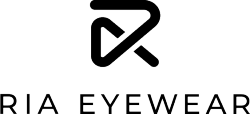 RIA Eyewear is a racquet sports focused performance eyewear company based in New York. Through rigorous athlete driven R&D, RIA Eyewear is developing the most technologically advanced eyewear products to change the way tennis players see the game and protect their most important performance asset, their vision. All of their eyewear is handcrafted in Italy and built specifically for the court.
Connect with RIA Eyewear on Facebook and Instagram - or on their website.
Leave a Comment
More College Coverage
15-Jun-2022
NCAA Contemplates Permanent Home for D1 Championships
Given the success in baseball and softball, would it make sense for tennis to find a permanent home for the NCAA Division I Championships? Coaches and officials explore the advantages and downsides to the idea along with insight about specific locations.
8-Jun-2022
ITA Women's All-American Championships Moving to Cary
The ITA recently announced the ITA Women's All-American Championships is moving to Cary Tennis Park in Cary, North Carolina. The agreement is for three years, beginning in the fall of 2022 and running through 2024. The University of North Carolina, Duke and North Carolina State will serve as host institutions.
1-Jun-2022
Texas's Stearns, Florida's Shelton Capture Division I Titles
Ben Shelton of Florida and Peyton Stearns of Texas faced multiple challenges at last week's NCAA Division I individual championships at the University of Illinois, yet they didn't deter the sophomores from earning singles championships and the US Open main draw wild cards that are traditionally awarded to American champions.
About Rhiannon Potkey
Rhiannon Potkey is a veteran sportswriter with more than two decades of experience in journalism. Potkey has covered many sports at many levels and has a passion for finding great stories. Potkey has covered the U.S. Open, junior sectional and national events, college conference championships and Davis Cup matches. Potkey is currently Content Strategist for Tennis Recruiting. You can reach Rhiannon by email at
[email protected]
.